Gold nudges up after prices dip amid fears of looming US tariffs on China
Spot gold was up 0.2 percent at $1,195.27 an ounce as of 0354 GMT, after falling 0.6 percent on Friday when it marked its third straight weekly decline.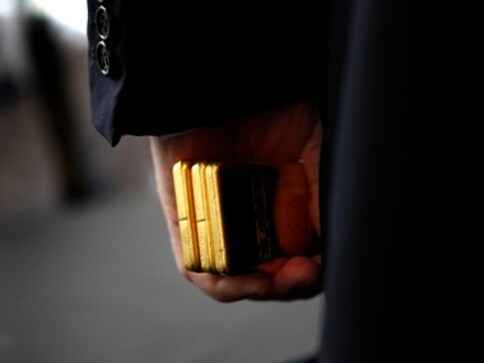 Bengaluru: Gold inched up on Monday as bargain-hunters bought the metal after prices dipped in the previous session, amid reports that the United States is set to impose a new round of tariffs on Chinese imports.
Spot gold was up 0.2 percent at $1,195.27 an ounce as of 0354 GMT, after falling 0.6 percent on Friday when it marked its third straight weekly decline. US gold futures were down 0.1 percent at $1,199.80.
US President Donald Trump is likely to announce new tariffs on about $200 billion on Chinese imports as early as Monday, a senior administration official told Reuters.
"The price action shows that the influence of the news coming out on tariffs is waning a little bit," said Ji Ming, chief analyst at Shandong Gold Group.
"We even see gold rising rapidly towards $1,230-$1,240 levels once the impact of the trade war is clearer ... It looks like a relatively good opportunity to buy gold at the current levels."
Gold prices have declined about 12.6 percent from April amid intensifying global trade tensions and under pressure from rising US interest rates.
Though gold is generally presumed to be a safe-haven asset, the months-long trade rift between Washington and Beijing has prompted investors to opt for the US dollar in the belief that the United States has less to lose from the dispute.
The dollar index was steady at 94.951, having bounced from over six-week lows of 94.359 hit last week.
"We have to suspect that the dollar will regain upside momentum, especially if the trade environment takes a turn for the worst just ahead of the Fed's month-end meeting," INTL FCStone analyst Edward Meir said in a note.
"Although investors are expecting yet another quarter-point rate increase, the concern is that a change in policy wording could make a more definitive case for future rate hikes," he said adding, in such an environment, gold will have trouble moving higher and could instead start another leg down.
Meanwhile, investors trimmed their net short position in Comex gold and silver in the week to 11 September, a US data showed.
Spot gold may retest a support at $1,193 per ounce, after bouncing moderately into a range of $1,197-$1,200, according to Reuters technical analyst Wang Tao.
Among other precious metals, spot silver was up 0.3 percent at $14.08.
Platinum rose 0.3 percent to $793.90, while palladium rose 0.1 percent to $978.50.
Entertainment
Although Old and Snake Eyes are both fresh offerings from major studios, moviegoers turned out in modest numbers on a weekend where there was the notable distraction of the Olympics as well as rising concerns about the delta variant.
Entertainment
While Henry Golding's performance has been unanimously praised, most reviewers dubbed Snake Eyes a "tame, anonymous product" with "popcorn-money" worthy action.
World
The police officer has been identified as Colonel Alexey Safonov of Russia's Stavropol region. He is reportedly accused of running a mafia gang along with his 35 officers.