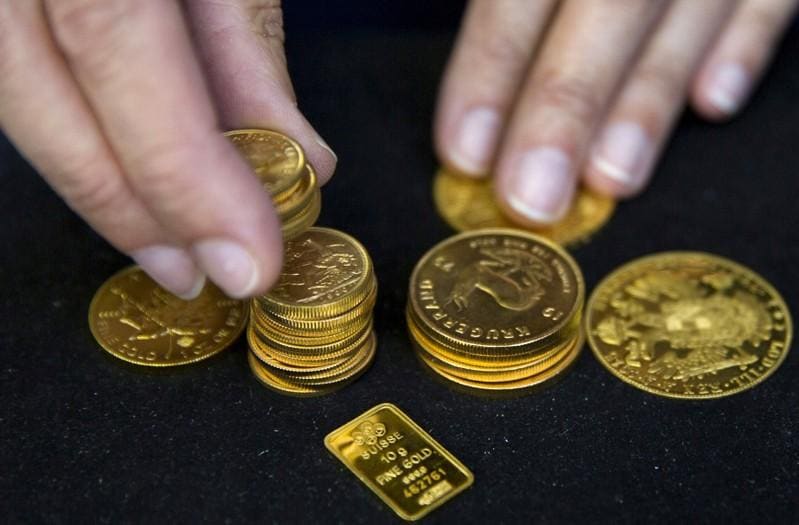 By K. Sathya Narayanan and Sethuraman N R
(Reuters) - Gold prices rose as much as 1 percent on Wednesday from two-week lows as the U.S. dollar tumbled after Federal Reserve Chairman Jerome Powell indicated that interest rates were near normal, soothing investor worries over the pace of rate hikes.
Palladium prices hit a record high at $1,186.30 per ounce.
The dollar index <.DXY>, which measures the greenback against a basket of currencies, was down 0.6 percent after Powell said that while there was "a great deal to like" about U.S. prospects, the Fed's gradual interest-rate hikes are meant to balance economic risks. He added that interest rates were 'just below' neutral estimates.
"Powell's comments suggest that 2019 may be more of a wait-and-see approach and the assumption of any hikes may be premature," said Tai Wong, head of metals trading at BMO.
Spot gold was up 0.7 percent at $1,222.45 per ounce at 2:48 p.m. EST (1948 GMT) after rising as much as 1 percent to $1,226.24. During the session, it also fell to $1,210.65, the lowest since Nov. 15.
U.S. gold futures settled up $10.20, or 0.8 percent, at $1,223.60.
"The buzz word (in Powell's speech) seems to be we are 'just below' neutral status regarding rate increases," said Walter Pehowich, executive vice president of investment services at Dillon Gage Metals.
"So, with a December rate hike and one or two more in 2019 that should be enough to put the Fed where they want to be."
Higher U.S. interest rates tend to boost the dollar, making gold more expensive for holders of other currencies. Higher rates also increase the opportunity cost of holding gold, which does not pay interest.
Investors will watch for the minutes from the Fed's Nov. 7-8 meeting, due on Thursday, for clues to policy in 2019. [FED/DIARY] The Fed has raised rates three times this year.
Later this week, U.S. President Donald Trump is likely to meet his Chinese counterpart on the sidelines of the G20 meeting to discuss trade. Bullion has largely lost out to the dollar as a safe haven asset this year as the U.S.-China trade war unfolded while U.S. interest rates rose.
Palladium was up nearly 3 percent at $1,184.35 per ounce, after hitting the record high.
"The market remains very tight. ... Potential growth for supply is very limited and demand remains robust even though we've seen a decline in auto sales in China and a slowdown in car sales in the U.S.," said Suki Cooper, precious metals analyst at Standard Chartered Bank.
Silver rose 1.4 percent to $14.34 per ounce, while platinum fell 0.6 percent to $824.50, having touched its lowest in more than a month, at $809.50.
(Reporting by K. Sathya Narayanan, Arpan Varghese and Swati Verma in Bengaluru; Editing by Will Dunham, Marguerita Choy and David Gregorio)
This story has not been edited by Firstpost staff and is generated by auto-feed.
Find latest and upcoming tech gadgets online on Tech2 Gadgets. Get technology news, gadgets reviews & ratings. Popular gadgets including laptop, tablet and mobile specifications, features, prices, comparison.
Updated Date: Nov 29, 2018 03:05:21 IST