Global Entrepreneurship Summit to be inaugurated by Narendra Modi, Ivanka Trump: All you need to know about the meet
Prime Minister Narendra Modi along with Ivanka Trump will inaugurate the three-day event themed around 'Women First, Prosperity for All'.
The stage is set for the eighth Global Entrepreneurship Summit (GES), beginning in Hyderabad on Tuesday with focus on women entrepreneurs and all eyes on US President Donald Trump's daughter and advisor Ivanka Trump.
Prime Minister Narendra Modi along with Ivanka Trump will inaugurate the three-day event themed around "Women First, Prosperity for All".
According to a report in The Times of India, a bot made by Bengaluru-based Invento, named Mitra, will greet both Modi and Ivanka Trump at the summit. There will be two such bots at the event. The one on the dias will declare the summit inaugurated once Modi and Ivanka Trump press a button, the report said.
Here's everything you need to know about the summit:
What is the summit all about?
GES, a personal initiative of former US President Barack Obama to bring entrepreneurs from across the globe on one platform, made a beginning in 2010 in Washington and thereafter it has been hosted by Turkey, United Arab Emirates, Malaysia, Morocco and Kenya.
In 2016, Silicon Valley hosted the GES. India was given opportunity to host GES during Modi's US visit in June.
This is first time it is being held in India. The summit is taking place at the Hyderabad International Convention Centre (HICC) in Hitec City, the Information Technology hub. The event will bring together 1,500 emerging entrepreneurs and investors, and ecosystem supporters from 150 countries for training and mentoring sessions, networking and investment matchmaking.
The US State Department and other American agencies in partnership with NITI Aayog, India's think tank, are organising GES, which seeks to create an environment that empowers innovators, particularly women, to take their ideas to the next level.
The 2017 event will focus on four innovative, high-growth industries -- healthcare and life sciences; digital economy and financial technology; energy and infrastructure and media and entertainment.
The event consists of breakout sessions, master classes, and workshops. Three networking sessions are also planned to enhance opportunities to interact with other participants.
Who are participating?
The delegates include about 400 each from India and the US and the remaining from rest of the world.
Women will represent 52.5 percent of the participants, the highest in GES' history. Afghanistan, Saudi Arabia and Israel are among 10 countries being represented by all-female delegations.
Ivanka Trump, who has been speaking out on the world stage about women empowerment, will be leading the US delegation.
She will speak at the GES inaugural session on Tuesday and another session on Wednesday.
Over 100 innovative start-ups, products, services and processes will be exhibited through a multi-touch interactive wall, sensor-enabled touch screens, rotoscope mural technology and physical displays.
The prominent speakers include John Chambers, Chairman, USISPF; Cherie Blair, Founder, Cherie Blair Foundation for Women; Prem Watsa, Chairman and CEO, Fairfax Financial Holdings Ltd; Marcus Wallenberg, Chairman, SEB, a Swedish financial group; Chanda Kochhar, Managing Director and CEO, ICICI Bank and Tessy Thomas, Director, Defence Research and Development Organisation (DRDO).
Newly crowned Miss World Manushi Chhillar, actress Sonam Kapoor and Aditi Rao Hydari, tennis star Sania Mirza and captain of Indian women's cricket team Mithali Raj will add glamour to the event.
Why is the summit considered significant?
"For India, the summit holds a special place as we are more intensely focused than ever before to give entrepreneurs the opportunities and ecosystem to help them thrive," said Amitabh Kant, CEO, NITI Aayog.
GES will highlight India's enabling environment for innovation and entrepreneurship - including actions by the government to increase the ease of doing business, eliminating unnecessary regulations and supporting start-ups.
According to Gayathri Vasudevan, Co-Founder & CEO, LabourNet, the theme of this year's GES Summit is a curtain raiser for a much-awaited launchpad for women entrepreneurs globally who are harbouring aspirations for inclusive economic growth.
"While statistics reveal that workforce participation of women in India is reducing, female micro-entrepreneurs are on the rise. This is because of the rise of the service and trading sectors as result of a booming consumer market. Understanding India's present entrepreneurial landscape, I hope that this summit will be able to open doors to the large proportion of women micro entrepreneurs in the service and trading sectors. This could be the right platform for increasing female workforce participation in Indian economy as well as ensuring equitable economic development," she said.
Why Hyderabad?
The choice of Hyderabad to host the event is significant as the city is a major tech hub; home to large number of US firms including giants like Microsoft, Google, Amazon, Apple and Uber and a robust startup ecosystem.
Known for premier academic institutions, top-notch talent and investor-friendly policies, the city also boasts of T-Hub, India's largest startup capital.
Telangana government has made elaborate arrangements for the prestigious event, which will also showcase the city as a fine blend of tradition and modernity.
(With inputs from IANS)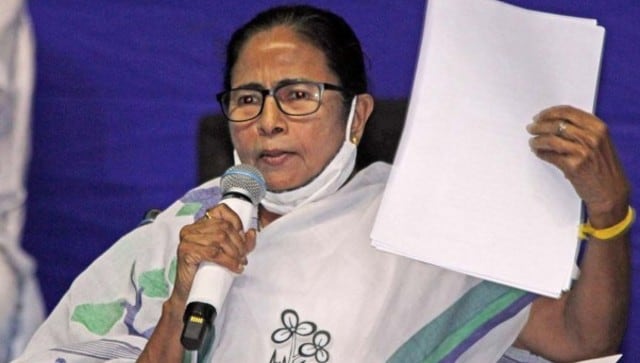 Politics
All this in the backdrop of #AbkiBaarDidiSarkar trending on Twitter, thus further fuelling rumours about a United Front.
India
The ''Mann Ki Baat'' programme is broadcast at 11 am on the last Sunday of each month through various channels of the All India Radio and Doordarshan
India
Modi noted that on the coming 15 August, India will enter its 75th year of Independence and highlighted that Amrit Mahotsav is being celebrated throughout the country to mark that year