GJEPC denies four-fold surge in imports of cut and polished diamonds, says there has actually been a 4.3% decline
Actual imports of cut and polished diamonds for this period stand at $1,527.43 million, and represent a decline of 14.44 percent as compared to $1,785.17 million for April-November 2016.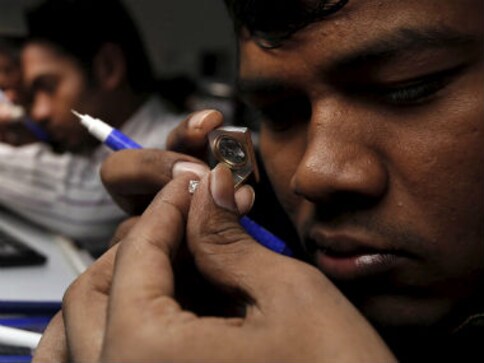 In an email interview with Firstpost, the Gem and Jewellery Export Promotion Council (GJEPC) refuted reports that have appeared in a section of the press that there has been a massive 'fourfold surge' in the imports of cut and polished diamonds into India from 'unspecified' locations during the period April-November 2017.
Actual imports of cut and polished diamonds for this period stand at $1,527.43 million, and represent a decline of 14.44 percent as compared to $1,785.17 million for April-November 2016.
GJEPC has further stated that the media report is based on provisional figures and discrepancies in the data published on the website of the DGCI&S, Kolkata. These inaccuracies had already been brought to the notice of the government by GJEPC through an official communication dated 14 February, 2018, which is over a week before the reports appeared in the press this morning and reconciliation process is going on.
The official trade body of India's gem and jewellery industry said that the 'inaccurate' figures quoted in the media report are wrong on two counts.
Firstly, the total figure of $6.3 billion quoted as imports of cut and polished diamonds comprises two distinct categories – actual imports and return consignments, both terms officially used in trade parlance and by the Customs department.
The former, which are actual imports and based on monetary transactions, have actually declined by 14.44 percent in the current fiscal, as per the figures mentioned above.
Return consignments, which comprises gems and jewellery (including diamonds) taken abroad for exhibition, export promotion or brand promotion purposes, and diamonds and gemstones sent abroad for certification by international laboratories which are always returned with certificates, are generally consignment exports, where, as per statute, no monetary transactions are involved.
The figures for return consignments recorded by GJEPC are $4,945 million in April-Nov 2017, which is almost the same as the $4,978 million in April-November 2016.
GJEPC said, "Consignment imports cannot be termed as imports" in a real sense, but are only "certified exports" for re-import. They are goods that go out of the country, but may come back if unsold or are meant to come back in case of certification and so at Customs, "no import duty is also levied due to the same reason".
Moreover, in all consignment exports that have to be compulsorily imported back, the country of origin is mentioned as India, the Council clarified, and these consignments are reflected as being of 'unspecified' origin in the DGCI&S data.
The second reason for the inaccurate figures quoted in the media report lies in the "low base effect" as a result that till October 2016 the data of these 'unspecified imports were not captured at all in DGCI & S' . While the current year's April-Nov figures have been recorded as $6,326 million, the figures for April-Nov 2016 have been shown as $1,586 million in the DGCI&S website. As per the data collected by GJEPC this 2016 figure should have been $6,763 million.
Thus, if one compares the correct figure of gross imports of cut and polished diamonds for the two years, there is actually a decline of 4.3 percent, rather than a 'surge' of 284 percent as reported by the media.
The difference is only due to the fact that data on gross polished imports was not captured properly by DGCI&S till last year. While this is being captured properly only from the financial year 2017-18, earlier records have not yet been updated to reflect this change.
GJEPC has reiterated that this discrepancy was officially intimated to the government on February 14th and it is confident that the DGCI&S figures for earlier years will be reconciled at the earliest to represent the true picture of a decline in import of cut and polished diamonds over the past few years.
Sports
After winning a historic silver at Commonwealth Games, long jumper Murali Sreeshankar wants to switch to a skin-tight singlet to ensure no ground is lost ahead of Monaco Diamond League (Herculis) debut  this Wednesday
Sports
He had won silver in the Birmingham CWG six days ago with the best jump of 8.08m, but to convert the glory at the Diamond League.