Get me a sofa! Spain sees post-lockdown furniture boom
By Belén Carreño MADRID (Reuters) - Spain's furniture manufacturers say they are overwhelmed by demand after sales boomed at the end of lockdown in June, potentially erasing most of the year's losses. Sales of household equipment, including furniture and home appliances, jumped by 9.9% in June, rebounding from three months of losses that included a 59.2% fall in April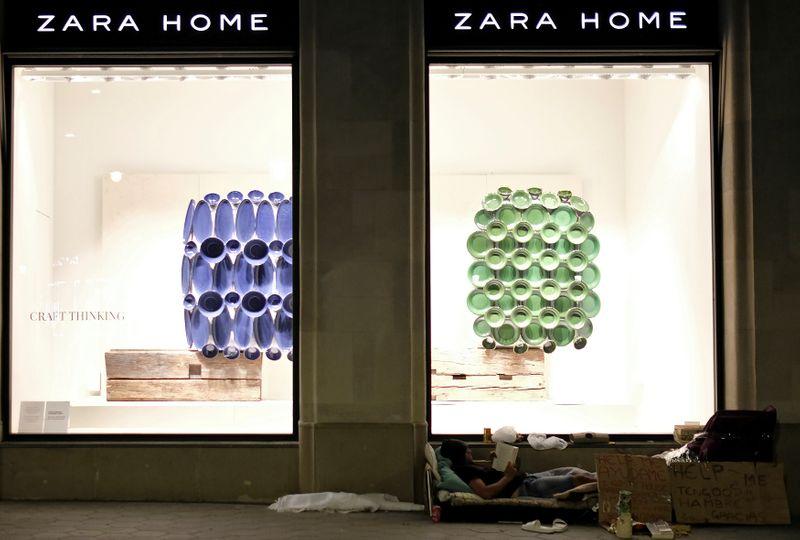 By Belén Carreño
MADRID (Reuters) - Spain's furniture manufacturers say they are overwhelmed by demand after sales boomed at the end of lockdown in June, potentially erasing most of the year's losses.
Sales of household equipment, including furniture and home appliances, jumped by 9.9% in June, rebounding from three months of losses that included a 59.2% fall in April.
The overall retail sales index, however, fell by 4.7% in June from a year earlier, data from the National Statistics Institute (INE) showed on Wednesday, as the coronavirus
lockdown took its toll on the Spanish economy.
Lidia Roza, owner of Casa Nueva, a furniture store in Gijón in northern Spain, said business was buzzing and some customers were having to wait two months, especially for sofas.
"There are no mattresses and sofa beds in warehouses anymore, it's mission impossible. We call the manufacturers and they tell us they are overstretched," she said.
Such is demand that a survey by a national association of furniture companies found that they expect to finish this quarter down just around 5% in sales, versus a cumulative loss of 18.5% so far in a year blighted by the pandemic.
"There's like a boom. Many manufacturers are telling us they are overflowing," said Vicente Sales, head of market analysis at the Spanish Furniture Observatory (Aidimme).
Though the sector is enjoying a V-shaped recovery, businesses remained cautious, he added, given the uncertain outlook for the economy and for the COVID-19
disease.
Grupo Pikolin, one of the leading mattress manufacturers in Spain, said it saw the same trend in all the European markets to which it exports, including France and Italy.
The company, which had a turnover of around 400 million euros last year, saw the months of June and July exceed its forecasts, with sales growth of 6-8%, a spokeswoman said.
(Reporting by Belén Carreño and André Vitor Tavares; Editing by Andrew Cawthorne and Janet Lawrence)
This story has not been edited by Firstpost staff and is generated by auto-feed.
Business
By Pete Schroeder WASHINGTON (Reuters) - JPMorgan Chase & Co will resume making political donations to U.S. lawmakers but will not give to Republican members of Congress who voted to overturn President Joe Biden's election victory, according to an internal memo on Friday seen by Reuters. The bank was among many corporations that paused political giving following the deadly Jan
Business
(Reuters) - Fintech company Square Inc is considering making a hardware wallet for bitcoin, Chief Executive Officer Jack Dorsey said in a tweet https://twitter.com/jack/status/1400839179513339905 on Friday. As bitcoin and other crypto-currencies have gained in popularity, many companies have emerged to serve a growing need to protect these assets from online theft. Bitcoin wallets can be stored offline or online at cryptocurrency exchanges, venues where bitcoin can be bought and sold for traditional currencies or other virtual coins.
Business
By Foo Yun Chee BRUSSELS (Reuters) -The European Commission on Friday defined the scope of revised copyright rules adopted last year following criticism from governments, including France and Poland, but EU broadcasters and internet activists said there was a danger of censorship. The revamped copyright directive, the first overhaul in two decades, aimed to provide fair compensation for the bloc's $1 trillion creative industry and its 11.7 million employees. A central provision, Article 17, backed by the creative industry, would force Google-owned YouTube, Facebook's Instagram and other sharing platforms to install filters to prevent users from uploading copyrighted materials