GDP growth rate at 7.7% in Q4 FY18, touches 6.7% for entire fiscal; rapid growth seen in agri, construction and manufacturing
India's GDP for the fourth quarter of 2017-18 grew at 7.7 percent, while for the full financial year 2017-18 it touched 6.7 percent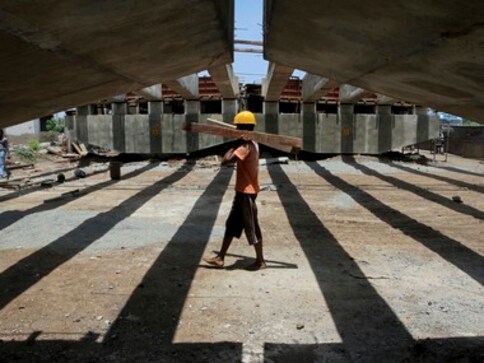 New Delhi: India's GDP for the fourth quarter of 2017-18 grew at 7.7 percent, while for the full financial year 2017-18 it touched 6.7 percent, official data showed on Thursday.
The GDP growth during the third quarter of the fiscal was at 7 percent.
"GDP at 2011-12 prices in the fourth quarter (Q4) of financial year 2017-18 registered growth rate of 7.7 percent as against 5.6 percent , 6.3 per cent and 7 per cent respectively, in the first three quarters, Q1, Q2 and Q3 of 2017-18, a statement by Ministry of Statistics and Programme Implementation said.
Rapid growth in agriculture (4.5 percent), manufacturing (9.1 percent) and construction sectors (11.5 percent) contributed to the overall growth of the GDP, the statement added.
At the sectoral level, the growth rate of gross value added (GVA) in Q4 of 2017-18 for agriculture and allied sectors, industry and services sectors was estimated at 4.5 percent, 8.8 percent, and 7.7 percent, respectively.
GVA includes taxes but excludes subsidies.
The statement said the sectors which registered growth rate of over 7 percent are 'public administration, defence and other services' (10 percent), ' trade, hotels, transport, communication and services related to broadcasting' (8 percent) and 'electricity, gas, water supply & other utility services' (7.2 percent).
The growth in the 'agriculture, forestry and fishing', 'mining & quarrying', 'manufacturing', 'construction', and 'financial, real estate and professional services' is estimated to be 3.4 percent, 2.9 percent, 5.7 percent , 5.7 per cent and 6.6 percent, respectively, the statement said.
It said: "The Gross National Income (GNI) at 2011-12 prices is now estimated at Rs 128.64 lakh crore during 2017-18, as against the previous year's estimate of Rs 120.52 lakh crore. In terms of growth rates, the Gross National Income is estimated to have risen by 6.7 percent during 2017-18, in comparison to the growth rate of 7.1 percent in 2016-17."
The per capita income in real terms (at 2011-12 prices) during 2017-18 is estimated to have attained a level of Rs 86,668 as compared to Rs 82,229 for the year 2016-17. The growth rate in per capita income is estimated at 5.4 percent during 2017-18, as against 5.7 percent in the previous year.
Opinion
Many foreign rankings and indices are arbitrary. They often lack robust methodology. Several are susceptible to bias. It is imperative therefore to construct a credible India-authored ranking template
World
The earthquake and its aftershocks killed more than 50,000 people in Turkey and Syria, and displaced millions more