Fuel rates continue to decline further due to fall in crude prices; OMCs, oil producers to get a breather
Friday is the is the 30th consecutive day when fuel prices have not been increased in the country
Fuel prices once again witnessed a decline on Friday in Delhi and Mumbai owing to a reduction in the rates of crude oil.
In Delhi, petrol is being sold at Rs 77.10 per litre after a decrease of 18 paise, and diesel at Rs 71.93 per litre after a decrease of 16 paise.
Meanwhile, petrol is retailing 18 paise lower at Rs 82.62 per litre and diesel at Rs 75.36 after a decrease of 17 paise in Mumbai.
In other metros too, fuel prices were down on Friday. Petrol costs Rs 80.26 in Chennai, Rs 77.90 in Bengaluru and Rs 79.21 in Kolkata. Diesel is priced at Rs 76.19 in Chennai, Rs 72.48 in Bengaluru and Rs 73.95 in Kolkata.
Petrol prices had touched an all-time high of Rs 84 a litre in Delhi on 4 October but has since declined to Rs 77.28 per litre on Thursday. Diesel, which had touched a record high of Rs 75.69 on 16 October, is now priced at Rs 72.09 per litre in Delhi.
According to Mint, Friday is the 30th consecutive day when fuel prices have not been increased in the country.
Impact on oil marketing firms
Fuel rates have been on the decline as the government cut excise duty on 5 October by Rs 1.50 a litre and asked oil firms to subsidise fuel by another Re 1 a litre, which many states matched with equivalent cuts in sales tax (VAT).
The government directive to state-owned fuel retailers to subsidise petrol and diesel will have a negative impact on their profitability and credit metrics, analysts said.
A depreciating rupee will increase the working capital requirements of oil marketing companies (OMCs), driving up debt levels. According to Moneycontrol, a reduction in crude oil prices will give a breather for OMCs that have seen their margins come under pressure of late.
"There had been a downfall in the crude prices in the recent weeks, sharper than anybody had expected and that definitely gives more comfort to oil refining and marketing companies in terms of refinery margins. Now, exactly how much of that will reflect we need to see as we go along," MK Surana, CMD, Hindustan Petroleum Corporation Limited (HPC) told The Economic Times in an interview on Friday.
The rise in fuel demand
India's fuel demand rose by 4 percent in October as a drop in prices propelled a rise in petrol and diesel consumption.
Fuel consumption in October totalled 17.99 million tonnes (MT) as compared to 17.3 MT in the same month last year, data from the Petroleum Planning and Analysis Cell (PPAC) of the Oil Ministry showed.
Petrol prices in Rs per litre
Date
Delhi
Kolkata
Mumbai
Chennai
04-10-2018
84.00
85.80
91.34
87.33
(Peak rate)
17-10-2018
82.83
84.65
88.29
86.10
16-11-2018
77.10
79.04
82.62
80.07
Fall from peak rate
-6.90
-6.76
-8.72
-7.26
Drop in 30 days
-5.73
-5.61
-5.67
-6.03
Diesel prices in Rs per litre
Date
Delhi
Kolkata
Mumbai
Chennai
16-10-2018
75.69
77.54
80.10
80.04
(Peak rate)
(04/10/2018)
17-10-2018
75.69
77.54
79.35
80.04
16-11-2018
71.93
73.79
75.36
76.02
Fall from peak rate
-3.76
-3.75
-4.74
-4.02
Drop in 30 days
-3.76
-3.75
-3.99
-4.02
When fuel prices started to rise on the back of a spurt in international oil rates and depreciation in rupee value against the US dollar in August, demand marginally dipped by 0.3 percent to 16.5 MT. In the following month, when petrol and diesel prices continued their upward trend, consumption rose by just 1 percent to 16.51 MT.
The United States recently softened its stand on Iran's sanctions and gave its nod to eight countries to continue importing oil from Iran temporarily. The list of countries includes India, China, South Korea, Japan, Turkey, Italy, the United Arab Emirates and Taiwan.
--With inputs from ANI
(Data contribution - Kishor Kadam)
World
The comments came at a reception hosted by the Indian Embassy on Tuesday for the visiting Science and Technology Minister Jitendra Singh
Business
The depreciation of the Indian rupee and other currencies is mainly due to the Russia-Ukraine war, which has led to a steep hike in the price of commodities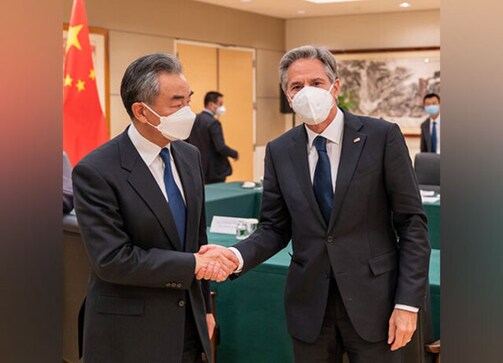 World
Secretary of State Antony Blinken emphasised that the United States is committed to maintaining peace and stability across the Taiwan Strait, consistent with its longstanding one-China policy