Fuel prices on downward trend: Petrol, diesel rates slashed up to 7 paise on Thursday; US crude extends sharp climb
The fuel prices started falling in the domestic market since December 21 following decline in the crude oil rates in the international market.
Petrol and diesel prices continued their downward slide for the sixth day in a row on Thursday with fuel rates cut up to 7 paise in major cities across the country as US oil prices extended their sharp climb from their previsous closing session amid rising stock markets.
Fuel prices started falling in the domestic market since 21 December following a decline in the crude oil prices in the international market. Thursday's fall is after the rates remained stable for two consecutive days.
Following the price cut, petrol was sold in Delhi at Rs 69.74 per litre, Mumbai Rs 75.36, Chennai Rs 72.36 and Kolkata Rs 71.86 a litre on Thursday. Diesel was retailed at Rs 63.76 per litre in Delhi, Mumbai Rs 66.72, Chennai Rs 67.31 and Kolkata Rs 65.51 per litre.
Meanwhile, US oil prices on Thursday extended their sharp climb from the session before amid rising stock markets, but worries over a glut in crude supply and concerns over a faltering global economy kept a lid on gains.
US West Texas Intermediate (WTI) crude futures, were up 26 cents, or 0.56 percent, at $46.48 per barrel. They jumped 8.7 percent to $46.22 per barrel in the previous session.
Brent crude oil futures had yet to trade. They rose 8 percent to $54.47 a barrel the day before.
Global stocks rebounded on Wednesday on the back of the Trump administration's attempt to shore up investor confidence and a report on strong US holiday spending.
However, both crude benchmarks are still down roughly 40 percent from highs in October, pressured by concerns about oversupply and over the outlook for the global economy.
"Oil prices have rebounded following the stock market's move, but they are still low," said Shim Hye-jin, a commodity analyst at Samsung Securities in Seoul.
"But if cuts by the Organisation of the Petroleum Exporting Countries  (OPEC) are fulfilled, WTI prices are expected to rise to $50-60 a barrel, while Brent is expected to go up to between $58-70 a barrel next year."
The OPEC and its allies including Russia, agreed at a meeting earlier this month to limit output by 1.2 million barrels per day starting in January.
— With inputs from Reuters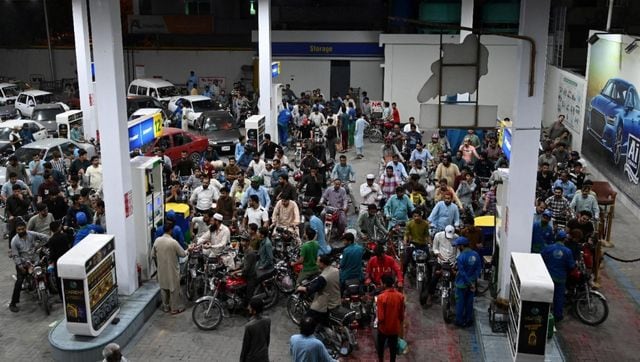 World
Serpentine queues of cars and two-wheelers were seen in most parts of Khyber Pakhtunkhwa after a reduction in supplies by oil marketing companies
World
China has assumed a central position in global supply chains — so anything that affects China will have knock-on effects for the world economy
World
Observers have already predicted that China would fall into the middle-income trap, and now evidence has emerged that the country is struggling to maintain its miracle of sustained higher growth rates of 10 per cent or more