From emancipation to entrepreneurship, women in Maharashtra's Ratnagiri district turn into beacon of light in patriarchal society
Young women have been finding their voices thanks to women having held and holding key leadership positions in the Panchayat
"I never imagined I would be in any official position leave alone be made the sarpanch of the panchayat. It has been a turning point in my life and for women in the village at Vakavli in Chiplun district," said 62-year-old Lalita Babaji Sakpal, who was the sarpanch for five years. A social worker for a long time who worked in the formation of self-help groups (SHGs), Sakpal says she got the vote of the women as they knew of her and the work she had done over the years.
With the government making mandatory 50 percent reservation for women in Panchayati Raj Institutions on 27 August, 2009, women in villages have been able to address core issues that affect them and impact their families. But it took a while before these women could stand up for their rights.
Firstpost visited a few villages in Ratnagiri district to find out if the numbers of women and their participation in the village panchayat have increased and brought about more relief. Initially, though women found themselves in the limelight with the government rule, most of them were tongue-tied and remained at the helm of the panchayat for namesake only. "Sign here. Please sit here for the meeting," these were the only instructions given by the menfolk and out of fear and respect, the women sarpanchs followed them, said Shyamal Kadam of NGO Parivartan in Chiplun.
Parivartan works closely with women on sustainable development which Kadam says remains incomplete without the active participation of women. It has worked with women on various issues ranging from mobilising women under SHGs, making them understand the importance of coming together, savings as well as building their capacities to sustain the collectives and working with the EWRs (Elected Women Representatives) in villages.
Women in the villages come together to celebrate festivals but shy away from any serious discussions that require their involvement. Fifty-six-year-old Anjali Ashok Baikar, who set up a mahila gram sabha was able to get a full quorum by participating in the women-only functions and satsang celebrations and talking to women. Women's participation has resulted in addressing issues they continue to face and are intimately aware of working in the kitchen.
"There was water spillage and wastage in Mandangad tehsil block of Ratnagiri district. I found that we could seek for money under the Ministry of Drinking Water and Sanitation's National Rural Drinking Water Security Pilot Project (NRDWSPP) for improved rural water supply," says Baikar. She was able to get Rs 45 lakh from the project and Palghar village in Mandangad was able to get water taps in all public water filling areas.
Agriculture is the only means of livelihoods for the villagers. The market of Mandangad is also not developed, it is one of most underdeveloped block level markets in Ratnagiri district. In such situation, business has very limited scope when the capital is constrained.
Baikar formed a SHG  here in 2003 with saving-credit transactions. The SHG decided to carry out an income generation activity studying the market situation. She found that papad as a product had much scope but needed to standout on aspects of quality, test and price. Recognising the rural consumers pulse for cost-effective, frequently required and tasty products, the SHG is gaining foothold in the market. "Last year (April & May), with a total sale of 26,500 papads, we earned a net profit of Rs 19,000 with mere investment of Rs 7,500. The input capital were made available through the government's UMED Maharashtra State Rural Livelihoods Mission program.
Baikar now has been able to make programs for women, handicapped and set up SHG groups to enable women to have a sustainable livelihood making papads, pickles, handicrafts, tailoring and also sets up exhibitions. Apart from this, she leads the social well-being activities such as cleanliness drives, health awareness programs, street-plays for awareness generation on social issues, plantation drives etc
Shraddha Dalvi, a housewife, shares her experience of finding a 'demand' for her products and be able to have money of her own. "I never thought there would be buyers for the pickles I make. My family appreciated what I did but it never occurred to me to sell it. If it was not for Baikar, I would have remained in my home and neighbourhood," she said. Now, the 31-year-old talks of how her money has come in the aid of her children's education.
Some women like Parvati Shankar Bhuved who have not been to school found their lives changed with marriage. Married into a family of people who were not educated themselves, Bhuved was pushed into thinking 'of doing something for the village' by her father-in-law. She got an opportunity to become the sarpanch and talks proudly of the various certificates and awards she won.
What the women have been able to do is break the shackles of the tradition-bound village life and eke out a livelihood within the comforts of their house and in the process emerge confident and self-reliant. There has been an overall improvement in women sarpanchs -- 43 percent of total gram panchayats (GPs) across the country, exhibiting active leadership of women in local government, according to the Economic Survey for 2017-18 tabled in Parliament.
However, there is much more that needs to be done as women are facing an array of issues and obstacles right from discrimination, violence, resource deprivation, confinement from social participation, economic backwardness to namesake participation in Panchayati Raj system which continues, says Kadam.
An apex level federation was debated quite extensively in the last few years in village and block level women organisations and now there is a strong organised network of rural women leaders at the village, block and district level. A district-level women federation that has representation from across the villages in four blocks spearhead development actions.
The strategic structure with apex and support organisations at grassroots has helped women leaders to effectively put forward their issues at the grassroots level, following them with the government (or any other relevant entity), finding way outs and execution of decisions. Young women have been finding their voices thanks to women having held and holding key positions in the panchayat.
The menfolk were earlier surprised by their women venturing out of the homes. But as their women work on a whole range of issues from animal husbandry (virus in cattle that led to many animals death), to getting loans from SHGs; water issues, to training women in entrepreneurship and working towards abolition of social issues like alcoholism and abuse by menfolk, Babaji Sitaram Sakpal says that though he is a teacher, women like his wife and other rural women have been able to do what most men haven't given a thought to.
(The article is part of OneWorld-Dream Media Fellowships on Life Skills-2018)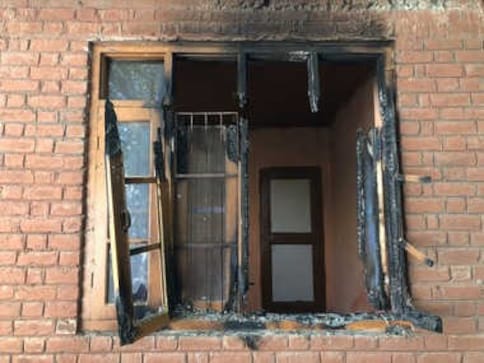 Politics
Nearly a dozen panchayat buildings have been set on fire by arsonists after the announcement of Urban Local Body and Panchayat Polls in Jammu and Kashmir. The message is clear: no matter what, no one should take part in the upcoming polls
Politics
While the govt would not want to give in to threats from militants, it would be possible to explain a postponement of Jammu and Kashmir Gram Panchayat polls without referring to the threats
Biztech
The deployment covers all 210 Gram Panchayats across 19 districts of the state to primarily bridge the digital divide and further socio-economic opportunities for its citizens.