French industrialist Serge Dassault dies at 93
PARIS (Reuters) - French billionaire industrialist Serge Dassault, whose group builds the Rafale war planes and owns Le Figaro newspaper, died in Paris on Monday aged 93, a spokesman for Dassault Group said. Dassault, a former conservative senator and mayor, was the fifth richest person in France according to Challenges magazine. The Dassault group which his father had created controls Dassault Aviation and Le Figaro, and holds major stakes in Dassault Systemes and Thales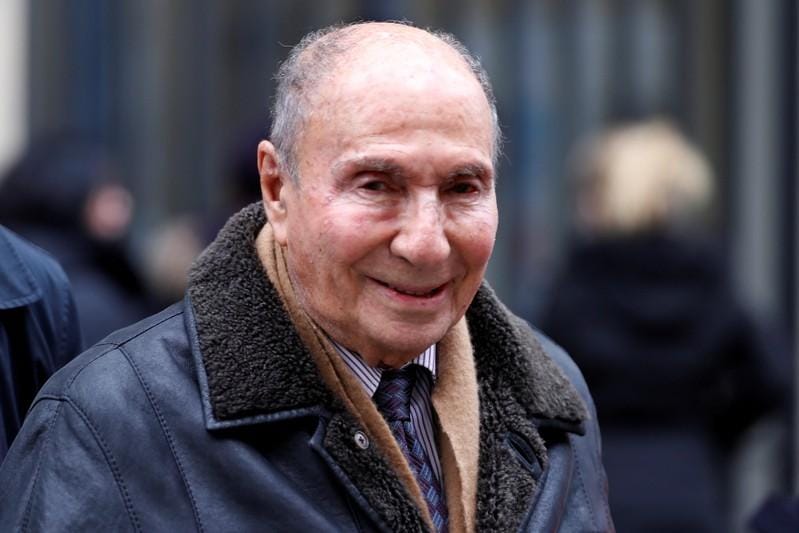 PARIS (Reuters) - French billionaire industrialist Serge Dassault, whose group builds the Rafale war planes and owns Le Figaro newspaper, died in Paris on Monday aged 93, a spokesman for Dassault Group said.
Dassault, a former conservative senator and mayor, was the fifth richest person in France according to Challenges magazine.
The Dassault group which his father had created controls Dassault Aviation and Le Figaro, and holds major stakes in Dassault Systemes and Thales.
Dassault had passed on leadership of Dassault Aviation in 2000 but he was still chairing Dassault Group.
The family-owned Dassault Group had in 2014 appointed Charles Edelstenne as eventual successor to Serge Dassault, saying at the time that the succession would be automatic. Edelstenne is currently CEO of the group.
Dassault, a father of four, died in his Paris office around 4 pm (1400 GMT), the spokesman said.
Dassault had a number of run-ins with the law. Last year he was fined two million euros ($2.32 million) after a court found him guilty of money laundering and failing to disclose fully his wealth to authorities.
Dassault's legal team said, in his defence, he had inherited many of the financial tax structures at the centre of the case from his father, and had since rectified his situation with French tax authorities.
($1 = 0.8604 euros)
(Reporting by Jean-Michel Belot; Writing by Ingrid Melander; Editing by Matthias Blamont/David Evans)
This story has not been edited by Firstpost staff and is generated by auto-feed.