Freight and fridge sales: Economists seek GDP clues amid data doubts
Some economists are perplexed by figures showing growth in consumer spending hitting a four-year high, even as sales of beverages, home appliances and vehicles fell.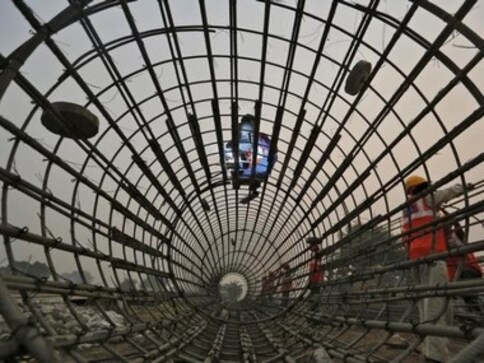 Surprised again by India's strong official growth statistics, economists are relying increasingly on high-frequency indicators like bank credit and rail freight to gauge the real health of Asia's third-largest economy.
For India's cash-reliant economy, Prime Minister Narendra Modi's decision in November to outlaw old 500 and 1,000 rupee banknotes came as a big shock.
The decision sucked 86 percent of cash out of circulation, and everyone from street hawkers to big consumer goods firms suffered a slump in sales.
With data on commercial vehicle output, rail freight, service tax receipts and home appliance sales showing slowing growth or contraction, economic expansion in the quarter to December was forecast by economists at 6.4 percent.
In fact, it came in at 7 percent, slower than the previous quarter but enough for India to retain the title of the world's fastest growing major economy.
"Forecasting India's GDP has become like predicting the English weather," said one senior economist with an international ratings agency. "You never know when it will rain, when it will shine."
Forget four percent, now earn 8.65 percent on your savings. The shock was bigger for economists at Mumbai-based brokerage Ambit Capital, who predicted the economy may even contract in the quarter after the cash crunch hobbled businesses.
Ambit's Ritika Mankar Mukherjee defended her team's view, which she said was based on an extensive survey of small- and medium-sized enterprises. She also cited a slowdown in bank credit growth to a multi-year low of five percent.
"India is a heavily bank credit-dependent economy," she said. "How come you have an acceleration in manufacturing activity when credit growth is slowing down?"
Ambit is one of several brokerages to devise their own measures of economic activity, applying methods honed in China, where GDP figures are suspected to have been "smoothed" for years by the authorities.
"The message from the GDP numbers doesn't tally with what we see on the ground," said Sonal Varma, an economist with Nomura in Singapore. "It does become important to supplement your analysis with additional information."
Politics of data
The official figures were music to the ears of Modi's ruling Bharatiya Janata Party, as it fights a tough election in the battleground state of Uttar Pradesh.
Modi had taken flak for his shock monetary therapy from opposition parties as well as Nobel laureates Amartya Sen and Paul Krugman. Buoyed by the growth figures, he hit back at Sen, who teaches economics at Harvard University.
"Hard work is more important than Harvard," he told a campaign rally in Uttar Pradesh on Wednesday.
The regional election in a state that is home to one in six Indians is a key mid-term test of Modi's popularity. A strong showing would boost his chances of winning a second term in 2019.
Sandeep Shastri, a political scientist, says the GDP figures will have little bearing on the election. "It is not a substantive issue for voters," he said.
Official GDP data has been questioned since a change in methodology in 2015 transformed India into the world's fastest-growing major economy. New Delhi defended the overhaul, citing an improved database of hundreds of thousands of firms.
Data reporting has long been a challenge in an economy where the informal sector accounts for 40 percent of output and employs nine in 10 workers.
The federal statistics office carries out periodic surveys of the grey economy, but it mostly extrapolates data from old surveys.
And since India does not have reliable national retail sales data, statisticians use production figures to estimate consumer spending.
Still, some economists are perplexed by figures showing growth in consumer spending hitting a four-year high, even as sales of beverages, home appliances and vehicles fell.
Earnings of consumer goods giants such as Hindustan Unilever and drug makers like GlaxoSmithKline Consumer Healthcare also took a hit.
Some data also appear to be contradictory. For example, services dependent on government spending grew at a faster pace in the quarter, but overall government spending fell.
"This does not add up," said Varma, the Nomura economist.
India
The prime minister's proposed public meeting would be a historic and attended by a large number of people to celebrate Modi's eight years as the country's prime minister, said BJP president Suresh Kashyap
India
In a fresh affidavit, the Centre said that Prime Minister Narendra Modi is of the firm view that the baggage of colonial-era laws, which outlived their utility, must be scrapped during the period of 'Azadi Ka Amrit Mahotsav'
India
The Prime Minister said that the BJP-led government, after taking over in 2014, revived the spirit of innovation in India's youth