Freezing temperatures push Asian gas prices to new records
By Jessica Jaganathan SINGAPORE (Reuters) - Freezing temperatures across Asia and Europe are driving liquefied natural gas (LNG) prices to record highs and pushing up wider gas prices as buyers grapple with shrinking inventories and a shortage of tankers. But with a milder weather forecast, prices may peak soon as demand for heating fuel diminishes, traders and analysts said. S&P Global Platts' Japan-Korea-Marker (JKM), a reference point for Asian spot LNG prices, rose to $28.221 per million British thermal units (mmBtu) on Monday for a cargo to be delivered in February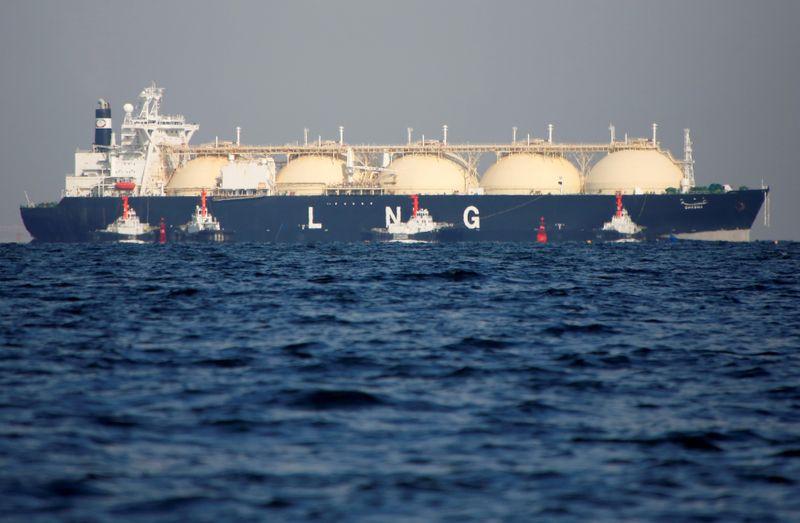 By Jessica Jaganathan
SINGAPORE (Reuters) - Freezing temperatures across Asia and Europe are driving liquefied natural gas (LNG) prices to record highs and pushing up wider gas prices as buyers grapple with shrinking inventories and a shortage of tankers.
But with a milder weather forecast, prices may peak soon as demand for heating fuel diminishes, traders and analysts said.
S&P Global Platts' Japan-Korea-Marker (JKM), a reference point for Asian spot LNG prices, rose to $28.221 per million British thermal units (mmBtu) on Monday for a cargo to be delivered in February. At least one Japanese utility paid over $30 per mmBtu for a cargo for late January delivery, traders said.
On Tuesday, commodity trader Trafigura bought a 3.2 trillion British thermal unit (TBtu) cargo for delivery in mid-February from Total Gas and Power Asia at $39.30 per mmBtu, data from Platts showed.
This is worth nearly $130 million, about 11% more than a cargo for 2 million barrels of oil, based on current prices, Reuters calculations show.
Spot Asian LNG prices have led the energy complex, gaining more than 1,000% since touching a record low below $2 per mmBtu in May during lockdowns to stem the spread of the coronavirus
.
"Supply is super tight in the prompt months and inventory levels are quite low in many places," a Singapore-based LNG trader said. "But, as the weather gets mild and supply gradually returns, the situation might improve."
Temperatures are expected to rise to above average in Tokyo, Beijing, Seoul and Shanghai over the next few weeks, weather data from Refinitiv Eikon showed.
GAS PRICES DRIVEN UP
High Asian LNG prices have dragged the whole natural gas complex higher.
Dutch gas prices traded at the TTF hub, the European benchmark, rose to near three-year highs on Tuesday as LNG cargoes were re-routed to Asia and as speculative buying increased. [NG/GB]
On Tuesday, the month-ahead TTF price hit 28.55 euros per megawatt hour, or about $7.8/mmBtu, its highest level since the fourth quarter of 2018.
Given the premium in the Asian LNG market compared to Europe, spot cargoes were more likely to flow to Asia rather than Europe, analysts at ING Research said.
U.S. natural gas futures on Tuesday rose to a six-week high.
Analysts at Goldman Sachs said there were 10 U.S. cargo loading cancellations for February but they expect U.S. LNG exports to remain near capacity throughout the year.
"The spread between Asian LNG prices and Henry Hub in the U.S. is wider than $17/mmBtu, suggesting very little chance of seeing further cancellations anytime soon, in fact a spread of that level should see LNG plants in the U.S maximising throughput," added analysts at ING Research.
Supply also appears to be increasing with Shell resuming cargo loadings from its Prelude floating facility in Australia after it was offline for nearly a year, and with increased loadings from Qatar, Russia and the United States, shiptracking data from Eikon showed.
Still, limited LNG tanker availability may keep spot LNG prices elevated, traders said.
LNG tanker rates have more than doubled from a month ago, with the daily charter rate for shipping LNG in the Atlantic basin hitting a record $322,500 as of last Friday, said Tim Mendelssohn, managing director at Spark Commodities.
(Reporting by Jessica Jaganathan; Additional reporting by Nina Chestney in London and Scott DiSavino; Editing by Kirsten Donovan, Edmund Blair and Jonathan Oatis)
This story has not been edited by Firstpost staff and is generated by auto-feed.
Find latest and upcoming tech gadgets online on Tech2 Gadgets. Get technology news, gadgets reviews & ratings. Popular gadgets including laptop, tablet and mobile specifications, features, prices, comparison.
World
(Reuters) -Moderna Inc said on Monday it would produce at least 600 million doses of its COVID-19 vaccine in 2021, up by 100 million doses from its previous forecast, as the United States continues to roll-out the vaccine. The company was working to invest and hire in order to deliver up to 1 billion doses this year, the higher end of its production forecast, it said
World
WARSAW (Reuters) - A skating rink owner in the Polish city of Szczecin believes he has found a way to keep his business open despite coronavirus restrictions - operate as a flower shop instead. His plan is simple - the customer has to purchase access to the flower "warehouse", then chooses from a box of flowers in the middle of the rink. "You can jump, crawl or go on all fours ..
World
By Reuters Staff SANAA (Reuters) - Paralysed and severely malnourished, seven-year-old Faid Samim lies curled up on a hospital bed in the Yemeni capital Sanaa, having barely survived the journey there.  "He was almost gone when he arrived but thank God we were able to do what was necessary and he started improving. He is suffering from CP (cerebral palsy) and severe malnutrition," said Rageh Mohammed, the supervising doctor of the Al-Sabeen hospital's malnutrition ward.