FRDI Bill: An analysis of global experience explains why depositors in India should be indeed worried
In India, the deposit protection limit is Rs 100,000, roughly one-sixtieth of the value protected in other jurisdictions. The Rs 1 lakh limit was set in 1993, and hasn't been upgraded since.
They are calling it a bail-in, but to many it seems that the government is bailing out on its responsibility of maintaining financial system solvency and instead, is leaving bank depositors carrying the can in the event of a bank failure.
The Financial Resolution and Deposit Insurance (FRDI) Bill was supposed to be an upgrade an old, outmoded deposit insurance scheme run by the Deposit Insurance and Credit Guarantee Corporation set up by an eponymous Act in 1961. The bail-in is the latest example of the new approach to bank resolution that emerged after the global credit crisis of 2008, ostensibly to replace bail-outs funded by governments.
It's been a few days since the level of public concern (over the extent of protection given to our deposits with banks) has risen, but the government's assurances – that common folk's savings (in the form of these bank deposits) are safe – seem to lack conviction.
Blame the lack of detail in the relevant provisions of the bill, which is resoundingly silent on whether customer deposits at banks will also be subjected to bail-in conditions, and are likely to be frozen in the event of a bank failure.
The last attempt to use the bail-in approach was in Cyprus in March 2013; Cyprus' economy declined and fell after the Greek crisis that roiled Europe in 2011 and 2012. The failure of its second largest bank led to customers with over €100,000 as deposits losing 40 to 60 percent of those deposits.
It's not only Cyprus that has a bail-in law. In the 24 months following the Cyprus story, Canada, New Zealand, the US, the UK and Germany also introduced legislation that in effect gives the governments in those countries the option of freezing, and perhaps seizing bank deposits above a certain level.
In the UK, for example, protected deposits have an upper limit of £85,000. In the rest of Europe, that translates into €100,000. The UK's Financial Services Compensation Scheme (FSCS) goes some steps further. It also provides a protection limit of up to £1 million – yes, a million pounds sterling – on 'temporary high balances' that depositors may have held when the bank failed.
What categories can be considered for being included in temporary high balances? Real estate transactions, benefits paid under insurance schemes, personal injury compensation, disability payments, redundancies, marriages, divorces, retirement benefits, death benefits and inheritance. Temporary, by the way, is defined as six months preceding bank failure or closure.
In India, the deposit protection limit is Rs 100,000, roughly one-sixtieth of the value protected in other jurisdictions. The Rs 1 lakh limit was set in 1993, and hasn't been upgraded since. Even adjusted for inflation, the level of cover won't increase too much. And if you have more than one account at the same bank, the limit of Rs 1 lakh applies to the total of all your accounts.
Think of having to find low cost way of distributing your deposits across several banks; if that turns out to be too expensive or cumbersome, you'll have to look for other means of protecting your savings.
What troubles most people is that the primary objective does not appear to be deposit protection, but financial institution resolution. And what worries them even more is that the FDRI bill puts depositors at the bottom of the totem pole when it comes to actual protection. Consider again, the example of Cyprus.
"All insured deposits (individuals and legal entities) up to €100.000 have, as of 26 March 2013, been transferred from Laiki Bank to the Bank of Cyprus. In addition, the entire amount of deposits belonging to financial institutions, the government, municipalities, municipal councils and other public entities, insurance companies, charities, schools, educational institutions, and deposits belonging to JCC Payment Systems Ltd have been transferred to the Bank of Cyprus. All other deposits exceeding €100.000 remain in the 'bad' Laiki Bank." That's what the Bank of Cyprus – the central bank – announced.
Depositors are usually the most senior of creditors (that's why bank deposits are treated as liabilities, or a form of borrowing). But now that does not appear to be the case. Yes, both Prime Minister Narendra Modi on the campaign trail in Gujarat and Finance Minister Arun Jaitley have stressed that bank depositors are protected, but the bill itself provides no such clarity or certainty.
Look back at media reports in the middle of 2016; a number of reporters and publications questioned the extent of protection extended to depositors under deposit insurance, even as non-performing assets were rising rapidly and bank insolvency was becoming a serious possibility. Between then and now, the government as owner of most of the public-sector banks and the Reserve Bank of India have been deafeningly silent on this issue. And now, we have the FRDI Bill.
Will we all go back to stuffing cash in our mattresses? Perhaps. Cash may be king once again.
Politics
People of Assam have voted for the BJP for the second consecutive term as they have realised that there is no place for 'aatankwad' (insurgency) and 'andolan' (agitation) in the state, Shah asserted
India
Modi noted that on the coming 15 August, India will enter its 75th year of Independence and highlighted that Amrit Mahotsav is being celebrated throughout the country to mark that year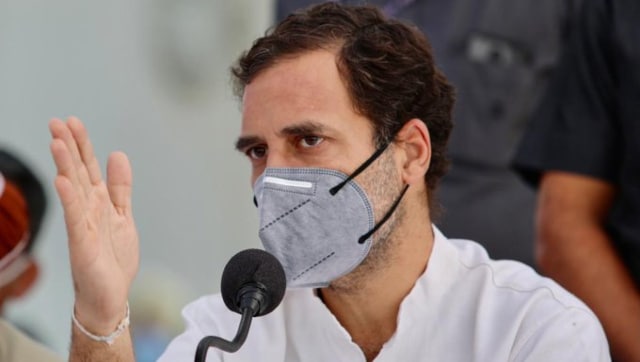 India
The former Congress president also shared a video on Twitter highlighting the alleged slow vaccination rate and media reports where people were not getting vaccines