Four years of Narendra Modi: India's economy, on a roller coaster ride, is now at the mercy of crude oil gods
If the government fails to bottle the inflation genie, it will be politically disastrous for Narendra Modi and his party in an election year.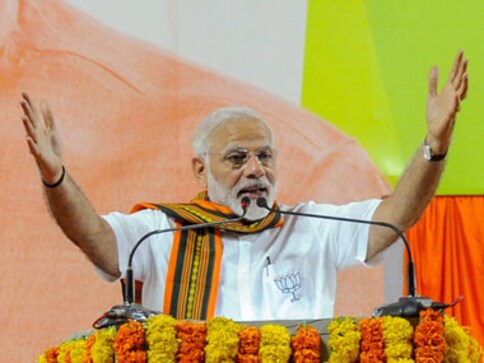 Soon after he secured the mandate to take over as prime minister, in May 2014, Narendra Modi tweeted:  'India has won! भारत की विजय। अच्छे दिन आनेवाले हैं। (good days are ahead).
Thus far, it has remained the most popular punchline when one refers to Modi, be it his critics or fans.
India has won! भारत की विजय। अच्छे दिन आने वाले हैं।

— Narendra Modi (@narendramodi) May 16, 2014
Have the good days actually come for the economy after four years of Modi rule? It's a very subjective question and the answer would depend on who you ask.
From an economic perspective, it is easy to discredit the Modi government if you pick certain critical points — Take the kind of jobs generated as against the promise of crores of new jobs or private investments that were supposed to flow in buying into the Modi magic.
Modi came with a business-friendly image but India is yet to become that 9 percent plus growing economy beating its peers, crucial land and labor reforms still remain in the pending list, recovering black money, building up a start-up revolution, Make in India, changing India into a manufacturing hub, weeding out corruption, bringing down the cost of living for the common man...the list of misses is long.
Yet, the man can't be judged by his misses alone. Modi has left his imprint on India's reform roadmap using a mix of incrementalism and assertiveness in setting policy targets for bureaucracy and making them meet deadlines no matter what it takes.
The biggest task Prime Minister Narendra Modi has undertaken in his four year-term, undoubtedly, is the difficult process of formalisation of India's parallel economy. This got a major kickstart when he launched Jan Dhan Yojana not long after he took over and later administered the bitter pill to the economy in the form of demonetisation of Rs 500 and Rs 1,000 notes on 8 November 2016.
About 86 percent of the currency in circulation was wiped off overnight. This was politically a high-risk move for Modi, something possibly no political leader in the world has attempted on such a scale. But BJP's successive wins in several state elections post-note ban has proved that the public anger over this landmark reform did not much impact Modi's popularity.
Demonetisation resulted in utter chaos with currency shortage, job losses in the informal economy (employer to 70-80 percent of the total workforce). Most economists would concur that note ban pulled down India's potential GDP growth by at least one percentage point. But, initially there were unexpected benefits too.
Many Indians who were till then wary of non-cash payment modes began using them for transactions. There was a sharp jump in UPI-based payments. There was a significant growth in the number of new taxpayers post-demonetisation as bank accounts came under tighter scrutiny. There were about 10.1 million new taxpayers between November 2016 and November 2017, compared with an average of 6.2 million in the preceding six years. But there are counter arguments too on how far this expansion of tax base has actually helped increase tax collection. When one looks at the tax-to-GDP ratio, we don't see any unusual jump in FY17 and FY16. As a percentage of GDP, tax revenues stood at 11.3 percent in FY17 and at 10.73 percent in FY16.
Even before demonetisation, we have seen similar growth figures. Now, if one looks at the number of people who filed tax returns, there is certainly an increase but not all of them would be net tax payers. The point here is that a sharp surge in a number of new taxpayers has not necessarily translated into a corresponding, unusual jump in tax collection. But nevertheless, the increase in the number of new taxpayers is good news for the country where tax evasion is a big problem. India's tax to GDP ratio is the lowest among BRICS nations.
Probably, making the Goods and Services Tax (GST) a reality will be counted as the biggest policy achievement of Modi. Though far from the idea of one nation, one tax, GST institutionalised a uniform tax structure across the country with a scope for improvement. Modi also made significant progress in four years on subsidy rationalisation using the Aadhaar-bank linkage programme leading to savings to the exchequer. Under the Direct Benefit Transfer programme, India has saved at least Rs 90,000 crore till date.
Modi's government facilitated a big scale cleaning up of the banking system bringing in the long-awaited Insolvency and Bankruptcy Code (IBC). The Reserve Bank of India (RBI) began the process of early identification of stressed assets in January 2014 . That forced banks to dig out the dirt from their balance sheets resulting in a significant jump in gross non-performing assets (NPAs) to Rs 9.62 lakh crore as of March 2018 from Rs 2.52 lakh crore in March 2014. Nearly 90 percent of the Rs 9.62 lakh crore are on the books of public sector banks (PSBs).
The government is still struggling to work out a solution for India's crisis-ridden farmers. Surely, pushing state-run banks to lend more to the already over-indebted, landless farmers of India, isn't the way out. The government will have to make sure that the farmer gets the right price for his produce and has enough means for storage and irrigation. Focusing only on channeling more money to farmers without addressing these fundamental problems can boomerang for the government.
With current account deficit under control, inflation lower, significantly higher foreign exchange reserves, the economy under Modi looks better in certain aspects. but the painful absence of private investments and employment generation blur that image. Adding to the woes, the Modi government is now facing a tough task with rising crude oil prices, resulting in record high petrol, diesel prices in the domestic market. Crude oil movement will set Indian economy's course from this point. In February 2015, petrol retailed at Rs 56.49 per litre in Delhi and diesel sold at Rs 46.01 a litre, while international crude oil prices were trending at $60 per barrel. Crude is now trading at $80 per dollar, and petrol costs Rs 76.87 per litre in Delhi while diesel sells at Rs 68.08 per litre. India imports 80 percent of its domestic oil demand. If this trend persists, the cascading impact will be huge on fiscal deficit, stoking inflation and finally forcing the RBI to begin the rate hike cycle. This can further drag the economy down. If the government fails to bottle the inflation genie, it will be politically disastrous for Modi and his party in an election year.
To sum up, after four years of the Modi government, the achhe din the prime minister promised has remained unfulfilled. There are broken promises. But, there are several positives too on the Modi government's scorecard that can't be discredited.
(Data support from Kishor Kadam)
also read
World
Then Indian PM Indira Gandhi was assassinated at her residence in New Delhi on 31 October 1984, months after Operation Bluestar which was carried out by the Indian Army to flush out Sikh militants from the Golden Temple in Amritsar
World
If the bill is enacted, Indigenous Australians, whose ancestors have been on the continent for at least 60,000 years, will have a constitutionally guaranteed right to be consulted by the government on legislation affecting their community
India
It's nine years of the Narendra Modi government and the PM has endeavoured to move away from India's colonial past. Today, India has a new Parliament building, Rajpath has been renamed Kartavya Path, a statue of Netaji Subhas Chandra Bose stands tall under the canopy at India Gate