Four of top 10 companies add Rs 1.12 lakh cr in market cap last week; Tata Consultancy Services tops the chart
The market valuation of Tata Consultancy Services zoomed Rs 47,148.71 crore to Rs 7,57,587.71 crore, the biggest rise among the top-10 firms.
New Delhi: Four of the 10 most valued companies together added Rs 1,12,121.1 crore in market valuation last week, with Tata Consultancy Services topping the chart. Bharti Airtel, Infosys and ITC were the other gainers from the top-10 list.
On the other hand, RIL, HUL, HDFC Bank, HDFC, Kotak Mahindra Bank and ICICI Bank cumulatively lost Rs 98,890 crore in market capitalisation during the week ended Friday.
The market valuation of TCS zoomed Rs 47,148.71 crore to Rs 7,57,587.71 crore, the biggest rise among the top-10 firms.
ITC's valuation jumped Rs 26,735.6 crore to Rs 2,29,065.73 crore and that of Bharti Airtel climbed Rs 21,222.12 crore to Rs 3,23,514.55 crore.
Infosys added Rs 17,014.67 crore to its valuation to stand at Rs 2,94,828.76 crore.
In contrast, the market cap of HDFC Bank tumbled Rs 27,035.85 crore to Rs 4,60,048.03 crore.
HDFC's valuation tanked Rs 20,620.02 crore to reach Rs 2,62,673.68 crore and that of ICICI Bank plunged Rs 20,358.82 crore to Rs 1,88,541.97 crore.
The market cap of Reliance Industries declined Rs 17,306.57 crore to Rs 9,07,548.99 crore and that of Hindustan Unilever fell by Rs 10,290.67 crore to Rs 4,67,168.22 crore.
Kotak Mahindra Bank's valuation dipped Rs 3,278.07 crore to Rs 2,22,049.15 crore.
In the ranking of top-10 firms, RIL retained its number one position, followed by TCS, HUL, HDFC Bank, Airtel, Infosys, HDFC, ITC, Kotak Mahindra Bank and ICICI Bank.
During the last week, the Sensex declined 425.14 points or 1.36 percent.
Find latest and upcoming tech gadgets online on Tech2 Gadgets. Get technology news, gadgets reviews & ratings. Popular gadgets including laptop, tablet and mobile specifications, features, prices, comparison.
Health
The magazine recognised Nita Ambani for leading the Reliance Foundation in its efforts to help fight the coronavirus pandemic, feeding workers on the front lines of the battle, the poor and needy and for setting up India's first COVID-19 hospital.
Business
Consumer brand Hindustan Unilever announced Thursday that it's dropping the word 'Fair' from its popular fairness cream brand 'Fair & Lovely' to achieve a "more inclusive vision of beauty", reports said.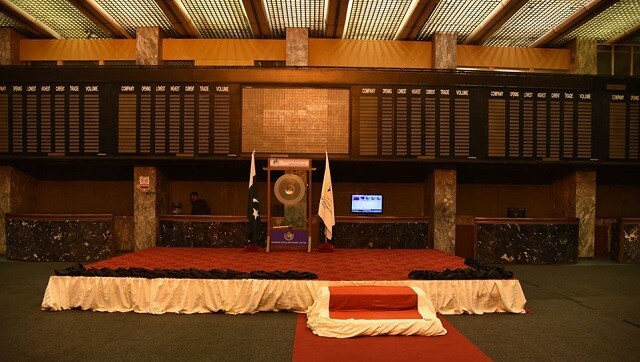 World
The Pakistan Stock Exchange building in Karachi, situated in a high security zone and housing the head offices of many private banks, was attacked with grenades and guns