The story so far: JWT India releases a campaign for Ford. The campaign is found offensive by some. Ford apologises. "The posters are contrary to the standards of professionalism and decency within Ford and our agency partners. Together with our partners, we are reviewing approval and oversight processes to help ensure nothing like this ever happens again," says the Ford statement. More details here.
Late on Tuesday, 26 March, two senior executives of JWT India, Chief Creative Officer Bobby Pawar and Vice President and Senior Creative Director at Global Team Ford JWT Vijay Simha resigned.
A quick wrap. JWT India creates a campaign for Ford, which is found to be offensive. The campaign is found to be 'contrary to the standards of professionalism and decency'. Two JWT executives resign.
There are some questions that need to be answered:
1. What was the campaign about?
2. Is the reaction by Ford, JWT and WPP warranted?
3. Should Bobby Pawar have been asked to go? What was Ford's role in this incident?
1. What was the campaign about?
The most important issue is that this was not a regular campaign, but a 'scam' campaign, created for awards shows. They are not created for 'consumption' by consumers. To spell it out more clearly, scam ads are created not to sell products and services, but to win awards at awards shows such as the Abby or at Cannes. Normally, clients are aware of the release of such ads, and it's a nod and a wink, with all the participants aware that these have been created only to win awards. To be eligible at most awards, they are required to have a legal approval and order to release from the client, and must be published in at least one publication/TV channel/website/outdoor location/radio station.
2. Is the reaction by Ford, JWT and WPP warranted?
The ads may be found to be funny, tasteful, decent by some, and not by others. There are three ads in the campaign, making Silvio Berlusconi, Paris Hilton, Michael Schumacher, the Kardashians, Sebastian Vettel, Lewis Hamilton, and Fernando Alonso the butt of the jokes (whether they were good jokes or bad jokes) through caricatured lookalikes. There was an outcry on social media, resulting in the ads being 'withdrawn' from adsoftheworld.com, the only place that they were visibly published. Ads have been found to be offensive on a number of occasions.
Take this one, which appeared in 2011.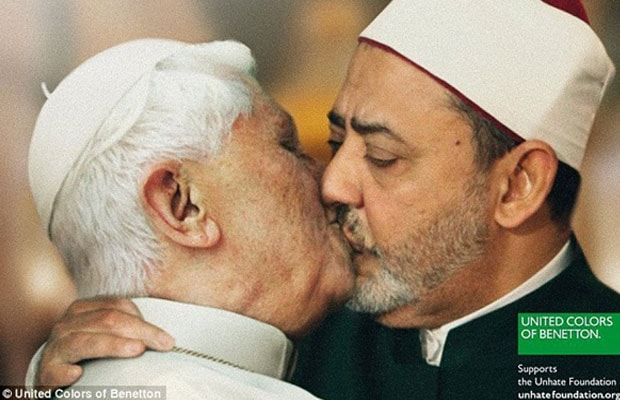 Did this offend? Yes, it did. It was actually published as a part of a kosher campaign, not a scam campaign. Benetton withdrew the ad within 24 hours. No one at Benetton or their agency lost their jobs.
In comparison, the offending Ford campaign is, well, a laugh.
And Ford is scared of offending Berlusconi? Many have 'offended' him before. Here's one of the milder offending cartoons.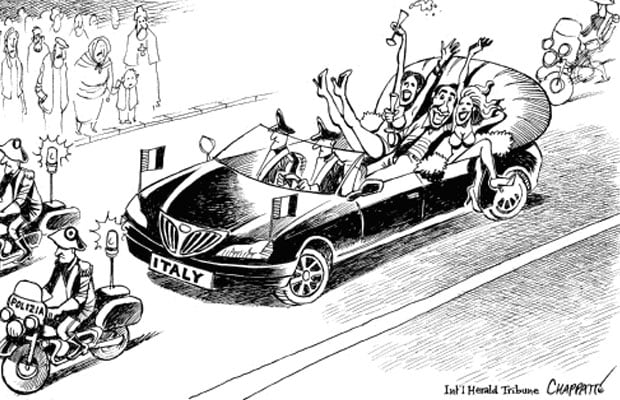 Did Chappatte resign? Did the International Herald Tribune apologise? Er, no.
Ford's done the right thing by withdrawing a campaign which generated negative PR. They've even done the right thing by apologising. JWT and WPP are also correct so far as their apologies are concerned - but that should have been the end of that. Withdraw the ad, and go back to business as usual.
3. Should Bobby Pawar have been asked to go? What was Ford's role in this incident?
As explained in the point above, major stakeholders Ford and JWT have overreacted. No one at JWT (or, indeed, anywhere) should have lost their jobs as a fallout of this campaign.
Sadly, there have been resignations, all at JWT.
Who all knew about the campaign before it hit the news? Did anyone at Ford know about the campaign? If the answer is yes, the question is, why isn't anyone at Ford being held responsible as well?
A rudimentary understanding of how advertising works and how awards entries work will immediately suggest that it is impossible for no one at Ford to know about the campaign before it was cleared and published. If the issue is so large, and if there has been a failure of oversight, the failure is at both JWT and Ford.
Here's a quick explanation of why:
1. The Ford ads were entered (and accepted as being legal) at the Abbys by JWT
2. For the ads to be accepted as legal, the client approval for the entry is a must.
If the entry was legal, the knowledge of the campaign goes beyond JWT. There is paper-work involved. The client has to approve of an estimate for the production of the ad, approve of the estimate for the media release. A media agency has to then issue release orders to the media concerned. The media house has to raise an invoice for the release. The invoice will have to first be booked, and later paid.
It is, to put it bluntly, not possible for an ad to become a legal entry without the process described above.
That means it is impossible for the client to be unaware of the campaign and it is impossible for account management at JWT (for they get approvals for estimates signed) to be unaware.
Yet the two heads to have rolled are two creative professionals.
It's sad. All that the situation required is the withdrawal of the ads (if at all) and apologies if the ads had been withdrawn. It is the resignation of Bobby Pawar that has made the non-news news. Now the focus will be to revamp an oversight system that needed no oversight; the checks and balances are already in place.
Unless, of course, Ford did not know of the ads, in which case the Ad Club has accepted entries which were not legally eligible.
JWT loses a talented head of creative and will have to begin the hunt for a replacement for Pawar, which is not easy. The relationship between Ford and JWT is strained. JWT's CEO, Colvyn Harris, will be hauled over the coals.
All because of unnecessary panic.
Firstpost is now on WhatsApp. For the latest analysis, commentary and news updates, sign up for our WhatsApp services. Just go to Firstpost.com/Whatsapp and hit the Subscribe button.
Updated Date: Dec 20, 2014 18:11:41 IST