Food wastage: Govt's proposal to fix portions served at hotels is hare-brained; here's why
Ram Vilas Paswan's proposal to fix dish sizes at hotels is simplistic to say the least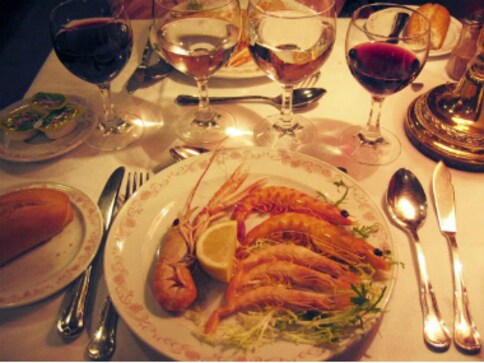 A possibly never-heard-of restriction is on the way for hotels which will make foodies' palates wither. The NDA government is planning to fix portions of food served in hotels in order to control food wastage, according to a report in The Hindustan Times.
In order to arrive at the quantum of food that can be served, the government will send questionnaires to hotels and restaurants.
"If a person can eat only two prawns, why should he or she be served six? If a person eats two idlis, why serve four," Ram Vilas Paswan, minister of consumer affairs, food and public distribution, has been quoted as saying in the report.
According to him, it is wastage of not only food but also money.
The move, according to the report, comes after Prime Minister Narendra Modi raised concerns about food wastage in the country in his programme, Mann Ki Baat on All India Radio.
In his radio address on 26 March, the prime minister had raised concerns about food wastage in India.
"Have you ever thought about how much food we waste? Have you ever thought how many poor people can be fed if we don't thus waste our food?," he had said, terming it a crime against society and also an injustice to the poor. He also said he wants the awareness about food wastage to be spread.
Micromanaging hotels
To be fair, food wastage is indeed a major worry for India. A government study had found that the country wastes Rs 92,651 crore worth or 67 million tonnes of food in a year. This is enough to feed a state like Bihar for a full year, according to this report.
The study by ICAR and Central Institute of Post-Harvest Engineering and Technology (CIPHET) was commissioned in 2012 and the report submitted in 2015. The value was arrived based on the production data of 2012-13 at 2014 wholesale prices.
However, it has to be noted that the study was done on the wastage food after the harvest, and not cooked food as Paswan or Modi have alluded to. And this indeed is a bigger problem than the wastage of food at hotels and family gatherings.
The study found that fruits and vegetables witnessed the maximum wastage of 4.58-15.88 percent, followed by fisheries which stood at 10.52 percent.
The reason for the wastage is lack of adequate infrastructure. India at present has a gap of 3.28 million tonnes of cold storage facilities only for fruits and vegetables, according to a written submission by Minister of State for Food Processing Industries Sadhvi Niranjan Jyoti in Lok Sabha on 28 March, 2017.
The government is taking steps to fill the gap in the food storage industry and is assisting 135 integrated cold chain projects of which 97 have commenced commercial operations. It has initiated processes to set up 100 new integrated cold chain projects.
Seen in this context, the proposal to fix portions served at hotels to curb food wastage is hare-brained and amounts to micro-managing of businesses and individuals' freedom. Instead of giving in to such silly ideas, the government could speed up food infrastructure building process instead..
(Data from Kishor Kadam)
India
The two-member Appointments Committee of the Cabinet comprises the Prime Minister and the Home Minister
India
The prime minister also inaugurated projects worth around Rs 744 crore and laid the foundation stones of several projects and public works worth about Rs 839 crore
India
The leaders will discuss a host of issues, including continued cooperation on COVID-19 response efforts, shared regional security interests and the climate crisis