Jabong acquired by Flipkart's Myntra for $70 mn pipping Snapdeal, Future
The deal, which has been in the works for some time, is floundering as many 'suitors have backed out'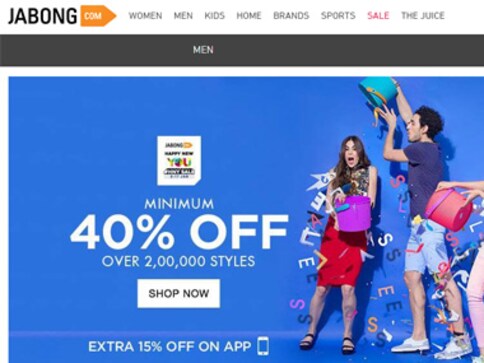 Flipkart's unit Myntra has acquired online fashion retailer Jabong.
According to a press release on the website of Global Fashion Group, the parent company of Jabong, the sale is for a consideration of $70 million.
"Global Fashion Group (GFG) has entered into a definitive agreement to sell Jabong, its Indian business, to Flipkart Group for US$70 million in cash. The transaction is a decisive step in GFG's strategy to refocus its business on core markets and further accelerate its path to profitability," the press release said.
With Net Revenues of €126 million and adjusted EBITDA loss of €56 million for the 12 months ended 31 March 2016, Jabong represented 13 percent of Global Fashoin Group's net revenue and 22 percent of adjusted EBITDA loss.
Explaining the rationale behind the sale, Global Fashion Group, which was formed in 2014 by merging six e-commerce companies, said that its board has concluded that Jabong's position in India "would be best served through a business combination with a local player".
"Jabong acquisition natural step in journey to be India's largest fashion platform," Ananth Narayanan, CEO, Myntra, has been quoted as saying in the media reports.
He also said there are significant synergies between the two companies especially on brand relationships and consumer experience.
"We look forward to working with the talented Jabong team to shape the future of fashion and lifestyle ecommerce in India," he added.
Sachin Bansal, executive chairman of Flipkart, welcomed Jabong on Twitter.
According to Binny Bansal, CEO and Co-Founder, Flipkart, fashion and lifestyle are the biggest drivers of ecommerce in the country. "This acquisition is a continuation of the group's journey to transform commerce in India," he has been quoted as saying in a report in The Economic Times.
Earlier media had reported that Jabong was in discussions with players like ecommerce major Snapdeal, Aditya Birla Group and Kishore Biyanis Future Group for a possible sell out.
The deal, which has been in the works for some time, is floundering as many "suitors have backed out", a PTI report had said quoting sources.
The company has been making losses due to fast-paced expansion that burnt cash.
According to the PTI report, Jabong narrowed down its gross loss to Rs 46.7 crore for 2015 on the back of lower level of discounts from Rs 159.5 crore in 2014.
Its net revenue rose 7.1 per cent to Rs 869.1 crore in 2015 compared with Rs 811.4 crore in 2014.
The GMV (gross merchandise value) in 2015 increased to Rs 1,502.9 crore compared with Rs 1,320.6 crore in 2014.
The report had also said the company expects to clock 20-30 percent growth in sales this year as it charts a turnaround in business.
Corporate
The target is to have the entire Big Bazaar shopping experience online by the end of 2014.
Business
In a statement, Myntra said Narayanan has decided to step down as CEO of Myntra and Jabong to pursue external opportunities.
Business
Myntra has also augmented its logistical capabilities to manage about two lakh deliveries per day