Finance ministry to set up high-level panel to tackle NPAs
The gross NPAs of PSBs rose to 6.03 percent at the end of June 2015, as against 5.20 percent in March 2015.
New Delhi: Concerned over mounting bad loans, the government is planning to set up a high-level panel to effectively deal with the issue, said a senior finance ministry official.
"That was discussed at the meeting of the finance minister with the heads of PSU banks. It's too early to get into specifics... it will certainly have a more focused look on certain sectors," Department of Financial Services secretary Anjuly Chib Duggal said when asked if a panel on NPAs, which is likely to be headed by Minister of State for Finance Jayant Sinha, is in the offing.
The gross NPAs of PSBs rose to 6.03 percent at the end of June 2015, as against 5.20 percent in March 2015.
"NPA is a matter of concern and the government is vigilant in this regard. The government is looking into the problems faced by steel, aluminium and textile sectors," she said.
These are the sectors which have a high share of total NPAs of public sector banks.
Earlier in the day, Sinha said: "NPAs are a result of many factors. There is not one silver bullet that is going to deal with them... It will require us to take a multi-dimensional approach."
On Indian Overseas Bank issue, Duggal said, "There is a mechanism already to check fraud. Fraud is clearly an issue. It's is an area of concern."
On financial inclusion, she said differentiated banking is very much on the cards.
"Geographical differentiation is going to happen. With smaller banks serving smaller areas, trust gets better and outreach is better and personal," she said.
She stressed on the need for lowering of the cost of delivery to push financial inclusion.
"We are looking at moving a little further towards lowering costs in delivery of products," the Secretary added.
On the Pradhan Mantri Jan Dhan Yojana, Duggal said it has got a very good response and deposits under the scheme have crossed Rs 27,000 crore.
At the same time, she noted, zero balance accounts have come down to about 35 percent.
PTI
Find latest and upcoming tech gadgets online on Tech2 Gadgets. Get technology news, gadgets reviews & ratings. Popular gadgets including laptop, tablet and mobile specifications, features, prices, comparison.
World
When it came to Mother Nature, Trump was not humble, he did not seek national coordination in response to the virus and he did not ground what strategy he had in chemistry, biology and physics, but rather in ideology, politics, markets and an election calendar
India
Of this permitted additional borrowing of 2 percent of GSDP, 0.5 percent is unconditional while the rest depends on the implementation of certain reforms.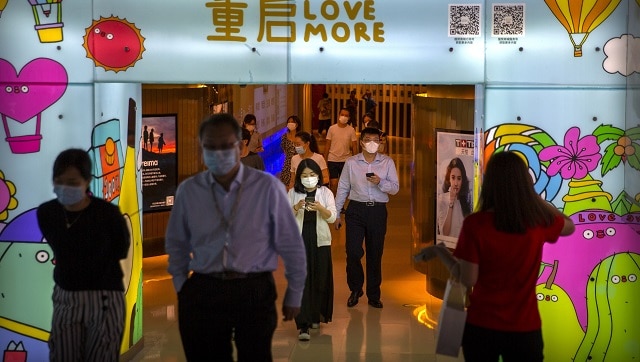 World
Chinese exporters have benefited from the economy's relatively early reopening and global demand for medical supplies, according to a National Bureau of Statistics report