Finance Comm gives more power to states but the Finmin just watered down co-operative federalism
The action taken report by the finance ministry says it has accepted the recommendation on Centre-state transfers "in principle"
Uh-oh. It looks like acceptance by the government of the report of the Fourteenth Finance Commission is not as unqualified as it is being made out to be.
Though the Finance Commission report is being hailed as landmark and path-breaking for doing away with conditions in transfers from the Centre to the states, the finance ministry has slipped in a condition of its own in relation to the recommendations on revenue deficit grants to 11 states.
The action taken report (ATR) filed by the finance ministry says it has accepted this recommendation "in principle".
"The grants-in-aid to be subject to the revenue raising and fiscal consolidation measures undertaken by the states. Appropriate institutional arrangements shall be put in place to assess and advice [sic] government for making post devolution revenue deficit grants-in-aid".
"This is unconstitutional," protests M Govinda Rao, member of the Fourteenth Finance Commission.
Revenue deficit grants are given by Finance Commissions to cover any non-Plan revenue deficits states may have after the devolution of proceeds from the divisible pool. The grants – a fixed sum – are spaced out – and taper down - over the five-year award period of a Finance Commission.
The Thirteenth Finance Commission gave such grants to eight states. In the case of the Fourteenth Finance Commission, this grant became a revenue deficit grant since it considered both Plan and non-Plan revenue expenditure.
It recommends Rs 1,94,821 crore to be distributed among 11 states. Of these, four will get no grants in the final years of the award period, since they are expected to come into revenue surplus by then. Assam and West Bengal will not get the grant in the last three years, Kerala in the last two years and Meghalaya in the last year.
Rao says neither the list of states nor the amounts to be given to them can be changed. The Commission, he points out, has assessed the fiscal position of all states as well as the pre-devolution and post-devolution revenue deficits. The post-devolution revenue deficits have been worked out by adding the share of the respective states in central taxes to the pre-devolution revenue deficit.
States have to make do with the grants given. If they do not manage to improve their finances, they cannot get more. If a state moves to a revenue surplus situation before the time it is projected to, it will not forfeit the amount allocated to it.
And if any other state (apart from those identified for the revenue deficit grant) slips into revenue deficits during the award period, it will not get any grants, but has to wait untill the next Finance Commission. Similarly, the central government, Rao says, cannot impose conditions on how and when it will give the grants or how the states must behave. Nor can it hold back any money on grounds of conditions not being fulfilled.
The ATR on the revenue deficit grant certainly goes against the spirit of the Fourteenth Finance Commission's report. The report said: "We have minimised the use of conditionalities and incentives. We have also increased untied transfers. This reflects our trust in all tiers of governments."
Clearly this trust is not shared by the central government, in spite of Prime Minister Narendra Modi, in his letter to chief ministers, said "we have taken the recommendations of the 14th FC in a positive spirit as they strengthen your hand in designing and implementing schemes as per your priorities and needs."
Subscribe to Moneycontrol Pro at ₹499 for the first year. Use code PRO499. Limited period offer. *T&C apply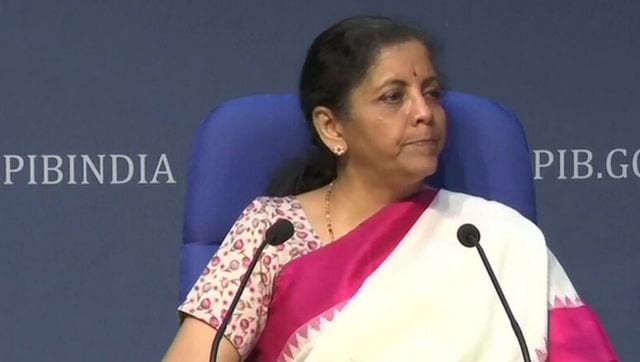 Business
The AIBEA said the move will make it more difficult for public sector banks to lend to weaker and priority sectors at concessional rates of interest
Business
Private banks can now be equal partners in the development of the Indian economy, the Union finance minister added
India
The Centre had set up a special borrowing window in October 2020 to meet the estimated shortfall of Rs 1.10 lakh crore in revenue arising on account of implementation of GST