Fiat Chrysler picks Jeep boss as CEO as Marchionne's health worsens
By Agnieszka Flak and Laurence Frost MILAN/PARIS (Reuters) - Sergio Marchionne was replaced as chief executive of Fiat Chrysler (FCA) on Saturday by the head of the firm's Jeep division, Mike Manley, after the health of the carmaker's long-time boss deteriorated sharply following surgery. British-born Manley, who also takes responsibility for the North America region, will implement a strategy outlined by Marchionne last month to ensure the company has a 'strong and independent future', FCA said in a statement. Marchionne, 66, was credited with rescuing Fiat and Chrysler from bankruptcy after taking the wheel at the Italian carmaker in 2004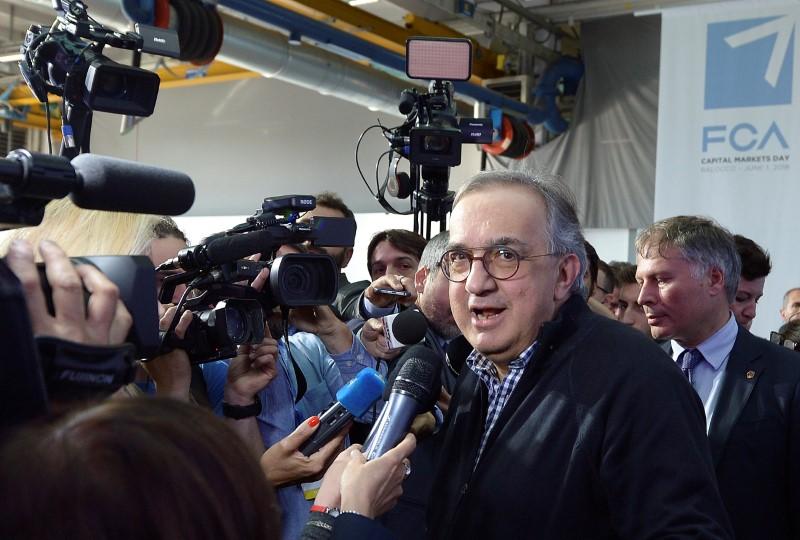 By Agnieszka Flak and Laurence Frost
MILAN/PARIS (Reuters) - Sergio Marchionne was replaced as chief executive of Fiat Chrysler (FCA) on Saturday by the head of the firm's Jeep division, Mike Manley, after the health of the carmaker's long-time boss deteriorated sharply following surgery.
British-born Manley, who also takes responsibility for the North America region, will implement a strategy outlined by Marchionne last month to ensure the company has a "strong and independent future", FCA said in a statement.
Marchionne, 66, was credited with rescuing Fiat and Chrysler from bankruptcy after taking the wheel at the Italian carmaker in 2004. He had been due to step down from the combined group next April but his sudden health crisis forced FCA to accelerate the shift.
"FCA communicates with profound sorrow that during the course of this week unexpected complications arose while Mr Marchionne was recovering from surgery and that these have worsened significantly in recent hours," the statement said.
FCA said this month that Marchionne, who held joint Italian and Canadian citizenship and was described by those who worked with him as a workaholic, had undergone shoulder surgery and was in recovery but then his situation deteriorated.
This has also prompted succession plans at sportscar maker Ferrari and truck and tractor maker CNH Industrial, spun off from FCA in recent years. Along with FCA, the companies are controlled by Italy's Agnelli family.
Ferrari, were Marchionne had been both chairman and CEO, named FCA Chairman and Agnelli family scion John Elkann as new chairman, while board member Louis Camilleri becomes chief executive, the luxury carmaker said in a separate statement.
Marchionne had previously said he planned to stay on as Ferrari Chairman and CEO until 2021.
CNH Industrial, which Marchionne also chairs, named Suzanna Heywood, as his replacement.
On Friday, FCA denied a report by Italian website Lettera43 that Elkann had summoned top executives to a meeting on Saturday in order to reassign Marchionne's responsibilities.
(Additional reporting by Danilo Masoni in Milan and Elvira Pollina in Turin; Editing by Mark Bendeich and Edmund Blair)
This story has not been edited by Firstpost staff and is generated by auto-feed.
Find latest and upcoming tech gadgets online on Tech2 Gadgets. Get technology news, gadgets reviews & ratings. Popular gadgets including laptop, tablet and mobile specifications, features, prices, comparison.
World
By Paul Carrel BERLIN (Reuters) - European Union sanctions against 40 officials in Belarus are "a small victory" but should be widened, opposition leader Sviatlana Tsikhanouskaya said on Monday, adding she would press Germany's Angela Merkel to do more at a meeting on Tuesday. Tsikhanouskaya fled her homeland for Lithuania amid a police crackdown in Belarus following an Aug. 9 presidential election, which official results said incumbent Alexander Lukashenko won, but which Tsikhanouskaya's supporters say was rigged
World
WASHINGTON (Reuters) - White House Press Secretary Kayleigh McEnany said on Monday she tested positive for COVID-19, while several U.S. media outlets reported that a number of other White House staff members also were confirmed to have been infected with the novel coronavirus
World
WASHINGTON (Reuters) - U.S.