Fed's Rosengren warns of inflation risks to central bank's 'almost ideal' economic outlook
By Jonnelle Marte HARTFORD, Conn (Reuters) - U.S. Federal Reserve policymakers are forecasting an 'almost ideal' outcome in 2020 where the U.S. labor market will stay strong and inflation will approach the central bank's 2% target, but officials should remember to consider potential risks, Boston Federal Reserve Bank President Eric Rosengren said on Monday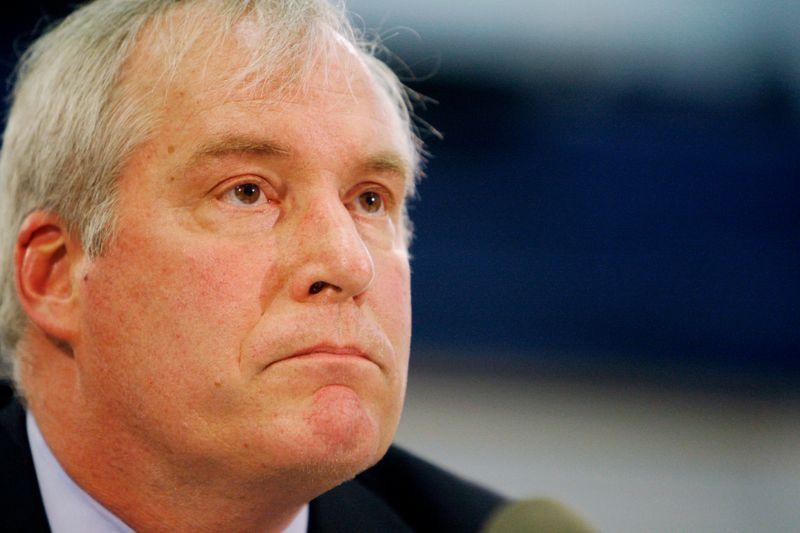 By Jonnelle Marte
HARTFORD, Conn (Reuters) - U.S. Federal Reserve policymakers are forecasting an "almost ideal" outcome in 2020 where the U.S. labor market will stay strong and inflation will approach the central bank's 2% target, but officials should remember to consider potential risks, Boston Federal Reserve Bank President Eric Rosengren said on Monday.
Among those risks is the threat that the tight labor market could lead to a sudden pickup in inflation, Rosengren said in remarks delivered to the Connecticut Business & Industry Association in Hartford, Connecticut.
"Central bankers do not have much historical experience with extended periods where interest rates are running below the estimated equilibrium level while unemployment rates are, simultaneously, historically low," Rosengren said. "So we want to be alert to any potential risks emerging."
Rosengren, who voted against the three rate cuts passed by the Fed last year, said interest rates are now accommodative and cautioned that officials need to watch out for the risk that prices and the labor market could grow faster than expected. He does not have a vote in monetary policy decisions this year because of the Fed's rotation.
He also on Monday repeated his concern that low rates could encourage consumers and businesses to take on more risk and inflate the value of real estate and other assets. Both commercial and residential real-estate values are "sensitive" to rates and valuations could grow when rates are low, Rosengren said.
Fed officials voted unanimously to keep interest rates unchanged at the December policy meeting and policymakers sent a strong signal that rates are likely to stay at current levels for the time being.
EVEN MORE UNCERTAINTY
Policymakers expect the unemployment rate to stay below 4% in the range seen last year, Rosengren said. But with interest rates also low, there is a chance that the labor market could reach "unsustainable levels," causing wages and inflation to grow more quickly than expected, he said.
He also noted that, so far, inflation is more muted than expected given today's low levels of unemployment - a puzzling outcome some economists attribute to the weakening of unions and shifts in the types of jobs available.
Still, there have been recent increases in wages, which means businesses may need to start raising prices, which could lead to greater inflation. "We are seeing some resistance to raising prices at this point, but at some point we would expect wage increases to start flowing through to prices because you can't keep having the profit margins reduced."
Despite the optimistic outlook for the job market, Rosengren said trade negotiations and the presidential election could create more uncertainty and put a damper on business investment.
The policymaker said the "phase one" deal being discussed with China is not a "complete trade deal" and that businesses need more clarity about tariffs.
"Overall, I don't think the trade agreement by itself has really eliminated the problem with trade concerns," Rosengren said in response to questions from the audience.
The election is also creating uncertainty because of the chance that voters may face "two very different choices" in November, Rosengren said. Some businesses may delay major investments and consumers may put off major purchases until after they know what to expect for tax policy, he said.
Rosengren said he generally expects consumer spending to remain strong amid a robust labor market, a rising stock market and strong personal income.
(Reporting by Jonnelle Marte; Editing by Andrea Ricci)
This story has not been edited by Firstpost staff and is generated by auto-feed.
Find latest and upcoming tech gadgets online on Tech2 Gadgets. Get technology news, gadgets reviews & ratings. Popular gadgets including laptop, tablet and mobile specifications, features, prices, comparison.
World
By Kate Holton LONDON (Reuters) - The post-Brexit woes facing Scotland's fishing industry deepened on Saturday as its biggest logistics provider, DFDS Scotland, said it would halt exports to the European Union through one of its main services until at least Wednesday. Previously the company had said it would take until Monday to resume its "groupage" export service - which allows exporters to ship multiple products in a single consignment - while it tries to fix IT issues, paperwork errors and a backlog of goods. DFDS's move represents another blow for Scottish fishermen who this week warned that their businesses could become unviable after Britain shifted to a less integrated trade deal with the EU at the turn of the year
World
VATICAN CITY (Reuters) - Pope Francis said on Saturday he planned to be vaccinated against COVID-19 as early as next week and urged everyone to get a shot, to protect not only their own lives but those of others.
World
By Rich McKay (Reuters) - A man photographed carrying off the Speaker's lectern during the Capitol Hill riots was arrested late Friday, while a top Democratic lawmaker on Saturday called on mobile carriers to preserve social media content related to the riots. Dozens of people have been charged following the storming of the Capitol on Wednesday, with the FBI asking the public for help identifying participants, given the proliferation of images of the riots on the internet.