Fed's Bullard says he doesn't see need for half-point rate cut: Bloomberg interview
WASHINGTON (Reuters) - St. Louis Federal Reserve Bank President James Bullard said on Tuesday he does not think the U.S. central bank needs to cut interest rates by a half-percentage point at its next meeting in July, even though he pushed to lower rates last week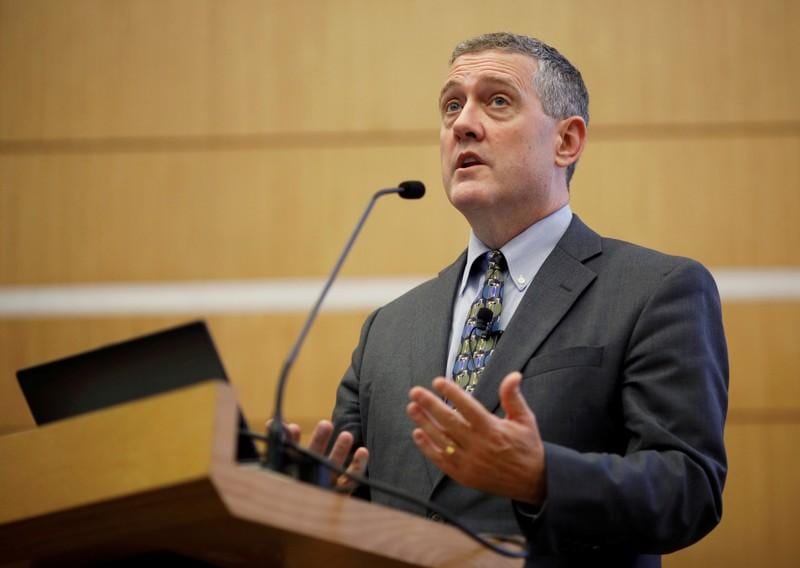 WASHINGTON (Reuters) - St. Louis Federal Reserve Bank President James Bullard said on Tuesday he does not think the U.S. central bank needs to cut interest rates by a half-percentage point at its next meeting in July, even though he pushed to lower rates last week.
"Just sitting here today, I think 50 basis points would be overdone," Bullard said in an interview with Bloomberg Television. "I don't think the situation really calls for that, but I would be willing to go 25 (basis points)."
At a meeting last Wednesday, the central bank left interest rates on hold but signaled reductions beginning as early as July.
Bullard dissented, arguing that weak inflation and uncertainties about the outlook for economic growth warranted a rate cut.
Asked why he was not now advocating for a bigger cut in July, the regional Fed bank chief said the economic situation was not so dire as to need such a dramatic move.
"I don't think we have to take huge action," he said. "This is more in the realm of insurance, in the realm of ordinary adjustments to monetary policy that you should be making to be sensitive to market developments."
Indeed, Bullard said he saw only a cumulative half-point cut in the Fed's benchmark rate by year end.
(Reporting by Susan Heavey and Jason Lange; Writing by Tim Ahmann; Editing by Chizu Nomiyama)
This story has not been edited by Firstpost staff and is generated by auto-feed.
Find latest and upcoming tech gadgets online on Tech2 Gadgets. Get technology news, gadgets reviews & ratings. Popular gadgets including laptop, tablet and mobile specifications, features, prices, comparison.
World
By Jeff Mason WASHINGTON (Reuters) - U.S. President Donald Trump, facing the possibility of a cash crunch, said on Tuesday he would spend "whatever it takes" of his own money to finance his 2020 presidential campaign against Democrat Joe Biden if he had to
World
By Lisandra Paraguassu BRASILIA (Reuters) - Brazilian House Speaker Rodrigo Maia said on Tuesday that lawmakers are currently finalizing the text of a bill targeting those that finance "fake news" attacks on social media sites, adding that it could be voted on by the end of this year. The draft of the Brazilian bill was approved in the Senate on June 30, but the lower house created a working group to suggest modifications. Those changes will be finalized in two weeks, Maia said
World
DUBLIN (Reuters) - Ireland plans to allow the reopening of all pubs on Sept. 21, dropping a ban on bars that do not serve food, a senior minister said on Tuesday.