Federal prosecutors investigating whether Boeing pilot knowingly lied to FAA - NYT
(Reuters) - Federal prosecutors investigating Boeing Co are examining whether the U.S. planemaker knowingly misled the Federal Aviation Administration while it was seeking approval for its 737 MAX jet, the New York Times reported https://www.nytimes.com/2020/02/21/business/boeing-737-max-investigation.html, citing two people familiar with the matter. Boeing said it was cooperating with the U.S Department of Justice investigation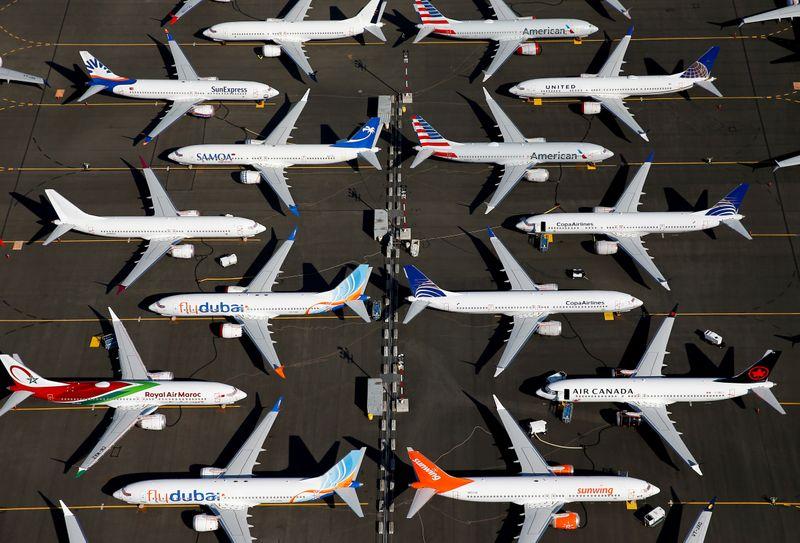 (Reuters) - Federal prosecutors investigating Boeing Co are examining whether the U.S. planemaker knowingly misled the Federal Aviation Administration while it was seeking approval for its 737 MAX jet, the New York Times reported https://www.nytimes.com/2020/02/21/business/boeing-737-max-investigation.html, citing two people familiar with the matter.
Boeing said it was cooperating with the U.S Department of Justice investigation.
The prosecutors in recent months questioned several Boeing employees focusing on whether Mark Forkner, a top pilot at the company, intentionally lied to the regulator about the nature of new flight control software on the jet, according to the report.
Forkner had said he might have unintentionally misled regulators, in a series of internal messages from 2016 that became public in October.
The messages appeared to have been the first publicly known observations that the MCAS anti-stall system behaved erratically during testing before the aircraft entered service.
The comments by Forkner, who has since left Boeing, were among those pinpointed by U.S. lawmakers in hearings in Washington as evidence Boeing knew about problems with flight control software well before two crashes of its 737 MAX aircraft in October 2018 and March 2019 killed 346 people.
The FAA did not immediately respond to Reuters requests for comment.
Shares of the planemaker closed down 1.8% at $330.38.
(Reporting by Sanjana Shivdas in Bengaluru; Editing by Anil D'Silva and Shailesh Kuber)
This story has not been edited by Firstpost staff and is generated by auto-feed.
Business
By Herbert Lash NEW YORK(Reuters) - The dollar and the yield on the benchmark Treasury note edged higher in light trading on Friday after data showing a surge in the hiring of Americans in March pointed to a U.S. economic recovery that is poised to be the strongest in decades. Equity markets were closed for Good Friday in the Americas, Europe and elsewhere, but it is not a U.S.
Business
WASHINGTON (Reuters) - U.S. President Joe Biden on Friday welcomed data that showed the U.S. economy created the most jobs in seven months in March but warned Americans that the progress on the economy could be reversed if the coronavirus surges through the country again
Business
TOKYO (Reuters) - Japan and the United States will cooperate on the supply of critical parts for chips, aiming for an agreement when the leaders of both countries meet later this month, the Nikkei newspaper said on Friday.