FDI in banking is a limited game, public sector unions are tough cookies but markets seem irrationally exuberant
This is hardly the time for FDI in banks as public sector banks are wading through a serious problem of bad loans and insolvency resolution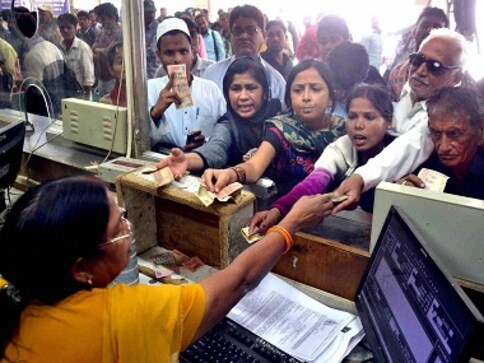 Stock markets are at their historic peaks, as they seem to be in a rallying mood. In barely 48 hours, questions over inflation and a possible hardening of interest rates amid a rise in global oil prices seems to have given rise to incredible optimism taking the key benchmark indices to record highs. Apart from global cues, two bits of local news are powering the rally. The first was the government scaling back planned borrowings that signalled it was unlikely to miss its fiscal deficit target for the year to March 2018, but more significant was the report that the government was planning to increase the limits of foreign direct investment (FDI) in private sector banks to 100 percent and in public sector banks to 49 percent from 20 percent.
This seems to be a case of irrational exuberance, to borrow that memorable expression from the former chairman of the US Fed, Alan Greenspan. Public sector banks are wading through a serious problem of bad loans and insolvency resolution. This is hardly the time for FDI touching state-controlled banks. So, why are their stocks rallying at all? Anyone who knows the size, the scope and the structure of India's behemoth public sector banks would know that increasing private stakes in the state-controlled behemoths is a gargantuan task, and FDI is a faraway dream.
At best, the planned measures for private banks can be seen as part of the atmospherics at work as Prime Minister Narendra Modi readies to join global business leaders at the annual World Economic Forum summit at the Swiss Alps resort of Davos – the Mecca of globalisation. Look beyond that and you will realise there is a long and winding road that might lie ahead. India is running into an election year, and anything that puts at risk the credit system or philosophy that helps millions of rain-dependent farmers is bound to be grist for opposition parties. Do you seriously expect any foreign entity to put in money into Indian banks while supporting farm loan waivers?
Secondly, India's bank unions are notoriously strong at closing ranks to fight every bit against privatisation, globalisation and even consolidation within. Last year, the United Forum of Bank Unions (UFBU) – which groups nine unions – went on a strike, protesting against the proposed consolidation of public sector banks, inadequate capital support for banks and loan defaults by large borrowers.
There are 27 public sector banks in India, with a total staff strength of 8,27,000. From opposing bank computerisation in the 1980s to challenging banking reforms in the 1990s through measures such as the closure of weak banks, consolidation of strong public sector banks and substantial dilution of the government stakes in nationalised banks, vigilant, militant unionism has been part of India's public sector banking landscape.
With a parliamentary panel even opposing the privatisation of bleeding Air India, something that touches secure middle-class jobs and farmers alike is bound to be controversial to the core in an election year. Bank unions have even opposed productivity-linked pay as recently as last year. India's public sector banks are already wading through promises signed in memorandums of understanding to curb staff strength and contain profligacy.
Eleven of India's 21 listed government-owned banks are now under the Reserve Bank of India's watch as they struggle with poor loan portfolios. Listed banks account for Rs 8,40,000 crore in bad loans. The government's capital infusion plan is a staggered one and asset reconstruction (the business of hiving off bad loans to clean up balance sheets) is a long-drawn process fraught with complex measurements of risk and reward. That leaves us with private sector banks that may be ripe for FDI. But private banks as a whole account for less than a third of India's loan advances. In such a backdrop, with Sensex and Nifty already scaling record highs and earnings growth hampered by talk of inflation and rising interest rates, the mood rather than hard facts seems to be driving the markets. A sober consideration of details may not be a bad idea.
(The author is a senior journalist. He tweets as @madversity)
Business
In the previous session, the rupee had closed at its all-time low of 79.03 against the US dollar
Business
At the interbank foreign exchange market, the rupee opened lower at 78.86 against the greenback and finally settled at 79.03, down 18 paise over its previous close
Business
At the interbank foreign exchange, the rupee opened at 78.26 against the American dollar, then inched higher to quote at 78.23, registering a rise of 9 paise from the previous close