FDA to make emergency use authorization data public for COVID-19 vaccines
(Reuters) - The U.S. Food and Drug Administration said on Tuesday it would make public reviews of all data and information regarding the emergency use authorization (EUA) granted to COVID-19 drugs and vaccines
COVID-19
vaccines" src="https://images.firstpost.com/wp-content/uploads/reuters/11-2020/18/2020-11-17T162046Z_1_LYNXMPEGAG1B1_RTROPTP_2_HEALTH-CORONAVIRUS-VACCINE-EFFICACY.jpg" alt="FDA to make emergency use authorization data public for COVID19 vaccines" width="300" height="225" />
(Reuters) - The U.S. Food and Drug Administration said on Tuesday it would make public reviews of all data and information regarding the emergency use authorization (EUA) granted to COVID-19
drugs and vaccines.
"Today's transparency action is just one of a number of steps we are taking to ensure public confidence in our EUA review process for drugs and biological products, especially any potential COVID-19
vaccines," FDA Commissioner Stephen Hahn said in a statement. (https://bit.ly/3kHYTSS)
Hahn said all FDA drug and biological product centers intend, "to the extent appropriate and permitted by law", to share information about scientific review documents supporting the issuance, revision or revocation of EUAs.
Countries around the world are racing to develop COVID-19
vaccines and treatments, and the rapid pace of development has had doctors and experts concerned about transparency and regulatory reviews.
The FDA said it recognizes disclosing such information would also contribute to the public's confidence in the agency's rigorous review of scientific data.
"We will also continue to follow the science and ensure that science remains the driver of the agency's regulatory decision-making in our fight against COVID-19
and beyond on behalf of public health," Hahn said.
(Reporting by Vishwadha Chander in Bengaluru; Editing by Sriraj Kalluvila)
This story has not been edited by Firstpost staff and is generated by auto-feed.
Find latest and upcoming tech gadgets online on Tech2 Gadgets. Get technology news, gadgets reviews & ratings. Popular gadgets including laptop, tablet and mobile specifications, features, prices, comparison.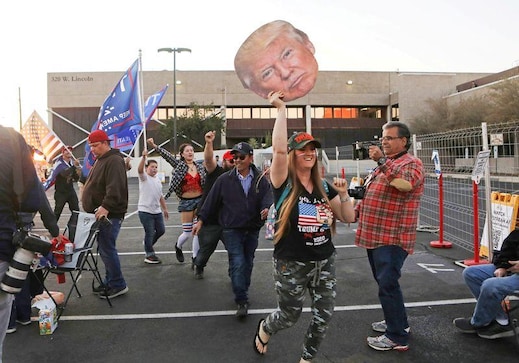 World
By Jarrett Renshaw and Joseph Tanfani (Reuters) - As President Donald Trump seeks to discredit last week's election with baseless claims of voter fraud, his team has bombarded his supporters with requests for money to help pay for legal challenges to the results: "The Left will try to STEAL this election!" reads one text. But any small-dollar donations from Trump's grassroots donors won't be going to legal expenses at all, according to a Reuters review of the legal language in the solicitations
World
RIYADH (Reuters) - Saudi Arabia's King Salman bin Abdulaziz urged the world on Thursday to take "a decisive stance" to address efforts by Iran to develop nuclear and ballistic missile programs, in an annual address to the top government advisory body. "The kingdom stresses the dangers of Iran's regional project, its interference in other countries, its fostering of terrorism, its fanning the flames of sectarianism ..
World
By Jose Sanchez BELIZE CITY (Reuters) - Belizeans headed to the polls on Wednesday to replace a veteran prime minister, with many in the tiny Central American country saying they were ready for change to repair an economy battered by pandemic-driven shutdowns. Dean Barrow, the outgoing prime minister, ran Belize for more than a dozen years.