Farmers should pay income tax just like urban dwellers, says Niti Aayog member Bibek Debroy
The Policy Commission, set up by Modi to replace Nehru's Planning Commission, is now circulating a draft three-year 'Action Agenda', to be followed by a seven-year 'Strategy' and a 15-year 'Vision' for India's development.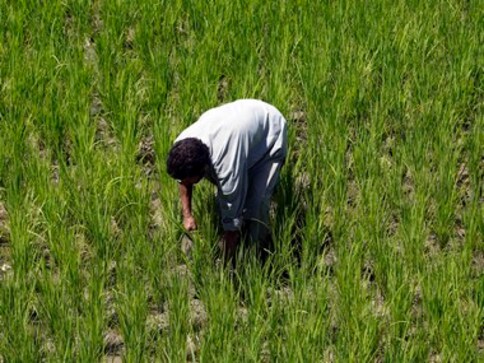 A senior adviser to the Indian government proposed on Tuesday that farmers pay tax, in remarks that challenged government policy in a country of 1.3 billion people where there are only 37 million income tax payers.
Economist Bibek Debroy, a member of NITI Aayog that serves as the government's own think-tank, told a news conference that farmers should pay income tax in line with urban dwellers.
In addition, he also suggested that exemptions on personal income tax should be removed to increase tax base from the current about 37 million in the country of 1.3 billion of people.
"On expanding the base on the personal income tax side, other than elimination of exemptions, is to also tax rural sector, including agriculture income above certain threshold," Debroy said.
When asked what should be the threshold of imposing income tax on rural sector, Debroy said it could be decided after taking into account the average income of either three years or five years.
"I don't believe in artificial distinction of rural and urban, so whatever is the threshold on personal income side on urban side, should be the exactly same on rural side.
"At best what I can do because it is an agriculture income, instead of using agriculture income for one particular year, what I could do is I average it over three-year period or may over five years period as agriculture income is subject to annual fluctuations, barring that threshold should be the same," said Debroy, a noted economist.
They should be liable to tax on their incomes at the same thresholds, he also said, taking into account typical fluctuations in incomes experienced by farmers over a three-year period.
India's public finances are notoriously precarious, with the International Monetary Fund estimating that tax revenues are equivalent to just 17.7 percent of gross domestic product - low by comparison with other emerging markets.
Still, Finance Minister Arun Jaitley has ruled out taxing farmers, telling parliament last month: "Income from agriculture will not be taxed."
Prime Minister Narendra Modi has, meanwhile, promised to double farmers' incomes by 2022.
The finance ministry declined to comment.
Debroy's remarks overshadowed the news conference held by the NITI Aayog to mark the end of India's 12th, and last, five-year plan - a legacy of the Soviet-style command economy set up by independence leader Jawaharlal Nehru.
The NITI Aayog, set up by Modi to replace Nehru's Planning Commission, is now circulating a draft three-year "Action Agenda", to be followed by a seven-year "Strategy" and a 15-year "Vision" for India's development.
Debroy's boss, NITI Aayog Vice Chairman Arvind Panagariya, parried further questions on whether to tax India's 220 million rural households.
Although most farmers are poor, the tax loophole they enjoy has been exploited by rich politicians and even Bollywood movie stars to generate "black" cash from illicit sources.
"We support the proposal ... to tax agricultural income provided the government takes steps to improve the income level of the majority of farmers," said Dharmendra Malik, spokesman of a farmers' union that is allied to Modi's ruling party.
Income tax in India starts at 5 percent when earnings exceed 250,000 rupees, climbing to a top rate of 30 percent on incomes upward of Rs 1 million.
The government plans to launch a nationwide goods and services tax (GST) in July that would broaden the tax base.
But, critics say, by focusing on indirect taxation India risks burdening the poor who spend a greater share of their income on daily needs than the better off.
With inputs from Reuters and PTI
Politics
The disruption by Opposition members drew sharp criticism from Prime Minister Modi who accused them of being unable to digest the fact that a large number of new ministers are women, Dalits, tribals and those from other backward classes
India
Tamil Nadu, Andhra Pradesh, Karnataka, Odisha, Maharashtra and Kerala are among the states where the COVID-19 infection numbers increased in several districts or have not in general dipped like in most other states
India
The two-member Appointments Committee of the Cabinet comprises the Prime Minister and the Home Minister