Are farmer suicides up or down? Depends on which number you want to believe
Official data show a rise in farmer suicides, but the total number are small. NCRB data show higher suicides by farmers, but a falling rate of suicide. The real truth could be somewhere in-between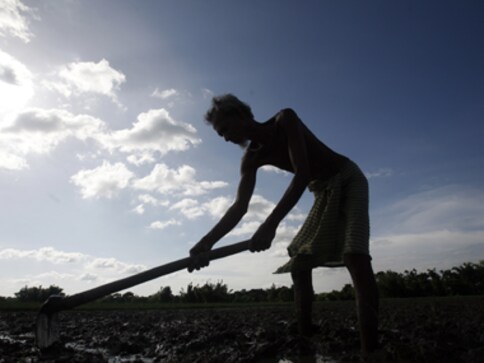 How serious is the problem of farmers' suicides? Well, it all depends on which figures you want to see.
You can go by the government's reply to a Parliament question. Going by that, there has been a sharp 26 percent increase in farmers' suicides in 2014 over 2013. This indicates a very serious problem. But the actual numbers are, well, relatively small compared to the numbers bandied about in the media – 1,046 in 2012, 879 in 2013 and 1,109 in 2014. Now that certainly doesn't quite square with the picture of tens of thousands of farmers taking their own lives every year, as is being painted.
But if you do want to show that tens of thousand of farmers are dying, there's help. You can pull out data from the National Crime Records Bureau (NCRB), which disaggregates suicides by professional groups. Farmers' suicides have been upwards of 10,000 a year since 1995, peaking at 18,241 in 2004. But NCRB data also show a rather inconvenient trend: that farmers' suicides are on a steadily declining trend since 2004, with a brief spike in 2009, a drought year. The share of farmers' suicides in total suicides has also been falling; it was a mere 8.7 percent in 2013, the latest year for which NCRB data is available.
The noise over farmers' suicides gives the impression that farmers constitute the largest group of people committing suicide, right? NCRB data show that the single largest group, profession-wise, committing suicide every year is housewives. The NCRB has data on suicides on its website. Pick any random year after 1995 and housewives account for the largest share in the total number of suicides.
Actually, the self-employed category is the largest group. But housewives come second because the figures relate only to women; in all other professional groups, the data include male and female suicides. So housewives consistently account for over 50 per cent of suicides by women. But when the total (male and female) figure for all other categories is taken together, the share goes down. It was 21 per cent in 2003 and 16.9 per cent in 2013 (the latest year for which NCRB data is available).
Besides, the self-employed category is actually a sum of four sub-categories: business activity, professional activity, farming/agriculture activity and others. Within self-employed, the `others' sub-category is the highest. In 2013, its share in suicides (21.2 per cent) was higher than that of housewives, but it has largely been lower.
And what of farmers?
Under the self-employed category, farmers account for the second-largest number and share of suicides after `others'. But since `others' could cover a wide variety of self-employed activities, it will be a fair point to say that farmers, as a single category, rank second after housewives.
In 2013, it was not even that. The number of suicides by housewives that year was 22,742; the second single category was people in private service – 12,355. Farmers came third at 11,772. In 2003, at 8,109, suicides by those in private service were less than half of suicides by farmers (17,164). In 2013, suicides in the former category had increased while those among farmers had fallen.
An August 2014 study on farmers' suicides by Srijit Mishra for the London School of Economics, Asia Research Centre, uses NCRB figures to work out the suicide rate (suicides per 100,000 people). This shows that from 1998 till 2010 the suicide rate for male farmers was higher than that of male non-farmers, though the gap was larger between 1998 and 2004; it started narrowing after that following a steady decline in the suicide rate for farmers. In 2011 and 2012, the suicide rate of male farmers was less than that of male non-farmers.
At the risk of sounding insensitive, one can't help asking – aren't farmer suicides getting disproportionately higher attention than suicides by other groups? Why is there no breast-beating and tear-shedding for housewives or those working in private service?
One riposte could be that housewives and private sector employees could be committing suicide for a variety of reasons, that there is no one reason common to all the cases. Well, that could be the case with farmers as well. Farmers are not a homogenous group and the problems they face may not all relate to farming.
Who is facing the most distress among farmers? According to Sudha Narayanan, it is mainly - but not only - those in the middle (medium and semi-medium farmers, with less than 15 percent of holdings according to the State of Indian Agriculture, 2012-13).
The small and marginal farmers (who account for nearly 80 per cent of holdings), she points out, are largely risk-averse and cultivate largely for self-consumption, taking up casual labour to supplement their income. They do not have surplus income to invest in diversification of crops. It is the middle-level farmers who can cross the threshold and take risks with commercial farming. But when there is a crop failure, the financial stress is greater for them than for large farmers (less than 1 percent of holdings) who have deep pockets that enable them to weather crises better. The medium farmer will not have the additional resources to spend on, say, more pesticides during a pest attack or on buying water when there is a rain deficit or even cope with price shocks.
Mishra, however, cautions against generalisations, though he concedes in an email interaction, that "under certain circumstances, one may state that the upwardly mobile are at risk." The upwardly mobile, he explains, can cut across categories. A 2007 study commissioned by the Maharashtra government on the issue of suicides among cotton farmers in the state that he led notes that "suicide incidences are slightly higher among Scheduled Castes (SCs) and Scheduled Tribes (STs) across caste groups and for marginal and small farmers across size-class of land".
That study also found that suicides are the result of a complex set of factors and the reasons for suicide are many, ranging from "indebtedness, deterioration of economic status, conflict with other members in the family, crop failure, decline in social position, burden of daughter's/sister's marriage, suicide in a nearby village, addictions…..dispute with neighbours/others, health problem, a recent death in the family, history of suicide in family or other family members being ill."
The 2014 study for LSE shows there are state-specific and crop-specific reasons for stress and suicides. In Andhra Pradesh and Maharashtra, the largest number of suicides was in the cotton belt. Cotton has seen a lot of price swings in the international markets. Andhra Pradesh has also seen a depletion of ground water, making farming and debt servicing non-viable. In Kerala, the study notes, "the plantation economy bore the brunt of the vagaries of weather, pests and international price fluctuations". In the Vidarbha region of Maharashtra (the cotton belt), there are multiple reasons – weather, credit and prices, to name just three – that affect yield and farmers' incomes. In Punjab, he notes, the after-effects of the green revolution had degraded the land, leading to plateauing of yield, and poisoning of the groundwater, resulting in adverse health consequences.
Indeed, suicide is a complex phenomenon and individual psyche has an important role to play. While conceding this, Mishra points out that relatively higher suicides among a particular sub-group of population reflects a problem in the socio-economic sphere, which, in the case of Indian farmers, translates as a crisis in Indian agriculture. "It has larger ramifications beyond the individual case."
But given the varied reasons across states, is a uniform approach to agricultural stress – debt waivers, hikes in procurement prices – workable? Mishra admits that a one-size fits all approach may not be wise. He suggests a different policy approach. "Concerns addressing their income and indebtedness cannot be limited to one-time efforts. Much more needs to be done and the approach has to be holistic."
Indeed, there are fundamental issues that need to be addressed in agriculture. These are well known but just do not get the attention they deserve. Unfortunately, for the political class, the issue of farmers' suicides is nothing more than a stick used by whoever is in the opposition to beat whoever is in government with. And statistics are meant to be parsed selectively.
India
The 30-year-old farmer had said he wasn't able to repay a loan of Rs 45 lakh as his financial he conditions were weak due to the pandemic
India
Although the nationwide number of rape and other cases pertaining to crime against women has plummeted marginally by 5.67 and 3.11 percent respectively, there has been a considerable increase in crime in major cities, the latest National Crime Records Bureau data records have pointed out.
World
Britain's Indian-origin finance minister Rishi Sunak announced that the UK government would pay 80 percent of wages for employees not working, up to 2,500 pounds a month.