Farm loan waivers will not solve agrarian distress, says IMF chief economist Gita Gopinath; suggests cash transfers instead
Notwithstanding the modest downward revisions, Gopinath said risks to more significant downward corrections are rising
While global growth in 2018 remained close to post-crisis highs, the global expansion is weakening, Gopinath said

IMF has projected global growth at 3.5 percent in 2019 and 3.6 percent in 2020

Gopinath said across emerging economies, some of the pickups in inflation reversed towards the end of 2018
Davos: IMF Chief Economist Gita Gopinath on Monday flagged weakening global growth at a rate higher than expected and said emerging economies are also facing risks triggered by capital flows due to US actions and currency depreciation.
While global growth in 2018 remained close to post-crisis highs, the global expansion is weakening and at a rate that is somewhat faster than expected, Gopinath said in Davos while announcing the latest update to the IMF's World Economic Outlook.
IMF has projected global growth at 3.5 percent in 2019 and 3.6 percent in 2020, 0.2 and 0.1 percentage point below its October projections.
Notwithstanding the modest downward revisions, Gopinath said risks to more significant downward corrections are rising.
While financial markets in advanced economies appeared to be decoupled from trade tensions for much of 2018, the two have become intertwined more recently, tightening financial conditions and escalating the risks to global growth, she added.
The US expansion continues, but the forecast remains for a deceleration with the unwinding of fiscal stimulus.
Economic activity in emerging and developing economies is also projected to tick down to 4.5 percent in 2019, with a rebound to 4.9 percent in 2020.
Populist measures adopted by the government like farm loan waivers do not solve the issues faced by farmers, said Gopinath. She suggested cash transfers instead.
"There is a tremendous amount of distress in the agricultural sector and I believe that farm loan waivers don't solve the problem on any kind of permanent basis," Gopinath told CNBC-TV18 in Davos.
The outlook for emerging markets and developing economies reflects the continued headwinds from weaker capital flows following higher US policy rates and exchange rate depreciation, even though they have become less extreme, she said.
Across emerging economies, some of the pickups in inflation reversed towards the end of 2018, she added.
An escalation of trade tensions and a worsening of financial conditions are key sources of risk to the outlook. Higher trade uncertainty will further dampen investment and disrupt global supply chains, Gopinath added.
A more serious tightening of financial conditions is particularly costly given the high levels of private and public sector debt in countries, IMF's first woman chief economist said with Managing Director Christine Lagarde sitting by her side.
China's growth slowdown could be faster than expected, especially if trade tensions continue, and this can trigger abrupt sell-offs in financial and commodity markets as was the case in 2015–16, Gopinath said.
In Europe, the Brexit cliffhanger continues, and the costly spillovers between sovereign and financial risk in Italy remain a threat. In the US, a protracted US federal government shutdown poses downside risks.
With PTI inputs
To keep watching India's No. 1 English Business News Channel – CNBC-TV18, call your Cable or DTH Operator and ask for the Colors Family Pack (inclusive of 24 channels), available for Rs. 35/- per month, or subscribe to the channel for Rs. 4/- per day.
To keep watching the Leader in Global Market & Business News – CNBC-TV18 Prime HD, call your Cable or DTH Operator and ask for the Colors Family HD Pack (inclusive of 25 channels), available for Rs. 50/- per month, or subscribe to the channel for Rs. 1/- per day.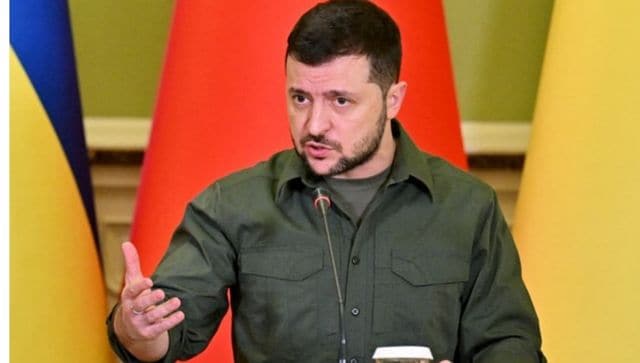 World
The US and Germany agreed on Wednesday to share advanced tanks with Ukraine along with the Bradley and Marder vehicles promised earlier, a decision that led to criticism not only from the Kremlin but from the prime minister of NATO and European Union member Hungary
World
Eminent musicians like Chuck Berry, Fats Domino, and Elvis Presley were honoured in the first class of the Rock and Roll Hall of Fame in Cleveland on 23 January 1986
World
Netanyahu was at the helm in 2020 when Israel established ties with the UAE, Bahrain, and Morocco as part of the Abraham Accords. He has repeatedly expressed his desire to see Saudi Arabia, the birthplace of Islam, join the list