Farm, automaker groups press U.S. officials to push for more EU access
By Chris Prentice WASHINGTON (Reuters) - U.S. farm, automaker and food and beverage groups pressed the Trump administration on Friday to ensure that any new trade talks with the European Union lead to an increase in their access to EU markets with less red tape. U.S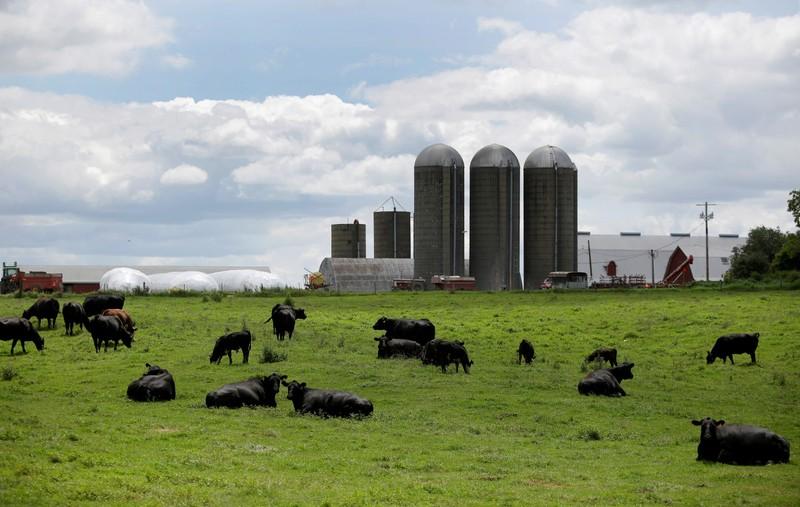 By Chris Prentice
WASHINGTON (Reuters) - U.S. farm, automaker and food and beverage groups pressed the Trump administration on Friday to ensure that any new trade talks with the European Union lead to an increase in their access to EU markets with less red tape.
U.S. President Donald Trump has demanded better terms of trade for the United States from China, the EU and Japan. Washington has already reworked the North American trade treaty with neighbours Mexico and Canada. Trump said poor trade deals have cost the United States millions of jobs.
At a hearing on U.S. negotiating objectives for trade talks with the European Union, groups representing farmers, food and automobile companies said they wanted to be included in the talks and that reducing tariffs and regulatory restrictions should be a key objective.
The U.S. Trade Representative notified lawmakers in October of its plans to pursue the trade talks, though it has been unclear whether agriculture and automobiles would be included as a joint statement from the regions in July called for reductions but gave little direction on either sector.
"It is fundamental that food and agriculture issues are a key component of this agreement," U.S. Grains Council Director of Trade Policy Floyd Gaibler said at the hearing.
That sentiment was echoed by others throughout the farm and food sector, as well as automaker groups. Testimony from the hearing will feed into the USTR's formulation of negotiating objectives for the talks. It is unclear exactly when those discussions will begin.
The farm and food groups on Friday also urged U.S. officials to address tariff barriers and other regulatory and labelling issues that hinder U.S. access to the lucrative European market.
The European Union has more stringent standards than the United States regarding the use of pesticides, hormones and biotechnology in food crops. U.S. producers of products from beef to pistachios say these limit their access to the European market.
"These are long-standing issues that we have struggled with for a long period of time," said Gaibler, referring to the restrictions on biotechnology. He also stressed the importance of trying to remove antidumping duties that the European Union has placed on U.S. ethanol.
Grocery Manufacturers Association Federal Affairs Director Nancy Wilkins reiterated that biotechnology is key issue, saying the EU's labelling requirements for genetically modified organisms, known as GMOs, dramatically increase costs for U.S. food companies.
For automakers, the deal is an opportunity to make regulations in both regions more consistent. Differing safety standards can add millions of dollars in cost per vehicle, making it difficult to sell American vehicles into Europe, the American Automotive Policy Council said.
STEEL, ALUMINIUM TARIFFS
Food and automaker groups pressed U.S. officials to remove existing tariffs on steel and aluminium, at least while the negotiations are taking place.
Under Trump, the United States has placed "Section 232" national security-related tariffs on steel and aluminium, prompting other countries to slap hefty retaliatory levies on U.S. goods.
Jennifer Thomas, Vice President of Federal Government Affairs at the Alliance of Automobile Manufacturers, said the "steep and unexpected increases" have driven up costs at a difficult time.
"We are very much at a time where my companies are witnessing flat or decreased sales," she said. "This ongoing threat of auto tariffs, via 232, is just injecting more uncertainty at an already fragile time."
(Reporting by Chris Prentice; Editing by Frances Kerry and Daniel Wallis)
This story has not been edited by Firstpost staff and is generated by auto-feed.
Find latest and upcoming tech gadgets online on Tech2 Gadgets. Get technology news, gadgets reviews & ratings. Popular gadgets including laptop, tablet and mobile specifications, features, prices, comparison.
World
ANKARA (Reuters) - Turkey on Tuesday dismissed a report by the European Commission as "biased, far from constructive", saying Ankara rejected the criticisms directed at its economy, democracy and courts, and remained committed to the EU membership process. Earlier, the European Commission accused President Tayyip Erdogan's government of undermining Turkey's economy, eroding its democracy and destroying independent courts, and said this record left Ankara further away than ever from EU membership. In a statement, the Turkish Foreign Ministry said sections of the report on tensions in the eastern Mediterranean smeared the Commission's objectivity, adding that Ankara was acting in line with democratic norms and international laws
World
By Olga Dzyubenko and Vladimir Pirogov BISHKEK (Reuters) - Opposition groups took control of most of Kyrgyzstan's government apparatus on Tuesday after storming buildings during post-election protests, but the president clung to power as unrest risked tipping the Central Asian state into chaos. Protests spread throughout the country, where two presidents have been overthrown in the past 15 years, halting some foreign gold mining operations and prompting an expression of concern from Russia, a longtime ally.
World
LONDON (Reuters) - Rich countries could be back to close to normal by late 2021 if a COVID-19 vaccine works, is ready soon and distributed properly at scale, billionaire Microsoft founder Bill Gates said on Tuesday. "By late next year you can have things going back pretty close to normal - that's the best case," Gates, 64, told The Wall Street Journal CEO Council. "We still don't know whether these vaccines will succeed," Gates said.