Factbox: What's next for OxyContin maker Purdue Pharma
By Mike Spector (Reuters) - OxyContin maker Purdue Pharma LP filed for bankruptcy protection after reaching a partial deal to resolve more than 2,600 lawsuits alleging it helped fuel the U.S. opioid crisis. Supporters of Purdue's plan to restructure under terms of a settlement the company values at more than $10 billion include 24 states and five U.S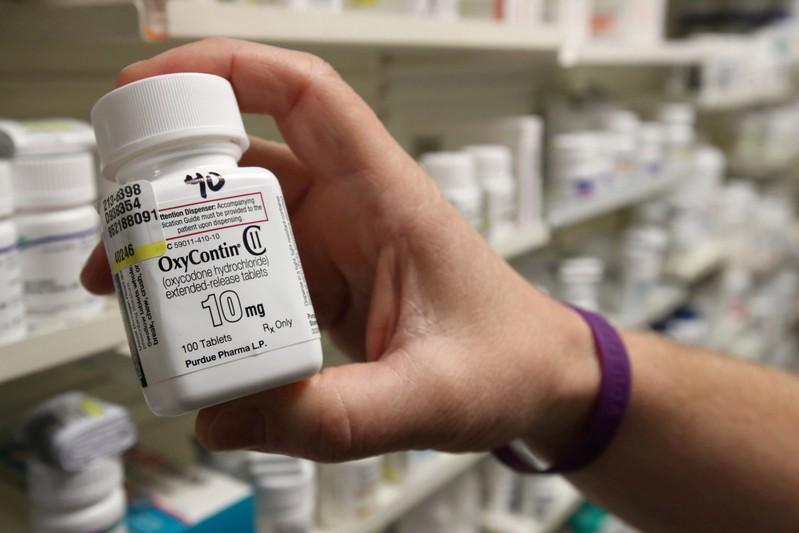 By Mike Spector
(Reuters) - OxyContin maker Purdue Pharma LP filed for bankruptcy protection after reaching a partial deal to resolve more than 2,600 lawsuits alleging it helped fuel the U.S. opioid crisis.
Supporters of Purdue's plan to restructure under terms of a settlement the company values at more than $10 billion include 24 states and five U.S. territories, as well as lead lawyers for more than 2,000 cities, counties and other plaintiffs suing the company and, in some cases, its controlling Sackler family.
On the other side are two dozen states that remain opposed or uncommitted to the proposed settlement, setting the stage for contentious legal battles over who bears responsibility for a public health crisis that has claimed the lives of nearly 400,000 people between 1999 and 2017, according to the latest U.S. data.
Purdue and the Sacklers have denied allegations in lawsuits alleging they aggressively marketed addictive prescription painkillers while misleading doctors and patients about their abuse and overdose risks.
The following are among the key legal battles ahead, pitting states such as Massachusetts, New York and Connecticut against Purdue and the Sacklers.
PURDUE
*Purdue will soon ask U.S. Bankruptcy Judge Robert Drain to halt all its lawsuits. The company is preparing for states to argue their lawsuits cannot be stopped because their legal actions were brought to enforce public health and safety laws - exempting them from the usual bankruptcy rules that would pause their complaints.
Purdue Chairman Steve Miller in an interview on Sunday night said continued litigation in bankruptcy would deplete the company's assets. Purdue projected spending $263 million this year on legal and professional fees, with nearly half devoted to opioid litigation alone, according to bankruptcy-court records. The legal skirmishes begin with Purdue's first-day bankruptcy hearing on Tuesday in a White Plains, New York, federal court.
*Purdue still faces U.S. Justice Department criminal and civil investigations over its handling of OxyContin. Any financial penalty emerging from those cases could eat into recoveries for cities, counties and states suing the company and the Sacklers. Purdue has responded to subpoenas and other investigative demands from federal prosecutors and is engaged in discussions with U.S. officials to resolve the probes, the company said in bankruptcy-court papers.
THE SACKLERS
*Purdue also said it would seek to stop lawsuits against current and former owners and directors - a veiled reference to the Sacklers. Many states have vowed to continue pursuing the family, and have pushed them to guarantee more money towards a settlement. The Sacklers so far have not budged from a proposal to pay $3 billion over seven years and an additional $1.5 billion or more through an eventual sale of another business they own called Mundipharma.
The Sacklers on Sunday night said they hope opposing states would "shift their focus to the critical resources that the settlement provides to people and problems that need them."
*The Sacklers could attempt to use bankruptcy proceedings to largely shield themselves from future legal exposure and the possible financial liabilities associated with it. Settlements approved in bankruptcy court often come with legal releases. Some states are likely to fight that.
Massachusetts Attorney General Maura Healey on Monday said Purdue's Chapter 11 proceedings "should not be about billionaires looking to use the bankruptcy process to shield their assets and avoid accountability."
New York Attorney General Letitia James has subpoenaed Wall Street banks, Purdue corporate entities and family offices for records related to the Sackler's finances. On Monday, she said her office "will not be deterred in its lawsuit against the Sackler family." On Friday, she highlighted wire transfers made by former Purdue board member Mortimer D.A. Sackler, including some made through Swiss bank accounts. A Sackler representative said the decade-old transfers were legal and appropriate.
"We will move aggressively in bankruptcy to disclose their hidden fortune and ensure their full wealth is now on the table," Connecticut Attorney General William Tong said in a statement on Monday.
(Reporting by Mike Spector in New York; Additional reporting by Nate Raymond in Boston. Editing by Bill Berkrot)
This story has not been edited by Firstpost staff and is generated by auto-feed.
Find latest and upcoming tech gadgets online on Tech2 Gadgets. Get technology news, gadgets reviews & ratings. Popular gadgets including laptop, tablet and mobile specifications, features, prices, comparison.
World
By Anna Koper and Joanna Plucinska WARSAW (Reuters) - Polish presidential challenger Rafal Trzaskowski tried to rally supporters of other opposition candidates to his centrist cause on Monday, vowing to hold the nationalist government to account ahead of what looks set to be a knife-edge run-off vote. Incumbent president Andrzej Duda, an ally of the ruling Law and Justice (PiS) party, led the first round of the presidential election on Sunday, but fell short of the 50% needed for outright victory, setting the stage for a run-off with Trzaskowski on July 12. "I am directing my words to all those who want change," Trzaskowski, the liberal mayor of Warsaw, told supporters in the city of Plock
World
By Tangi Salaün PARIS (Reuters) - A French court on Monday sentenced former Prime Minister Francois Fillon to five years in jail, three of them suspended, for embezzling public funds in a scandal that wrecked his 2017 run for president.
World
By Ben Kellerman NEW YORK (Reuters) - The coronavirus pandemic forced the cancellation of most in-person Pride events this year, but a march in Manhattan on Sunday drew thousands to the streets in solidarity with protesters demanding an end to racial injustice and police brutality. The second annual Queer Liberation March capped a month of Pride events, virtual and live, during which the celebration of LGBTQ lives has merged with the nationwide demonstrations ignited by the death of George Floyd in Minneapolis last month. People chanted "No justice, no peace" as the crowd snaked through Manhattan, while techno music blasted from a pickup truck carrying two DJs, one of whom led marchers in chanting "Black lives matter." Reclaim Pride Coalition, the group that organized the march, staged its first protest last year by walking in the opposite direction to New York City's marquee Pride parade, rejecting that event's large uniformed police presence and the ubiquitous corporate-sponsored floats that normally drift down Manhattan's 5th Avenue each year