Factbox: Top five takeaways from Apple's Mac launch event
(Reuters) - Apple Inc on Tuesday announced three new computers with its own microprocessor chip, called the M1, as it starts to move away from its longtime partner Intel Corp .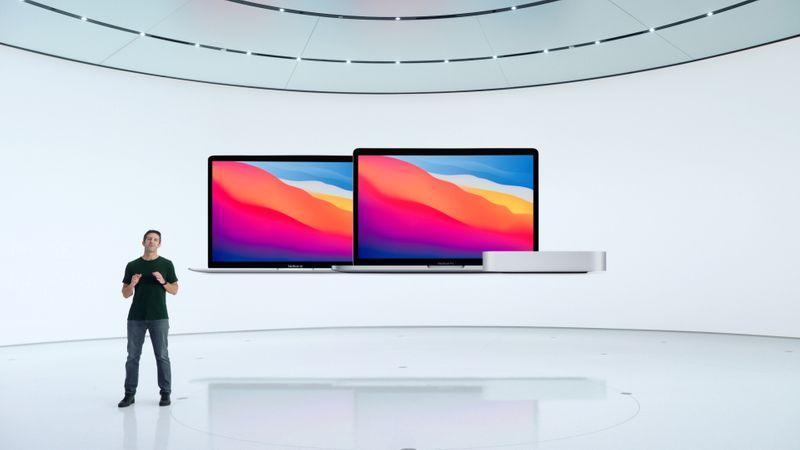 (Reuters) - Apple Inc on Tuesday announced three new computers with its own microprocessor chip, called the M1, as it starts to move away from its longtime partner Intel Corp .
Apple, which has used Intel chips in its computers since 2006, had said in June it would make Macs with its own new "Apple Silicon" chips.
The M1 chip is expected to improve battery life, be faster and more efficient, and will run on the latest version of Mac operating system, Big Sur.
The Cupertino, California-based company said it would release the latest MacOS on Nov. 12, but did not announce any other devices in Apple's third event in two months.
Here are five key announcements from the event:
APPLE SILICON DUBBED M1
Apple's chip, called the M1, is built using a 5-nanometer processor technology and is packed with 16 billion transistors, the most the company has ever put into a chip. It will be used in three of its devices.
NEW MINI
The entry-level desktop computer, Mac mini, will come with the latest M1 chip that has an 8-core CPU in its familiar 7.7-inch silver aluminum square design. Its price starts at $699(£528).
MACBOOK AIR
Apple also launched a 13-inch MacBook Air with the new chip, starting at $999 and with a battery life of up to 18 hours, the longest ever for the sleek wedge-shaped notebook that has not radically changed its form-factor since founder Steve Jobs removed it from a manila envelope in the 2008 launch event.
PRO WITH THE LONGEST CHARGE
Its new 13-inch MacBook Pro will have a starting price of $1,299 and will have a battery life of 20 hours in a single charge, promising to deliver up to twice the battery life of the previous generation using the latest chip.
The three new computers will be available for pre-order from Tuesday and will begin arriving to customers starting next week.
NEW SOFTWARE
The new Macs will come with Big Sur, the latest version of its desktop operating system. It will let iPhone and iPad apps to run directly on the Mac. The update will be available to eligible device owners beginning Thursday.
(Reporting by Subrat Patnaik and Munsif Vengattil in Bengaluru; Editing by Arun Koyyur)
This story has not been edited by Firstpost staff and is generated by auto-feed.
Find latest and upcoming tech gadgets online on Tech2 Gadgets. Get technology news, gadgets reviews & ratings. Popular gadgets including laptop, tablet and mobile specifications, features, prices, comparison.
World
By Shaina Ahluwalia and Geert De Clercq PARIS (Reuters) - France reported 35,879 new coronavirus cases on Wednesday, taking the total to 1.86 million, overtaking Russia and making France the worst affected country in the European region. With a total of 1,865,538 confirmed cases, France is the fourth-worst affected country in the world for novel coronavirus infections, according to a Reuters tally.
World
By Jessie Pang and Sharon Tam HONG KONG (Reuters) - Hong Kong's pro-democracy opposition lawmakers said on Wednesday they would resign in protest against the dismissal of four of their colleagues from the city assembly after Beijing gave local authorities new powers to further curb dissent. The Chinese parliament earlier adopted a resolution allowing the city's executive to expel lawmakers deemed to be advocating Hong Kong independence, colluding with foreign forces or threatening national security, without having to go through the courts
World
SANTIAGO (Reuters) - Chilean authorities have accused a Colombian man of murdering at least seven people, including several who were homeless on the streets of the capital Santiago. Police arrested Diego Ruiz Restrepo, 30, on Monday after using surveillance camera images to identify him, the regional prosecutor's office said on Twitter.