Factbox: Lessors scramble to recover dozens of jets from Thomas Cook
(Reuters) - Aircraft leasing companies are launching moves to recover dozens of Airbus passenger planes after the collapse of British travel group Thomas Cook, market sources said. The overall group operates a fleet of 85 Airbus planes and 31 Boeing jets, or a total of 116 aircraft based across Europe, according to data from UK-based aviation consultancy IBA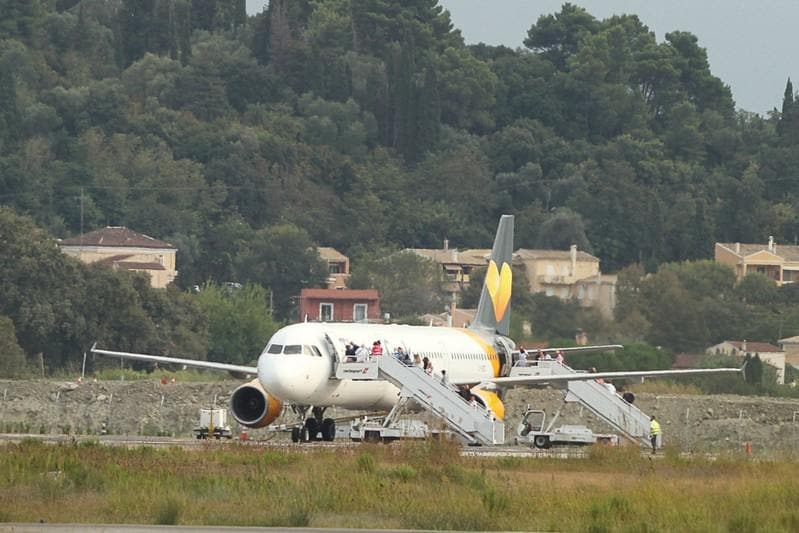 (Reuters) - Aircraft leasing companies are launching moves to recover dozens of Airbus passenger planes after the collapse of British travel group Thomas Cook, market sources said.
The overall group operates a fleet of 85 Airbus planes and 31 Boeing jets, or a total of 116 aircraft based across Europe, according to data from UK-based aviation consultancy IBA.
All except five are leased from a total of 38 leasing companies or investment vehicles led by top names in aviation finance.
The fleet includes 63 Airbus aircraft that are potentially directly affected by the collapse. They are operated by three 100% Thomas Cook subsidiaries in the UK, Scandinavia and Spain.
A fourth airline, Frankfurt-based Condor, in which bankrupt Thomas Cook Group owns fractionally less than 50%, according to the British company's annual report, says it will keep flying.
Condor's fleet includes an Airbus A330 that doubles as a reserve aerial refuelling tanker for the Royal Air Force, leased with a crew from UK consortium Air Tanker, according to IBA.
Here is a summary of the aircraft operated by Thomas Cook Airlines via four affiliated carriers (source: IBA).
Thomas Cook Airlines Ltd (UK, 100%-owned by Thomas Cook)
--------------------------------------------------------
Airbus A320-200 3
Airbus A321-200 35
Airbus A330-200 8
Total 46
Thomas Cook Airlines Scandinavia (Denmark, 100%-owned)
------------------------------------------------------
Airbus A321-200 8
Airbus A330-300 3
Total 11
Thomas Cook Airlines Balearics (Spain, 100%-owned)
--------------------------------------------------
Airbus A320-200 6
Total 6
Condor Flugdienst (Germany, 49.996%-owned*, still operating)
-----------------------------------------------------------
Airbus A320-200 7
Airbus A321-200 14
Airbus A330-200 1
Boeing 757-300 15
Boeing 767-300ER 16
Total 53
Grand total 116
*Source: Thomas Cook annual report, other data supplied by IBA
(Reporting by Tim Hepher; Editing by David Evans and Edmund Blair)
This story has not been edited by Firstpost staff and is generated by auto-feed.
Find latest and upcoming tech gadgets online on Tech2 Gadgets. Get technology news, gadgets reviews & ratings. Popular gadgets including laptop, tablet and mobile specifications, features, prices, comparison.
World
(Reuters) -Moderna Inc said on Monday it would produce at least 600 million doses of its COVID-19 vaccine in 2021, up by 100 million doses from its previous forecast, as the United States continues to roll-out the vaccine. The company was working to invest and hire in order to deliver up to 1 billion doses this year, the higher end of its production forecast, it said
World
WARSAW (Reuters) - A skating rink owner in the Polish city of Szczecin believes he has found a way to keep his business open despite coronavirus restrictions - operate as a flower shop instead. His plan is simple - the customer has to purchase access to the flower "warehouse", then chooses from a box of flowers in the middle of the rink. "You can jump, crawl or go on all fours ..
World
By Reuters Staff SANAA (Reuters) - Paralysed and severely malnourished, seven-year-old Faid Samim lies curled up on a hospital bed in the Yemeni capital Sanaa, having barely survived the journey there.  "He was almost gone when he arrived but thank God we were able to do what was necessary and he started improving. He is suffering from CP (cerebral palsy) and severe malnutrition," said Rageh Mohammed, the supervising doctor of the Al-Sabeen hospital's malnutrition ward.