Exxon Mobil, Chevron earnings miss Wall Street expectations
By Ernest Scheyder HOUSTON (Reuters) - Exxon Mobil Corp and Chevron Corp, two of the world's largest oil producers, reported quarterly profit on Friday that fell far short of Wall Street's expectations. The disappointing results come as much of the U.S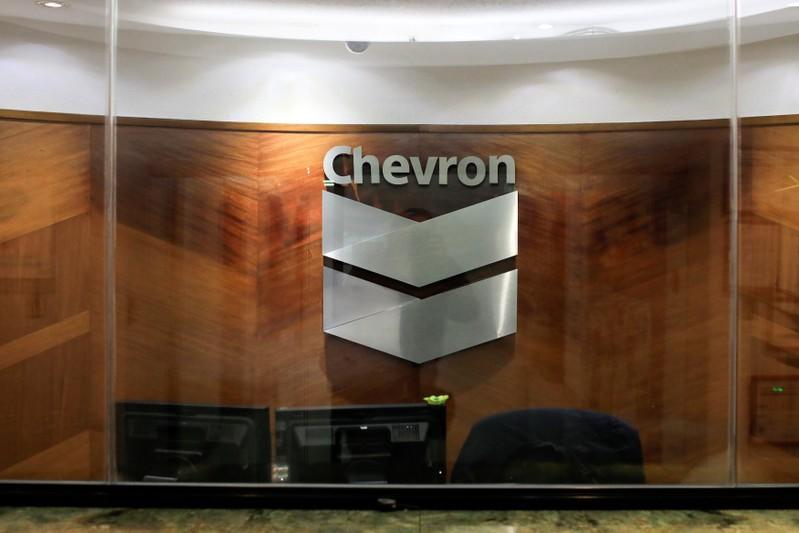 By Ernest Scheyder
HOUSTON (Reuters) - Exxon Mobil Corp and Chevron Corp, two of the world's largest oil producers, reported quarterly profit on Friday that fell far short of Wall Street's expectations.
The disappointing results come as much of the U.S. oil industry has been recovering from a three-year downturn in the energy sector, bolstered by higher production and crude prices.
Exxon's troubles highlight ongoing issues the company has been having to boost operations, whereas Chevron's miss was fueled by a slight rise in expenses that likely will not be repeated, analysts said.
Exxon shares fell 2.5 percent to $82.09 shortly after midday, while Chevron's recovered from an early drop and were up about 2 percent at $126.34. Both stocks are components of the Dow Jones Industrial Average.
The results were particularly weak at Exxon, which has been trying to boost operations in a bid to revive a stock price trading at about the same level it was a decade ago.
"Exxon's definitely sticking out like a sore thumb right now," said Edward Jones energy analyst Brian Youngberg. "It's just hard to find anything good in the quarter."
Despite rising oil prices, Exxon's production dropped 7 percent and it spent more than $600 million to upgrade refineries in France, Canada, Texas and Saudi Arabia.
Exxon called the quarter a "challenging" one for its operations and "well below market expectations."
Neil Chapman, an Exxon executive and member of the company's management committee, said he is "not happy" about the ongoing refinery maintenance, adding there is "nothing systemic" about the repairs that would reveal weakness in the refining division.
"We are absolutely all over these reliability incidents," Chapman said on a conference call with investors.
Exxon earned 92 cents per share, while analysts expected earnings of $1.27 per share, according to Thomson Reuters I/B/E/S.
At Chevron, oil production rose 2 percent and profit spiked, but higher corporate expenses surprised Wall Street. Still, the company announced a $3 billion stock buyback program, long awaited by Wall Street.
"We believe annual share repurchases of $3 billion can be sustained over most reasonable price scenarios," Chevron Chief Financial Officer Pat Yarrington told investors on a conference call.
Chevron earned $1.78 per share, while analysts expected $2.09 per share, according to Thomson Reuters I/B/E/S.
Royal Dutch Shell, a key rival, posted second-quarter profit on Thursday far below forecasts due in part to weakness in refining.
British oil major BP Plc is set to report quarterly results next week. On Thursday it agreed to buy U.S. shale oil and gas assets from global miner BHP Billiton for $10.5 billion.
(Reporting by Ernest Scheyder; Editing by Nick Zieminski and James Dalgleish)
This story has not been edited by Firstpost staff and is generated by auto-feed.
Find latest and upcoming tech gadgets online on Tech2 Gadgets. Get technology news, gadgets reviews & ratings. Popular gadgets including laptop, tablet and mobile specifications, features, prices, comparison.
World
By Guy Faulconbridge and Kate Holton LONDON (Reuters) - Rich countries could be back to close to normal by late 2021 if a COVID-19 vaccine works, is ready soon and distributed properly at scale, Microsoft founder Bill Gates said on Tuesday. "By late next year you can have things going back pretty close to normal - that's the best case," Gates, 64, told The Wall Street Journal CEO Council. "We still don't know whether these vaccines will succeed," Gates said.
World
By Rupam Jain (Reuters) - Taliban and Afghan government-backed negotiators have agreed on a broad code of conduct to advance the intra-Afghan peace talks in Qatar, even as key differences between the two warring sides remain, three official sources told Reuters on Tuesday.
World
MOSCOW (Reuters) - Russian rights groups on Tuesday called on the authorities to stop using home searches as a tactic to intimidate opponents after a journalist set herself on fire following a police raid of her apartment last week. Irina Slavina, editor-in-chief at a small news outlet in the city of Nizhny Novgorod, self-immolated in front of the local branch of the interior ministry in Nizhny Novgorod last Friday after blaming Russian authorities for her death in a Facebook post