Explainer: The Fed has a repo problem. What's that?
By Richard Leong (Reuters) - As if the U.S.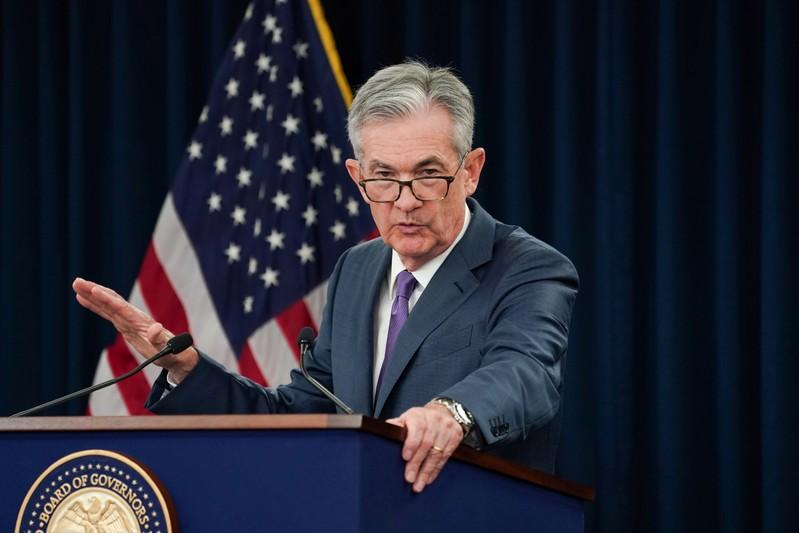 By Richard Leong
(Reuters) - As if the U.S. Federal Reserve did not already have enough on its plate heading into its meeting on interest rates this week, chaos deep inside the plumbing of the U.S. financial system has thrown policymakers an unexpected curveball.
Cash available to banks for their short-term funding needs all but dried up earlier this week, and interest rates in U.S. money markets shot up to as high as 10% for some overnight loans, more than four times the Fed's rate.
That forced the Fed to make an emergency injection of more than $125 billion over the past two days, its first major market intervention since the financial crisis more than a decade ago, to prevent borrowing costs from spiraling even higher. While the effort restored a measure of order to the short-term bank funding market, it was not enough to stop the Fed's benchmark lending rate from rising above its targeted range of 2.00% to 2.25%.
The exact cause of the squeeze is a matter of some debate, but most market participants agree that two coincidental events on Monday were at least partly to blame. First, corporations had to withdraw funds from money market accounts to pay for quarterly tax bills, and on the same day the banks and investors who bought the $78 billion of U.S. Treasury notes and bonds sold by Uncle Sam last week had to settle up.
On top of that, the reserves that banks park with the Fed and are often made available to other banks on an overnight basis are at their lowest since 2011 thanks to the central bank's culling of its vast portfolio of bonds over the past few years.
Added together, these factors are testing the limits of the $2.2 trillion repurchase agreement - or repo - market, a gray but essential component of the U.S. financial system.
Whatever the cause, the episode has added fuel to the argument that the Fed needs to take steps to avoid more disruptions in the repo market down the road.
WHY IS THE REPO MARKET IMPORTANT?
The repo market underpins much of the U.S. financial system, helping to ensure banks have the liquidity to meet their daily operational needs and maintain sufficient reserves.
In a repo trade, Wall Street firms and banks offer U.S. Treasuries and other high-quality securities as collateral to raise cash, often overnight, to finance their trading and lending activities. The next day, borrowers repay their loans plus what is typically a nominal rate of interest and get their bonds back. In other words, they repurchase, or repo, the bonds.
The system typically hums along with the interest rate charged on repo deals hovering close to the Fed's benchmark overnight rate, currently set in a range of 2.00% to 2.25%. That rate is expected to be cut by a quarter percentage point on Wednesday.
But when investors get fearful of lending, as seen during the global credit crisis, or when there are just not enough reserves or cash in the system to lend out, it sends the repo rate soaring above the Fed Funds rate.
Trading in stocks and bonds can become difficult. It can also pinch lending to businesses and consumers and, if the disruption is prolonged, it can become a drag on a U.S. economy that relies heavily on the flow of credit.
WHAT HAS CAUSED THE DROP IN BANK RESERVES?
Coming out of the financial crisis, after the Fed cut interest rates to near zero and bought more than $3.5 trillion of bonds, banks built up massive reserves held at the Fed.
But that level of bank reserves, which peaked at nearly $2.8 trillion, began falling when the Fed started raising interest rates in late 2015. They fell even faster when the Fed started to cut the size of its bond portfolio about two years later.
The Fed stopped raising interest rates last year and cut them in July and is expected to do so again on Wednesday. It has also now ceased allowing bonds to roll off its balance sheet.
The question vexing policymakers now is whether those actions are enough to stop the downward drift in reserves, which are a main source of liquidity in funding markets like repo.
Bank reserves at the Fed last stood at $1.47 trillion, the lowest level since 2011 and nearly 50% below their peak from five years ago.
WHAT CAN THE FED DO TO CALM THE REPO MARKET?
1. RUN SPOT REPO OPERATIONS
Through the Federal Reserve Bank of New York, the Fed can conduct occasional spot repo operations at times of funding stress, allowing banks and dealers to swap their Treasuries and other high-quality securities for cash at a minimal interest rate. It did this on Tuesday and Wednesday.
2. LOWER THE INTEREST IT PAYS ON EXCESS RESERVES
By making it less profitable for banks, especially foreign ones, to leave their reserves at the Fed, it may encourage banks to lend to each other in money markets.
3. CREATE A STANDING REPO FACILITY
Such a permanent financing program will allow eligible participants to exchange their bonds for cash at a set interest rate.
The Fed and its staff have considered such a facility, but they have not determined who qualifies, what would be the level of interest paid and the timing for a possible launch.
4. RAMP UP BUYING OF TREASURIES
The Fed can replenish the level of bank reserves by slightly increasing its holdings of U.S. government debt. This comes with the risk that it may be perceived as a resurrection of quantitative easing rather than a technical adjustment.
(Reporting by Richard Leong; Editing by Dan Burns, Richard Borsuk and Chris Reese)
This story has not been edited by Firstpost staff and is generated by auto-feed.
Find latest and upcoming tech gadgets online on Tech2 Gadgets. Get technology news, gadgets reviews & ratings. Popular gadgets including laptop, tablet and mobile specifications, features, prices, comparison.
World
By Anna Koper and Joanna Plucinska WARSAW (Reuters) - Polish presidential challenger Rafal Trzaskowski tried to rally supporters of other opposition candidates to his centrist cause on Monday, vowing to hold the nationalist government to account ahead of what looks set to be a knife-edge run-off vote. Incumbent president Andrzej Duda, an ally of the ruling Law and Justice (PiS) party, led the first round of the presidential election on Sunday, but fell short of the 50% needed for outright victory, setting the stage for a run-off with Trzaskowski on July 12. "I am directing my words to all those who want change," Trzaskowski, the liberal mayor of Warsaw, told supporters in the city of Plock
World
By Tangi Salaün PARIS (Reuters) - A French court on Monday sentenced former Prime Minister Francois Fillon to five years in jail, three of them suspended, for embezzling public funds in a scandal that wrecked his 2017 run for president.
World
By Ben Kellerman NEW YORK (Reuters) - The coronavirus pandemic forced the cancellation of most in-person Pride events this year, but a march in Manhattan on Sunday drew thousands to the streets in solidarity with protesters demanding an end to racial injustice and police brutality. The second annual Queer Liberation March capped a month of Pride events, virtual and live, during which the celebration of LGBTQ lives has merged with the nationwide demonstrations ignited by the death of George Floyd in Minneapolis last month. People chanted "No justice, no peace" as the crowd snaked through Manhattan, while techno music blasted from a pickup truck carrying two DJs, one of whom led marchers in chanting "Black lives matter." Reclaim Pride Coalition, the group that organized the march, staged its first protest last year by walking in the opposite direction to New York City's marquee Pride parade, rejecting that event's large uniformed police presence and the ubiquitous corporate-sponsored floats that normally drift down Manhattan's 5th Avenue each year