Exclusive: Qualcomm prepares to add new board directors - sources
By Stephen Nellis and Greg Roumeliotis (Reuters) - Qualcomm Inc is preparing at add at least two new directors to its board, people familiar with the matter told Reuters, as the U.S.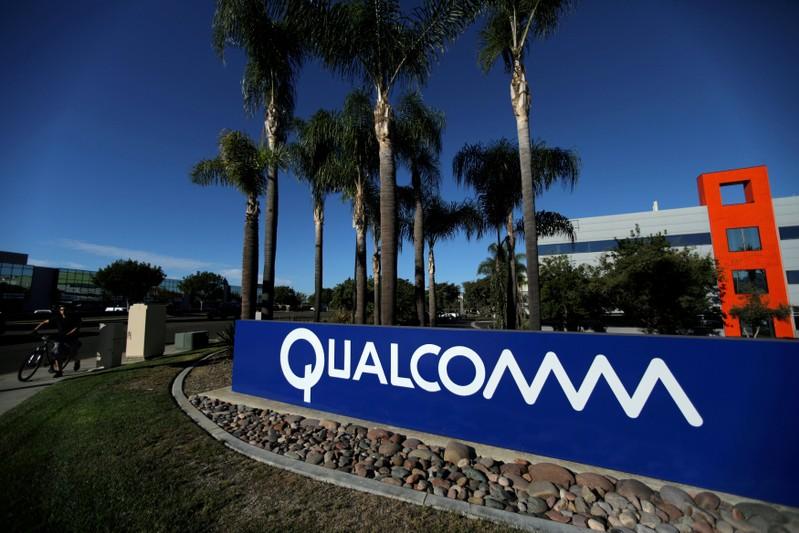 By Stephen Nellis and Greg Roumeliotis
(Reuters) - Qualcomm Inc is preparing at add at least two new directors to its board, people familiar with the matter told Reuters, as the U.S. smartphone chip maker looks to appease shareholders who withheld voting support for its board last March.
Qualcomm has been forced to defend its track record this year after upsetting some investors by rebuffing a $120 billion takeover bid from rival Broadcom Inc, failing to secure Chinese regulatory approval for its $44 billion acquisition of NXP Semiconductors NV, and failing to resolve a longstanding patent dispute with Apple Inc.
Investors expressed dissatisfaction with the company last March when most of Qualcomm's board directors, including Chief Executive Steve Mollenkopf, were elected with voting support of less than 50 percent of the shares outstanding even though they were unopposed.
That followed the exit of the board's chairman Paul Jacobs, who stepped down to explore a long-shot acquisition offer for the company, which has yet to materialize.
Irene Rosenfeld, who stepped down last year as CEO of U.S. snack foods company Mondelez International Inc, and Martin Anstice, CEO of semiconductor equipment manufacturer Lam Research Corp, are in advanced talks to join Qualcomm's board, the sources told Reuters on Tuesday.
Their addition to the board would expand it from 12 directors to 14. Qualcomm appointed Neil Smit, vice chairman of U.S. cable operator Comcast Corp, and Mark Fields, former CEO of car maker Ford Motor Co, to its board in June.
More additions to the company's board next year are possible, the sources said. Board member Thomas Horton, the former chairman of American Airlines Group Inc, is considering whether to seek re-election next year after serving as a director for 10 years and has yet to make a decision, according to two of the sources.
The sources asked not to be identified because the deliberations are confidential. Qualcomm declined to comment.
Qualcomm is under pressure to deliver on the financial goals it laid out while defending itself against Broadcom. The hostile bid was blocked in March by U.S. President Donald Trump over national security concerns.
The financial targets include a sharp increase in earnings per share. Qualcomm is targeting $6.75 to $7.50 in fiscal 2019, compared with $4.28 in fiscal 2017, its last full year. That hinges on resolving its licensing disputes and continuing to diversify revenue.
The San Diego-based company kicked off a $30 billion stock buyback earlier this year, it resolved a patent row with client Samsung Electronics Co, and said it expects to bring in $1 billion in sales from chips for smartwatches and speakers, part of the $5 billion in sales this year it expects from sources outside its core mobile phone chip market.
Qualcomm's efforts are satisfying some investors. Its shares have risen more than 50 percent since April and recently hit an almost four-year high.
(Reporting by Stephen Nellis in San Francisco and Greg Roumeliotis in New York; Additional reporting by Liana B. Baker and Jessica DiNapoli in New York; Editing by Bill Rigby)
This story has not been edited by Firstpost staff and is generated by auto-feed.
India
Danish's photographs were not just documentation, but the work of someone who went down to eye-level, as they say in photographic parlance.
World
ATHENS (Reuters) - Greek police used teargas and water cannon to disperse people who had gathered in central Athens on Saturday to protest against mandatory COVID-19 vaccinations. More than 4,000 people rallied outside the Greek parliament for a third time this month to oppose mandatory inoculations for some workers, such as healthcare and nursing staff.
World
ISTANBUL (Reuters) - Two Turkish soldiers were killed and two were wounded in an attack on their armoured vehicle in northern Syria, and Turkish forces immediately launched retaliatory fire, Turkey's defence ministry said on Saturday. "Our punitive fire against terrorist positions is continuing," the statement on Twitter on said. It did not specify where the attack occurred, but media reports said it was in the al-Bab area.