Exclusive: OPEC+ needs to offset large May-July oversupply - document
By Vladimir Soldatkin, Rania El Gamal and Ahmad Ghaddar MOSCOW/DUBAI/LONDON (Reuters) - Oil producing countries in the OPEC+ group that pumped above supply targets from May to July will need to slash output by over a million barrels per day for two months to compensate, according to OPEC sources and an internal OPEC+ report seen by Reuters. The producer group includes members of the Organization of the Petroleum Exporting Countries and other oil powers including Russia, who together pledged to make record cuts of 9.7 million barrels per day (bpd) in May to end a huge glut in supply as coronavirus lockdowns destroyed fuel demand worldwide. As demand has started to recover, the group tapered the cuts to 7.7 million bpd in August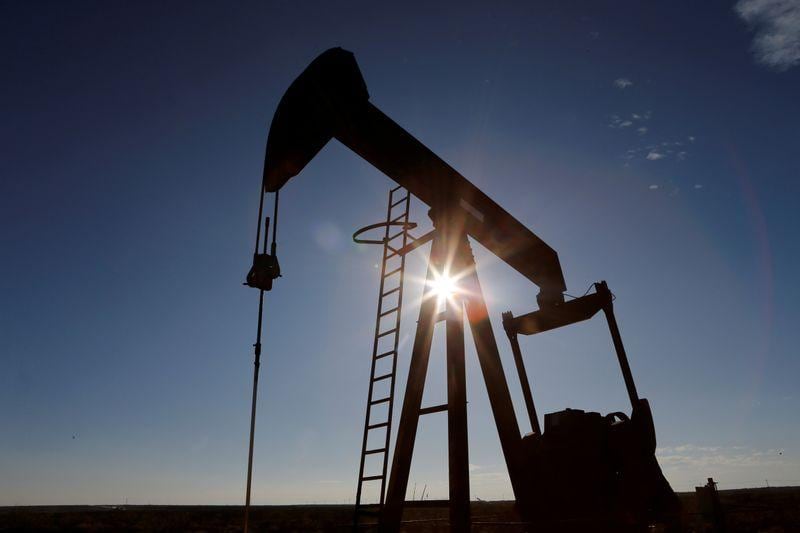 By Vladimir Soldatkin, Rania El Gamal and Ahmad Ghaddar
MOSCOW/DUBAI/LONDON (Reuters) - Oil producing countries in the OPEC+ group that pumped above supply targets from May to July will need to slash output by over a million barrels per day for two months to compensate, according to OPEC sources and an internal OPEC+ report seen by Reuters.
The producer group includes members of the Organization of the Petroleum Exporting Countries and other oil powers including Russia, who together pledged to make record cuts of 9.7 million barrels per day (bpd) in May to end a huge glut in supply as coronavirus
lockdowns destroyed fuel demand worldwide. As demand has started to recover, the group tapered the cuts to 7.7 million bpd in August.
Some countries such as Iraq and Nigeria failed to meet those targets and are coming under pressure from other OPEC+ members, including de-facto OPEC leader Saudi Arabia, to reduce production to ensure they compensate by the end of September for the oversupply since the cuts were agreed.
The volume they need to reduce is the equivalent to 1.15 million bpd over two months, one OPEC source said, or 2.31 million bpd over one month, according to the OPEC+ report.
"Those compensation cuts are only for August and September and they are in addition to the current existing output cuts by the members," the OPEC source said.
The extra cuts, if evenly distributed, would mean that the effective reduction in supplies from the group would be around 8.85 million bpd in August and September, the source added.
"This means you would be seeing a big draw from the market over those two months," said the source.
Those OPEC+ countries that will compensate for their overproduction have until the end of next week to submit their updated production plans for August and September, OPEC sources said.
In April the impact of the new coronavirus
on air and road travel and other areas of the global economy sent benchmark oil prices below $16 a barrel. The OPEC+ supply cuts and the slow rebound in economic activity as lockdowns ease have led to a recovery in prices to just under $44 on Friday. The continued spread of the virus is threatening oil demand recovery forecasts.
OVERSUPPLY
Actual oversupply in May was about 1.3 million bpd, and in June and July was 0.5 million bpd, one OPEC+ source said.
Combined, that is the equivalent of 2.3 million bpd over one month, or 1.15 million bpd over two months.
That's a total oversupply of 70 million barrels, or enough to load 70 large Suezmax tankers.
The report shows OPEC+ expects oil demand in 2020 to fall by 9.1 million bpd, 100,000 bpd more than in its previous forecast, before rising by 7 million bpd in 2021.
However, it also presents an alternative scenario in which a stronger and more-prolonged second wave of infections hits Europe, the United States, India and China in the second half of the year.
Under this scenario, demand is forecast to fall by 11.2 million bpd in 2020, sending OECD commercial oil inventories in the fourth quarter to 233 million barrels above the latest five-year average, the report showed.
Stocks would stand at 250 million barrels above the latest five-year average in 2021.
COMPLIANCE
Data shows among OPEC members, Iraq and Nigeria were the least compliant and even the United Arab Emirates, which made additional voluntary cuts in June, overproduced by around 50,000 bpd over the May-July period.
Among non-OPEC participants, Russia and Kazakhstan overproduced by a cumulative 280,000 bpd and 190,000 bpd, respectively, over the three months.
(Additional reporting by Dmitry Zhdannikov; editing by Jason Neely/Simon Webb/Susan Fenton)
This story has not been edited by Firstpost staff and is generated by auto-feed.
World
ATHENS (Reuters) - Greek police used teargas and water cannon to disperse people who had gathered in central Athens on Saturday to protest against mandatory COVID-19 vaccinations. More than 4,000 people rallied outside the Greek parliament for a third time this month to oppose mandatory inoculations for some workers, such as healthcare and nursing staff.
World
ISTANBUL (Reuters) - Two Turkish soldiers were killed and two were wounded in an attack on their armoured vehicle in northern Syria, and Turkish forces immediately launched retaliatory fire, Turkey's defence ministry said on Saturday. "Our punitive fire against terrorist positions is continuing," the statement on Twitter on said. It did not specify where the attack occurred, but media reports said it was in the al-Bab area.
World
By Marcelo Rochabrun SAO PAULO (Reuters) - Protesters took to the streets in several Brazilian cities on Saturday to demand the impeachment of far-right President Jair Bolsonaro, whose popularity has fallen in recent weeks amid corruption scandals against the backdrop of the pandemic. This week, news broke that Brazil's defense ministry told congressional leadership that next year's elections would not take place without amending the country's electronic voting system to include a paper trail of each vote. Bolsonaro has suggested several times without evidence that the current system is prone to fraud, allegations that Brazil's government has denied