Exclusive: Ethiopia set on economic reforms, but won't be rushed - cenbank head
By Maggie Fick and Aaron Maasho ADDIS ABABA (Reuters) - Ethiopia has embarked on a root-and-branch overhaul of its economy, though its currency will not be devalued any time soon and liberalising the state-dominated banking sector will take years, the recently appointed head of its central bank said. Yinager Dessie took the helm last month as one of the main players in a far-reaching programme of political and economic reforms that Prime Minister Abiy Ahmed is pushing though. In a candid interview at odds with the secretive traditions of the National Bank of Ethiopia (NBE), the 47-year-old Yinager said the country was making a clean break with the state-driven economic model phased in following the end of military rule in 1991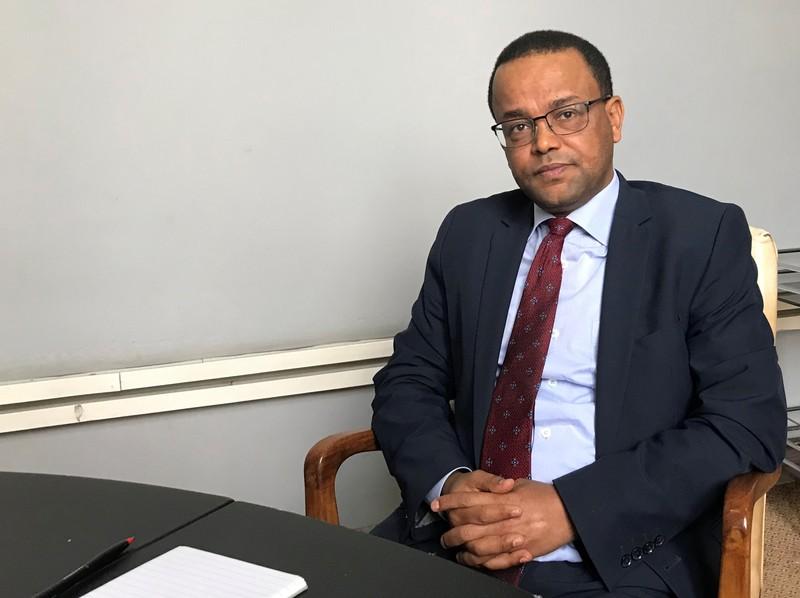 By Maggie Fick and Aaron Maasho
ADDIS ABABA (Reuters) - Ethiopia has embarked on a root-and-branch overhaul of its economy, though its currency will not be devalued any time soon and liberalising the state-dominated banking sector will take years, the recently appointed head of its central bank said.
Yinager Dessie took the helm last month as one of the main players in a far-reaching programme of political and economic reforms that Prime Minister Abiy Ahmed is pushing though.
In a candid interview at odds with the secretive traditions of the National Bank of Ethiopia (NBE), the 47-year-old Yinager said the country was making a clean break with the state-driven economic model phased in following the end of military rule in 1991.
"We cannot move the way we were moving the past 15-16 years," he told Reuters on Wednesday, referring to a period of rapid growth driven by huge state investments in infrastructure.
"We should look into new ways of managing the economy."
Massive change has swept through the country of 100 million people since Abiy took office in April and set about dismantling the status quo.
The 41-year-old has made peace with neighbour Eritrea - a move that could bring substantial economic benefits to landlocked Ethiopia - ended a state of emergency, freed political prisoners and put a complacent civil service on notice.
The government has also said it wants sell stakes in state-owned firms in the hope the private sector will boost already pacy growth and create jobs for the hundreds of thousands of young Ethiopians entering the market each year.
"If we maintain and sustain this environment politically, it will create tremendous opportunity for this country," Yinager said.
In an attempt to boost exports, the bank devalued the birr currency by 15 percent in October for the first time in seven years
While acknowledging a chronic shortage of dollars that is stifling growth, Yinager ruled out any further devaluation in this financial year, which runs until next July.
OPENING UP
Yinager's predecessor held the position for two decades, during which time he granted only a handful of interviews to state media. Ethiopian journalists joked that he was as shadowy as the head of the intelligence services.
By contrast Yinager, a former National Planning Commission head who holds a PhD in environmental science from a university in Vienna, was happy to acknowledge the problems facing the economy and admit the government was seeking help to solve them.
"We have established a working group which deals with reforms in the finance sector... that will be supported by experts from the World Bank and IMF," he said.
When and how to liberalise the antiquated banking sector, currently off-limits to foreign investors, is a sensitive issue for the government, however.
Yinager said establishing mobile banking was a priority, but authorities would tread carefully for fear that local lenders, locked in a 20th century banking time-warp, would be crushed by an influx of international banks.
"It requires some sort of preparation to liberalise our banking system, so we are working on that," he said, adding this process would take "some years".
the currency crunch that Ethiopia has been battling has eased slightly over the last two months with a sharp narrowing of the gap between the official and black-market birr rates.
But businesses that need hard currency to import raw materials say the unpredictability of the central bank's foreign currency allocation system has forced some to lay off staff or shut down completely.
"This is one area where we are going to make some reform," Yinager said, acknowledging that one of the main reasons for the overhaul was the need for the economy to generate more dollars.
In the last three weeks, remittances from Ethiopia's huge diaspora had also started flowing through the official market, he added, declining to give figures.
More short-term relief had come from a $1 billion deposit by the United Arab Emirates into central bank coffers, support that Addis was trying to replicate with other foreign governments, including Saudi Arabia, he said.
"Other countries have shown huge interest to give us billions of dollars," he said, declining to give details.
Yinager also said Addis was looking at ways to reduce its reliance on loans from China, which he said was the source of 85 percent of Ethiopia's external debt.
(Additional reporting by Cecilie Kallestrup in Nairobi; Editing by Ed Cropley and John Stonestreet)
This story has not been edited by Firstpost staff and is generated by auto-feed.
also read
World
COPENHAGEN A South Korean woman wanted for questioning in connection with the scandal that brought down president Park Geun-hye has withdrawn her appeal against extradition from Denmark, the Danish state prosecutor said on Wednesday.
World
By Philip Pullella and Steve Holland | VATICAN CITY VATICAN CITY Pope Francis urged U.S.