Exclusive: Checks to be ordered after 2017 Airbus A380 engine explosion
By Tim Hepher LONDON (Reuters) - Investigators probing an engine explosion on an Air France A380 in 2017 are studying a possible manufacturing flaw with a key part in a move likely to trigger checks on dozens of Airbus superjumbos worldwide, people familiar with the matter said. The focus of a two-year-old investigation into the mid-air explosion over Greenland, which left the plane carrying more than 500 passengers with the front of one engine missing, has switched to the recently salvaged 'fan hub,' the people said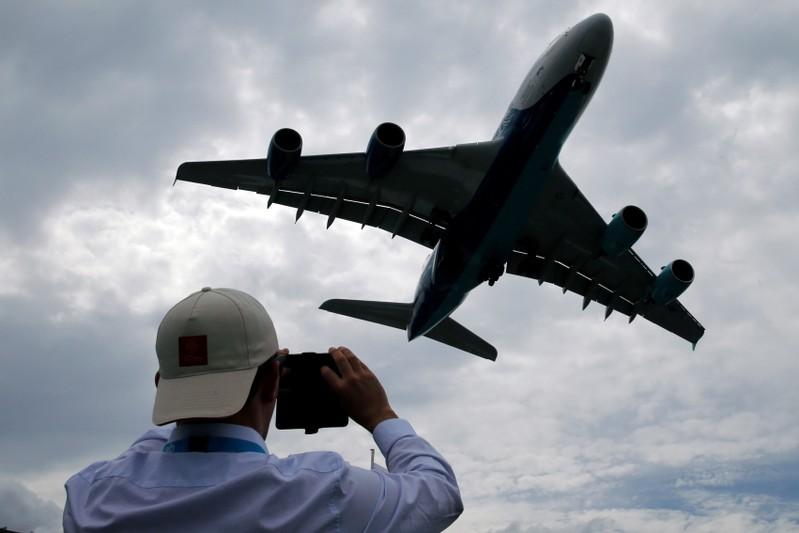 By Tim Hepher
LONDON (Reuters) - Investigators probing an engine explosion on an Air France A380 in 2017 are studying a possible manufacturing flaw with a key part in a move likely to trigger checks on dozens of Airbus superjumbos worldwide, people familiar with the matter said.
The focus of a two-year-old investigation into the mid-air explosion over Greenland, which left the plane carrying more than 500 passengers with the front of one engine missing, has switched to the recently salvaged "fan hub," the people said.
The titanium part is the centrepiece of a 3-metre-wide fan on engines built for the world's largest airliner by U.S.-based Engine Alliance, co-owned by General Electric and United Technologies unit Pratt & Whitney.
It had sat buried in Greenland's ice sheet since September 2017 when one of four engines on Air France flight 66 abruptly disintegrated en route from Paris to Los Angeles. It was prised from the ice in June after a high-tech aerial radar search.
Following a microscopic analysis, Engine Alliance is expected to order airlines to carry out checks for any flaws on similar parts in its engines, which power some 60 percent of the 237 A380s in service, the people said.
The suspect part was fabricated under the auspices of Pratt & Whitney, which declined to comment.
France's BEA air accident agency, which is leading the investigation, declined to comment.
Engine Alliance is one of two engine suppliers for the Airbus A380 in competition with Britain's Rolls-Royce.
Besides Air France, other airlines operating the A380 with Engine Alliance powerplants include Dubai's Emirates, Qatar Airways, Abu Dhabi-based Etihad and Korean Air.
It was not immediately clear what sort of checks would be required, nor whether they would involve taking planes out of service outside their usual maintenance schedules.
Experts say detecting metallurgical flaws deep inside the titanium alloys used for such parts can be challenging.
Investigations are not yet complete and are likely to tackle other factors such as the loads or physical forces at play on the engine and the giant double-decker jet's wing structure.
Safety experts say air accidents are rarely caused by isolated factors.
Europe's Airbus declined comment.
(Reporting by Tim Hepher; Editing by Sudip Kar-Gupta)
This story has not been edited by Firstpost staff and is generated by auto-feed.
Find latest and upcoming tech gadgets online on Tech2 Gadgets. Get technology news, gadgets reviews & ratings. Popular gadgets including laptop, tablet and mobile specifications, features, prices, comparison.
World
By Crispin Kyala KAMITUGA, Democratic Republic of Congo (Reuters) - Kinyenye Furaha passed out from shock when he realised a mine collapse in eastern Congo had buried more than 50 fellow miners including his brother, he said on Sunday, as the hunt continued for bodies two days after the disaster. Miners searching the site near the town of Kamituga in Democratic Republic of Congo have so far recovered 18 bodies, after heavy rains on Friday caused the artisanal gold mine to cave in, burying those working below ground.
World
By Tom Balmforth and Maria Tsvetkova MOSCOW/TOMSK (Reuters) - The ruling United Russia party looked set for an array of local election wins on Sunday, but was also on course for some setbacks as stricken Kremlin critic Alexei Navalny's supporters made rare gains in city politics in Siberia. The local elections were closely watched for signs of protest voting against the ruling party that backs President Vladimir Putin amid frustrations over years of falling wages and the government's handling of the pandemic. The votes also followed the suspected poisoning by a rare nerve agent of opposition politician Navalny who had promoted a tactical voting strategy to hurt United Russia and fielded dozens of candidates for city councils in Siberia
World
By Linda Sieg TOKYO (Reuters) - Japanese Chief Cabinet Secretary Yoshihide Suga, a longtime loyal aide of outgoing Prime Minister Shinzo Abe, was poised to win a ruling party leadership election on Monday, virtually ensuring that he replaces Abe this week in the nation's top job. Suga, 71, who has said he would pursue Abe's key economic and foreign policies, is expected to get the bulk of votes from 394 Liberal Democratic Party (LDP) lawmakers and is likely to win a majority of 141 votes from the party's local chapters.