Exclusive: Canada's opposition leader to drop pledge to balance budget in two years
By Steve Scherer OTTAWA (Reuters) - Canada's Conservative Party Leader Andrew Scheer on Friday plans to drop a previous pledge to balance the budget within two years if elected, saying Prime Minister Justin Trudeau's Liberal government has made it impossible to do so responsibly. In a speech on his economic policy he will deliver at the Canadian Club in Vancouver, British Columbia, on Friday, Scheer will promise to make a balanced budget part of his platform, but within about five years instead of two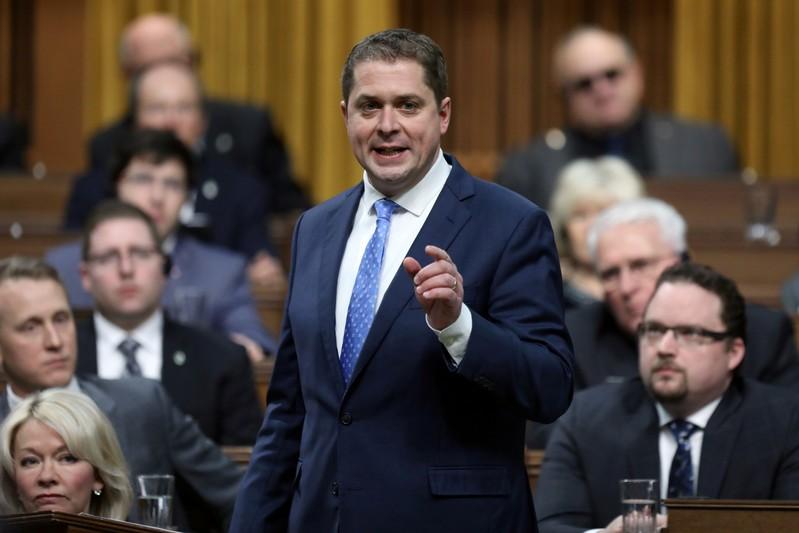 By Steve Scherer
OTTAWA (Reuters) - Canada's Conservative Party Leader Andrew Scheer on Friday plans to drop a previous pledge to balance the budget within two years if elected, saying Prime Minister Justin Trudeau's Liberal government has made it impossible to do so responsibly.
In a speech on his economic policy he will deliver at the Canadian Club in Vancouver, British Columbia, on Friday, Scheer will promise to make a balanced budget part of his platform, but within about five years instead of two.
"In the last three years, Trudeau has made an even bigger mess of the budget than I thought possible... All of this has made it impossible for anyone to immediately and responsibly balance the budget," according to the text of the speech seen by Reuters on Thursday.
"Even the most optimistic projections don't have the Liberals balancing the budget for 20 more years ... But if Canadians elect a Conservative government this fall, we will balance the budget in about a quarter of that time," the text reads.
Scheer, 40, is challenging Trudeau in a national election set for October and polls show him holding onto a slight lead. In recent weeks Scheer has started to outline some of his foreign and economic policies.
In 2015, Trudeau promised to balance the budget by this year, which he has not done. But even with the deficit, Canada's net debt-to-GDP ratio is lower than its G7 rivals and debt as a share of output is expected to decline over the coming years from about 31 percent currently.
(Additional reporting by Kelsey Johnson in Toronto; Editing by Chris Reese)
This story has not been edited by Firstpost staff and is generated by auto-feed.
World
ATHENS (Reuters) - Greek police used teargas and water cannon to disperse people who had gathered in central Athens on Saturday to protest against mandatory COVID-19 vaccinations. More than 4,000 people rallied outside the Greek parliament for a third time this month to oppose mandatory inoculations for some workers, such as healthcare and nursing staff.
World
ISTANBUL (Reuters) - Two Turkish soldiers were killed and two were wounded in an attack on their armoured vehicle in northern Syria, and Turkish forces immediately launched retaliatory fire, Turkey's defence ministry said on Saturday. "Our punitive fire against terrorist positions is continuing," the statement on Twitter on said. It did not specify where the attack occurred, but media reports said it was in the al-Bab area.
World
By Marcelo Rochabrun SAO PAULO (Reuters) - Protesters took to the streets in several Brazilian cities on Saturday to demand the impeachment of far-right President Jair Bolsonaro, whose popularity has fallen in recent weeks amid corruption scandals against the backdrop of the pandemic. This week, news broke that Brazil's defense ministry told congressional leadership that next year's elections would not take place without amending the country's electronic voting system to include a paper trail of each vote. Bolsonaro has suggested several times without evidence that the current system is prone to fraud, allegations that Brazil's government has denied