Exclusive: Beyond Meat eyes production in Asia before the end of 2020
By Richa Naidu CHICAGO (Reuters) - Beyond Meat aims to start production in Asia before the end of next year, as it gets closer to selling its popular plant-based meat products in China, Executive Chairman Seth Goldman told Reuters. While Beyond Meat sells its products in Taiwan, Singapore and Hong Kong, the company and rival Impossible Foods are racing to expand sales to China, a major untapped market for products like the Beyond Sausage and Impossible Burger that have been hugely successful in the United States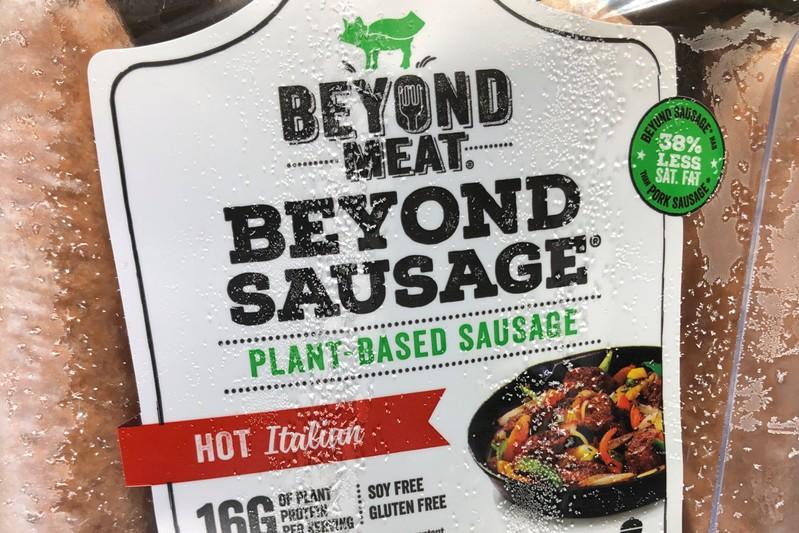 By Richa Naidu
CHICAGO (Reuters) - Beyond Meat aims to start production in Asia before the end of next year, as it gets closer to selling its popular plant-based meat products in China, Executive Chairman Seth Goldman told Reuters.
While Beyond Meat sells its products in Taiwan, Singapore and Hong Kong, the company and rival Impossible Foods are racing to expand sales to China, a major untapped market for products like the Beyond Sausage and Impossible Burger that have been hugely successful in the United States.
As consumers grow more concerned about health and the environmental impact of industrial animal farming, the global plant-based market is expected to explode to an estimated $140 billion (£109 billion) over the next decade, according to Barclays.
But to succeed in China's vast potential market, the companies need to develop production systems, secure retail customers and create supply chains, for instance, a cold trucking system that is able to transport frozen products.
"We know that to get to China and to do it the right way, it's going to take scale, it's going to take a manufacturing presence in that area," Goldman said on Wednesday on the sidelines of a food conference in Chicago.
"We have committed to producing in Europe in the first quarter of next year...Asia's not going to be that quick, but we do hope to have something up and running before the end of next year."
Beyond Meat, a pioneer of plant-based meat substitutes, said in May it would begin manufacturing in the Netherlands in early 2020 to meet strong European demand and avoid exporting the products from the United States, cutting down on such transportation.
Asked about progress towards selling in China, Goldman said it was moving aggressively but it was too early to characterize exactly what it would do.
Rival Impossible Foods told Reuters in September it was actively working to speed up entry into China, its top priority in terms of overseas markets. The company said it was in preliminary talks with potential partners, and was hoping to find enterprises or local governments that would help bring its technology to China.
Beyond Meat's Goldman said product prices in China would initially need to be relatively high, but that Beyond Meat was confident it would eventually have the manufacturing scale to price competitively.
Plant-based burgers typically cost $1-$1.50 more than meat patties - a price gap that Beyond Meat and Silicon Valley-based Impossible Foods are hoping to close as soon as possible. The plant-based Whopper that Impossible Foods makes for Burger King costs $5.59, against $4.19 for a beef Whopper. Prices may vary between franchises.
Los Angeles-based Beyond Meat said last week during a post-earnings call that it would update the market on further manufacturing and product plans for Asia at a later date.
Shares in Beyond Meat, which has a market capitalization of nearly $5 billion, were down 3.2% on Thursday.
(Reporting by Richa Naidu; Editing by Bernadette Baum)
This story has not been edited by Firstpost staff and is generated by auto-feed.
Find latest and upcoming tech gadgets online on Tech2 Gadgets. Get technology news, gadgets reviews & ratings. Popular gadgets including laptop, tablet and mobile specifications, features, prices, comparison.
World
JOHANNESBURG (Reuters) - South Africa's President Cyril Ramaphosa said on Wednesday that travel to all international countries will be permitted pending strict health protocols, despite having the highest number of confirmed COVID-19 cases on the continent. "We are also opening up international travel to all countries subject to the necessary health protocols and the presentation of a negative COVID-19 certificate," said Ramaphosa during a national address. Africa's most advanced economy, which has recorded more than 740,000 coronavirus infections and nearly 20,000 deaths, eased lockdown restrictions to their lowest level in September as the rate of new cases fell.
World
By Nidal al-Mughrabi KHAN YOUNIS, Gaza Strip (Reuters) - On the roof of an apartment block in one of Gaza's most crowded cities, two lion cubs prowl among the water tanks and dine on slaughtered chickens as children take selfies. It is a bizarre sight even in a war-scarred Gaza Strip that has become accustomed to the unaccustomed.
World
MEXICO CITY (Reuters) - Mexican President Andres Manuel Lopez Obrador on Wednesday dug in his heels as one of the few leaders of major countries yet to congratulate Joe Biden on his presidential election win, saying it was too early and that his country was "not a colony". Lopez Obrador, who accused rivals of electoral fraud in his presidential defeats in 2006 and 2012, says he has no side in the U.S. election, and will wait until legal challenges launched by the Trump administration over the vote have played out