Exclusive: AB InBev faces EU antitrust fine in Belgian beer case - sources
By Foo Yun Chee BRUSSELS (Reuters) - Anheuser-Busch InBev faces an EU antitrust fine for preventing cheaper beer imports into Belgium despite its efforts to settle the investigation, people familiar with the matter said. Last year, the European Commission accused the world's largest brewer of abusing its market dominance in Belgium by impeding cheaper imports into the country of its Jupiler and Leffe brands from neighbouring France and the Netherlands. The European Commission typically frowns on attempts to prevent parallel trade in the 28-country bloc, whereby cheaper products in one country are transported for sale in another, seeing such tactics as an obstacle to the single market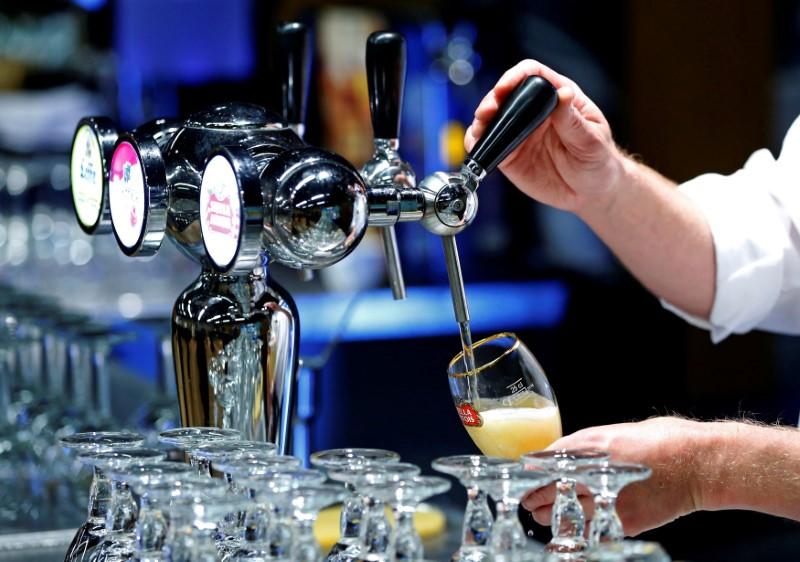 By Foo Yun Chee
BRUSSELS (Reuters) - Anheuser-Busch InBev faces an EU antitrust fine for preventing cheaper beer imports into Belgium despite its efforts to settle the investigation, people familiar with the matter said.
Last year, the European Commission accused the world's largest brewer of abusing its market dominance in Belgium by impeding cheaper imports into the country of its Jupiler and Leffe brands from neighbouring France and the Netherlands.
The European Commission typically frowns on attempts to prevent parallel trade in the 28-country bloc, whereby cheaper products in one country are transported for sale in another, seeing such tactics as an obstacle to the single market.
The Commission said the result was that Belgian consumers were paying more for the two most popular beer brands in Belgium. AB InBev sells Jupiler and Leffe at lower prices in the Netherlands and France because of the greater competition in these two markets.
EU antitrust rules allow companies to settle investigations by offering concessions and regulators to close the case without levying any fine or proving wrongdoing. The Commission normally accepts this option only if it sees it as a quicker way to restore competition to the market.
The Commission, which can fine companies up to 10 percent of their global turnover, declined to comment. The sources say a formal decision will take some time before it is announced. AB InBev did not immediately respond to a request for comment
The EU competition enforcer said AB InBev's tactics included changing the packaging of both brands in the Netherlands and France to make them harder to sell in Belgium. Dutch retailers were given limited access to key products and promotions to prevent them from importing products into Belgium.
(Reporting by Foo Yun Chee; additional reporting by Philip Blenkinsop, editing by Robin Emmott and Elaine Hardcastle)
This story has not been edited by Firstpost staff and is generated by auto-feed.
World
ATHENS (Reuters) - Greek police used teargas and water cannon to disperse people who had gathered in central Athens on Saturday to protest against mandatory COVID-19 vaccinations. More than 4,000 people rallied outside the Greek parliament for a third time this month to oppose mandatory inoculations for some workers, such as healthcare and nursing staff.
World
ISTANBUL (Reuters) - Two Turkish soldiers were killed and two were wounded in an attack on their armoured vehicle in northern Syria, and Turkish forces immediately launched retaliatory fire, Turkey's defence ministry said on Saturday. "Our punitive fire against terrorist positions is continuing," the statement on Twitter on said. It did not specify where the attack occurred, but media reports said it was in the al-Bab area.
World
By Marcelo Rochabrun SAO PAULO (Reuters) - Protesters took to the streets in several Brazilian cities on Saturday to demand the impeachment of far-right President Jair Bolsonaro, whose popularity has fallen in recent weeks amid corruption scandals against the backdrop of the pandemic. This week, news broke that Brazil's defense ministry told congressional leadership that next year's elections would not take place without amending the country's electronic voting system to include a paper trail of each vote. Bolsonaro has suggested several times without evidence that the current system is prone to fraud, allegations that Brazil's government has denied