Ex-PBOC chief says China must address 'loopholes' as part of WTO reform
By Tom Miles GENEVA (Reuters) - China must plug loopholes in the way it applies rules on subsidies and technology transfer to address complaints from the United States and the European Union, former central bank chief Zhou Xiaochuan said on Wednesday. The comments by a leading former official appeared to signal Beijing's acceptance of some of U.S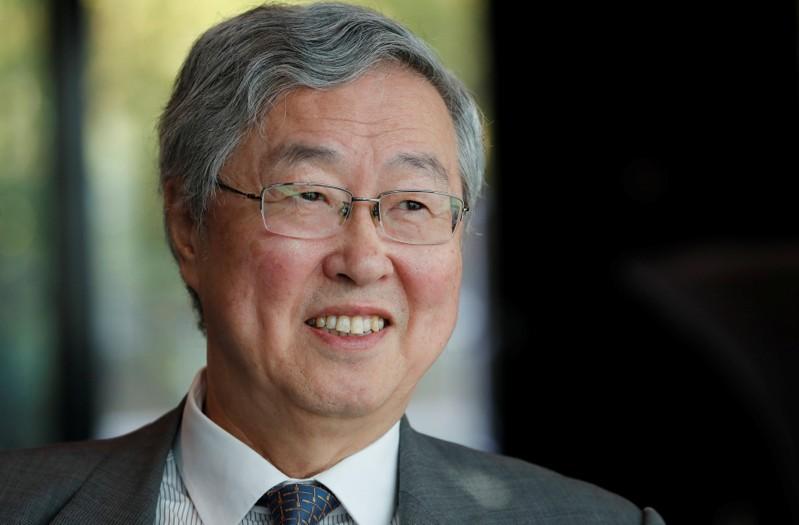 By Tom Miles
GENEVA (Reuters) - China must plug loopholes in the way it applies rules on subsidies and technology transfer to address complaints from the United States and the European Union, former central bank chief Zhou Xiaochuan said on Wednesday.
The comments by a leading former official appeared to signal Beijing's acceptance of some of U.S. President Donald Trump's fiercest complaints, which he has cited to justify a tariff war and a threat to withdraw from the World Trade Organization..
Zhou acknowledged that China could do more to tighten up its rules to root out illegal subsidies and forced technology transfer -- two of Trump's biggest bugbears.
"We should change the mentality. We should learn more about WTO rules. There could have been some inappropriate behaviour sometimes, but we are improving," Zhou told a seminar at Geneva's Centre for Trade and Economic Integration.
To deal with U.S. accusations about China not being a market economy, he said Beijing aimed for OECD-style "competitive neutrality" - a level playing field for state-owned and private enterprises.
"We haven't done enough, but we are moving in that direction."
Any Chinese rule-breaking was probably at local level or in particular sectors, and there were possibly "cross-subsidies" by state-backed enterprises, potentially fuelled by cheap bank loans.
But there was no national policy to take advantage unfairly of American innovation, as alleged by Trump, he said.
"Of course China is a large country and sometimes there are loopholes at the local level, we can see that. But I should emphasise that at the state level we don't carry out the mandatory transfer of technology," Zhou said.
China was willing to create a fairer competitive environment and to curb subsidies in pursuit of WTO reform, he said. It wanted to see more transparency at the WTO, with stronger dispute settlement.
"We can achieve consensus on WTO reform," he said.
Zhang Jianping, director of the Commerce Ministry's research centre for regional economic cooperation, tackled another of Trump's complaints -- that WTO members can declare themselves to be "developing" to get advantageous treatment.
Zhang said the WTO should introduce a system to determine which were "developing countries", based on the size and structure of their economy. He referred to the classification system used in climate talks as a possible model.
He also said the "outdated" WTO should have new rules on investment, in cooperation with the International Monetary Fund.
Trump's barrage of tariffs against China and a U.S. veto on new judges at the WTO have focused minds after more than a decade of virtual deadlock in trade negotiations.
Last week trade ministers from G20 countries said there was an "urgent need" for WTO reform.
On Tuesday, the European Union launched its ideas, and on Thursday Canada will host deputy trade ministers at its mission in Geneva for more talks, although neither the United States nor China are invited.
(Reporting by Tom Miles; Editing by Richard Balmforth)
This story has not been edited by Firstpost staff and is generated by auto-feed.
World
ATHENS (Reuters) - Greek police used teargas and water cannon to disperse people who had gathered in central Athens on Saturday to protest against mandatory COVID-19 vaccinations. More than 4,000 people rallied outside the Greek parliament for a third time this month to oppose mandatory inoculations for some workers, such as healthcare and nursing staff.
World
ISTANBUL (Reuters) - Two Turkish soldiers were killed and two were wounded in an attack on their armoured vehicle in northern Syria, and Turkish forces immediately launched retaliatory fire, Turkey's defence ministry said on Saturday. "Our punitive fire against terrorist positions is continuing," the statement on Twitter on said. It did not specify where the attack occurred, but media reports said it was in the al-Bab area.
World
By Marcelo Rochabrun SAO PAULO (Reuters) - Protesters took to the streets in several Brazilian cities on Saturday to demand the impeachment of far-right President Jair Bolsonaro, whose popularity has fallen in recent weeks amid corruption scandals against the backdrop of the pandemic. This week, news broke that Brazil's defense ministry told congressional leadership that next year's elections would not take place without amending the country's electronic voting system to include a paper trail of each vote. Bolsonaro has suggested several times without evidence that the current system is prone to fraud, allegations that Brazil's government has denied