Europe welcomes U.S.-EU trade respite, says Trump must rebuild trust
By Madeline Chambers and Leigh Thomas BERLIN/PARIS (Reuters) - Europe expressed relief on Thursday after Donald Trump and the European Commission chief agreed to tackle their trade row, although German business called on the U.S. president to scrap import tariffs definitively and rebuild transatlantic trust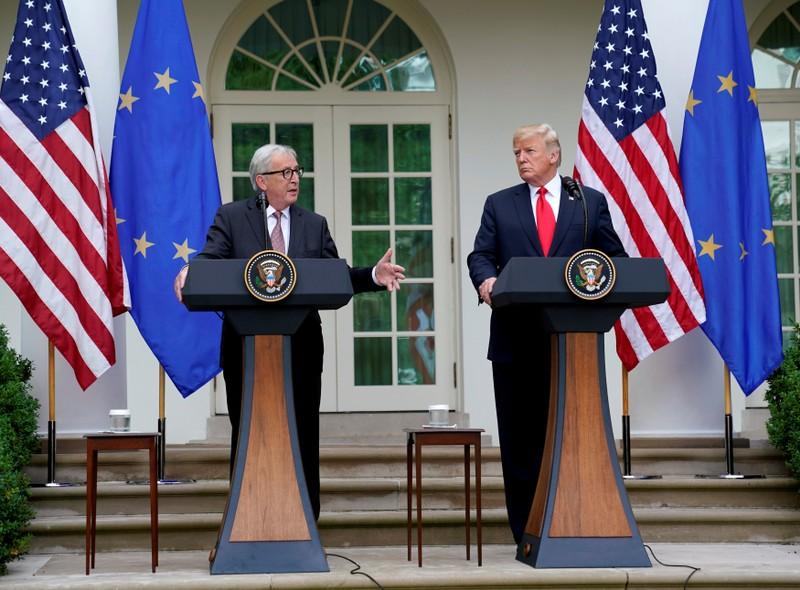 By Madeline Chambers and Leigh Thomas
BERLIN/PARIS (Reuters) - Europe expressed relief on Thursday after Donald Trump and the European Commission chief agreed to tackle their trade row, although German business called on the U.S. president to scrap import tariffs definitively and rebuild transatlantic trust.
Reaction on financial markets ranged from enthusiasm on stock exchanges to scepticism among currency investors, while commodities experts said Trump's proclamation that Europe would buy "lots of" soybeans from U.S. farmers hit by his separate trade dispute with China was not all that it seemed.
After meeting European Commission President Jean-Claude Juncker at the White House on Wednesday, Trump agreed to refrain from imposing car tariffs while the European Union and the United States start talks on cutting other trade barriers.
One senior EU official said the pair had agreed to set up a group of close advisers to drive forward their plans with the production of a report in the next 120 days.
With trade deeply tied up in U.S. domestic politics - Trump was elected on promises to protect American industries and workers - this would give Europe at least four months of respite from the transatlantic tensions, crucially pushing past the U.S. midterm elections, said the official, who declined to be named.
Talks would seek to "resolve" U.S. tariffs on steel and aluminium and Europe's retaliatory duties, a step back from Trump's import protections for U.S. metal producers.
Business lobbies were relieved. "Reason has prevailed," BusinessEurope President Pierre Gattaz said.
However, Germany's DIHK Chambers of Commerce noted that U.S. auto tariffs were not totally off the table. DIHK president Eric Schweitzer said it was up to Washington now to rebuild a basis of trust with Europe, remove the tariffs and strike a comprehensive agreement that followed the guidelines of the World Trade Organisation (WTO).
Uncertainty is hanging over the WTO's system for settling global trade disputes because Trump is vetoing the appointment of new appeals judges, accusing the Geneva-based body of interpreting its rules to Washington's disadvantage.
WTO chief Roberto Azevedo tweeted that he was encouraged that Trump and Juncker had agreed "to work together to improve the functioning of our Organization".
DEAL IN STAGES
European stocks rose on Thursday, with shares in carmakers Fiat, Porsche, Volkswagen and BMW all up by between 2 and 5 percent.
German Foreign Minister Heiko Maas said - contrary to Trump's description of the EU earlier this month as a trade "foe" - that Europe and the United States were partners and allies. But his response to the Washington talks was measured.
"This is not yet the result we are aiming for but it has made a positive result in the whole discussion ... on free trade or protectionism more likely than before," he said in Seoul. "The answer to America First can only be: Europe United."
U.S. Treasury Secretary Steven Mnuchin expected a trade deal in stages. He told CNBC that U.S. and European officials had "concluded an outline of an agreement" and planned to "turn it into a real agreement", but gave few details.
The response from France was also cautious. Finance Minister Bruno Le Maire welcomed the discussions with Washington but said he does not want to enter into a wide-ranging negotiation.
"Each side, the Europeans and the Americans, must find something in these discussions. Any trade deal must be based on reciprocity," he said in remarks distributed by his office.
With French framers forming a strong lobby, Le Maire added that agriculture must remain outside of any negotiation as Europe could not ease its food safety and environmental norms.
After the talks, Trump highlighted benefits for U.S. farmers. "The European Union is going to start, almost immediately, to buy a lot of soybeans," he told reporters.
However, market watchers said that Europe has already been a heavy buyer of U.S. soybeans since prices plunged in June as China has largely stopped buying them in retaliation for trade measures that Trump has targeted at Beijing.
"More purchases by the EU of U.S. soybeans will certainly take place in coming months but this would be for business reasons rather than the Trump/Juncker agreement," said Stefan Vogel, head of agricultural commodity markets research at Rabobank.
Currency traders awaited the fine print. "The one thing we have learned from the last 18 months of Trump's gyrating trade policies is that whatever looks certain today is likely to be undermined tomorrow," Gavekal strategists said in a note.
(Additional reporting by Paul Carrel, Philip Blenkinsop, Michael Hogan, Susan Heavey and Saikat Chatterjee; writing by David Stamp; Editing by Angus MacSwan, Andrew Bolton)
This story has not been edited by Firstpost staff and is generated by auto-feed.
Find latest and upcoming tech gadgets online on Tech2 Gadgets. Get technology news, gadgets reviews & ratings. Popular gadgets including laptop, tablet and mobile specifications, features, prices, comparison.
World
OTTAWA (Reuters) - Canadian Prime Minister Justin Trudeau on Friday said he will continue to stand up against China's "coercive diplomacy" and its human rights abuses in Hong Kong and Xinjiang after being rebuked by Beijing for similar comments earlier this week. "We will stand up loudly and clearly for human rights all around the world, whether it is talking about the situation faced by the Uighurs, whether it is talking about the very concerning situation in Hong Kong, whether it's calling out China for its coercive diplomacy," Trudeau said in a news conference. (Reporting by Steve Scherer and Julie Gordon, Editing by Franklin Paul)
World
By Caroline Pailliez PARIS (Reuters) - Solene Tissot, a 19-year-old student in Paris, will obey the curfew imposed to fight COVID-19, but she has one request for her country's leaders: don't blame young people for the second wave of the virus. "There's been this kind of assigning guilt to young people," she said on Friday, hours before the new curfew was to come into force in Paris and major French cities. "I reject that." After a lull over the summer, the rates of transmission of coronavirus are going up in many parts of Europe and officials have identified social interactions between young people as a source of the resurgence.
World
By Adrian Portugal and Eloisa Lopez MANILA (Reuters) - Jailed Philippine activist Reina Mae Nasino wanted to hold her three-month-old daughter for the last time before she was laid to rest on Friday but she could not. Heavily armed prison officials guarding her refused to uncuff her despite pleas from her family and human rights supporters, who have decried what they described as inhumane treatment of Nasino and other mothers in Philippine jails.