EU to curb steel imports in response to Trump tariffs
By Philip Blenkinsop BRUSSELS (Reuters) - The European Union will launch measures on Thursday designed to prevent a surge of steel imports into the bloc following the U.S. imposition of tariffs on incoming steel and aluminium. The European Commission has proposed a combination of a quota and a tariff to counter EU concerns that steel products no longer imported into the United States would instead flood European markets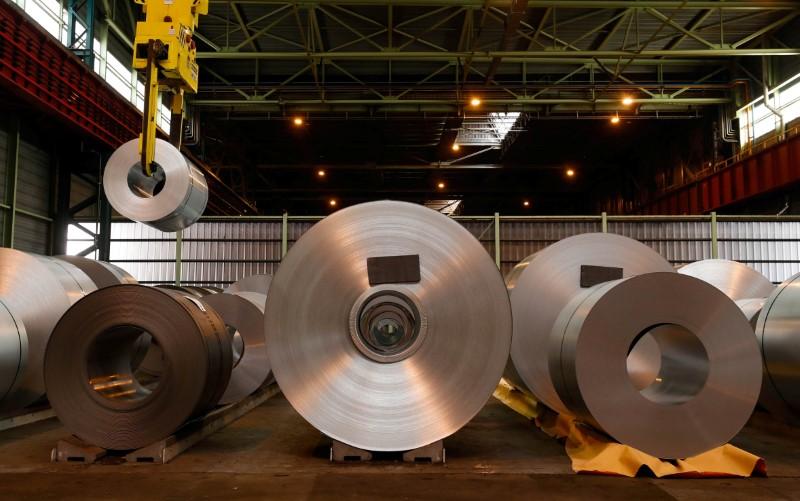 By Philip Blenkinsop
BRUSSELS (Reuters) - The European Union will launch measures on Thursday designed to prevent a surge of steel imports into the bloc following the U.S. imposition of tariffs on incoming steel and aluminium.
The European Commission has proposed a combination of a quota and a tariff to counter EU concerns that steel products no longer imported into the United States would instead flood European markets.
The measures announced on Wednesday are the third part of the EU's response to U.S. tariffs. It has also imposed tariffs on 2.8 billion euros ($3.3 billion) of U.S. imports, including bourbon and motor bikes, and has launched a legal challenge at the World Trade Organization.
The quotas for 23 steel product categories have been set at the average of imports over the past three years, with a 25 percent tariff set for volumes exceeding those amounts. The quotas are allocated on a first-come, first-served basis.
The main exporters of steel to the EU are China, India, Russia, South Korea, Turkey and Ukraine.
The Commission said that the EU steel industry was "in a fragile situation and vulnerable to a further increase in imports", with U.S. tariffs reducing its capacity to sell there making them even more vulnerable.
European steelmakers body Eurofer welcomed the safeguards, but said it expected a short-term surge of imports as steelmakers rushed to fill the quotas.
European automakers association ACEA said it regretted the move, which it forecast would inflate prices.
European Trade Commissioner Cecilia Malmstrom said in a statement that the bloc was faced with no choice but that EU markets would remain open with traditional trade flows.
The Commission will continue its investigation until the end of the year. The provisional safeguards can be in place for up to 200 days.
Imports of 28 products increased by 62 percent from 2013 to 2017, most noticeably in 2016 and with further rises this year. However, for five products, imports did not increase, leading the Commission to exclude them from its measures.
For 12 steel product categories, imports from countries including China, Russia and Ukraine are already subject to anti-dumping and anti-subsidy duties. The Commission said it would consider suspending or reducing them to avoid the imposition of "double duties".
Russian steelmaker NLMK said it hoped to continue business as usual, while peer Severstal said it did not expect a substantial impact on its results.
EU manufacturers of the products ranging from hot and cold rolled sheets, plates, coated steel and tubes include ArcelorMittal, Voestalpine and Tata Steel.
($1 = 0.8603 euros)
(Reporting by Philip Blenkinsop, additional reporting by Polina Devitt in Moscow; editing by Robert-Jan Bartunek, Emelia Sithole-Matarise, William Maclean)
This story has not been edited by Firstpost staff and is generated by auto-feed.
Find latest and upcoming tech gadgets online on Tech2 Gadgets. Get technology news, gadgets reviews & ratings. Popular gadgets including laptop, tablet and mobile specifications, features, prices, comparison.
Business
By Jessica Resnick-Ault NEW YORK (Reuters) - Oil prices strengthened on Wednesday, as OPEC and its allies were seen complying with a pact to cut oil supply in September, even as concerns loomed that recovery in fuel demand will be stalled by soaring global coronavirus cases. Early in the day crude was boosted by a bullish stock market. Even as equities whipsawed on pandemic worries, oil stayed higher, buoyed by expectations that OPEC could staunch a supply glut
Business
By Tina Bellon and C Nivedita (Reuters) - Tesla Inc will further cut the price of its Model S "Long Range" sedan in the United States to $69,420, the electric carmaker's chief executive, Elon Musk, announced in a tweet https://bit.ly/2H0JCP0 on Wednesday. The anticipated drop marks the second time this week Tesla has cut the price for the high-end sedan, following a 4% cut of the Model S's price in the United States on Tuesday to $71,990.
World
By Jeff Mason DES MOINES, Iowa (Reuters) - Under siege over his handling of the novel coronavirus pandemic, President Donald Trump on Wednesday cited what he said was his son's mild bout of the virus as a reason why American schools should reopen as soon as possible. Trump made the comment about his son, Barron, as the president swept into Iowa on a mission to shore up support in battleground states that he won in 2016 but is in danger of losing to Democrat Joe Biden barely three weeks before the election. First lady Melania Trump announced in a statement earlier in the day that the virus that struck both her and her husband had also infected their 14-year-old son