EU set to impose tariffs on $4 billion U.S. goods next week
By Philip Blenkinsop BRUSSELS (Reuters) - The European Union is likely to impose tariffs on $4 billion of U.S.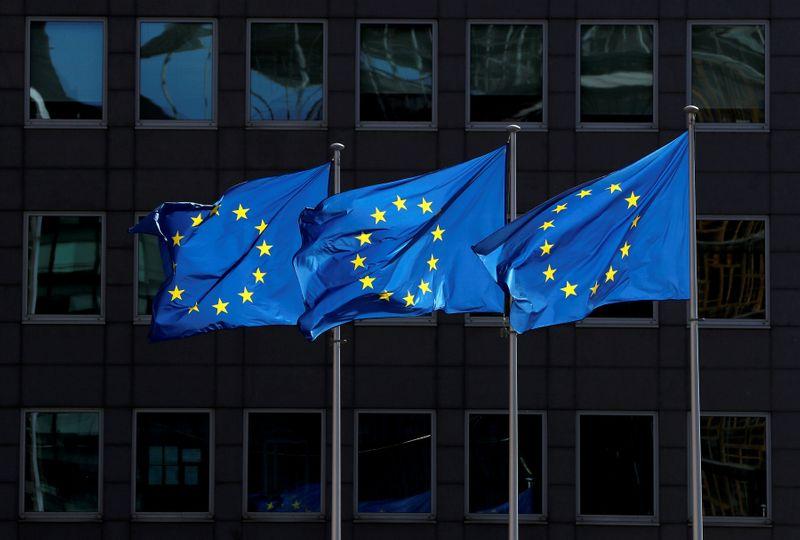 By Philip Blenkinsop
BRUSSELS (Reuters) - The European Union is likely to impose tariffs on $4 billion of U.S. imports including planes and plane parts next week in retaliation over U.S. subsidies for aircraft maker Boeing, EU diplomats said on Friday.
A majority of EU governments have already backed the tariffs, which are expected to be put in place after a meeting of EU trade ministers on Monday.
"I would expect the tariffs to be imposed next Tuesday or Wednesday," an EU diplomat said.
The move will echo U.S. tariffs on European goods over subsidies for Boeing's rival Airbus. Combined, the two cases represent the world's largest ever corporate trade dispute.
The World Trade Organization gave the European Union the right to impose counter-measures, but the United States said that there was no legal basis this and that, if the bloc chose to impose measures, it "will force a U.S. response".
The move puts the long-running transatlantic trade dispute on the radar of the next U.S. administration, whoever wins the closely fought election.
The European Union could have acted at the end of October, just days before the U.S. election, but chose to delay in order to avoid potentially impacting the outcome. EU governments formally cleared the move on Tuesday, election day.
Tariffs are due to be placed on U.S. planes and parts, fruits, nuts and other farm produce, processed products such as orange juice, certain spirits and a range of other goods, from construction equipment to casino tables, diplomats said.
The European Commission said it was finalising the process to exercise its retaliation rights in case no agreed solution could be found with Washington, including the immediate suspension of U.S. measures.
The United States Trade Representative had no immediate comment.
The United States already has tariffs on $7.5 billion of EU and British goods in relation to a parallel case over subsidies for European planemaker Airbus.
Chris Swonger, president and CEO of the Distilled Spirits Council of the U.S., said any tariffs on spirits would further devastate an industry that has already seen a 41% drop in U.S. whisky exports to Europe due to previous EU tariffs.
The tariffs also hand Britain, which left the EU this year, a delicate decision about whether to join its neighbours in imposing tariffs at a time when it is in the midst of trade negotiations with both the United States and European Union.
Britain's trade minister said last week it would "keep all options open" to ensure it can respond to U.S. tariffs on Scotch whisky and other industries. Britain is one of four Airbus partner nations alongside France, Germany and Spain.
(Reporting by Philip Blenkinsop, additional reporting by Andrea Shalal in Washington, Editing by Tim Hepher)
This story has not been edited by Firstpost staff and is generated by auto-feed.
Find latest and upcoming tech gadgets online on Tech2 Gadgets. Get technology news, gadgets reviews & ratings. Popular gadgets including laptop, tablet and mobile specifications, features, prices, comparison.
World
ADDIS ABABA/NAIROBI (Reuters) - Ethiopia's military is fighting battle-hardened troops in the northern Tigray region, threatening stability around the Horn of Africa. Here are some facts on the forces: THE NATIONAL MILITARY: THE ENDF The Ethiopian National Defence Force (ENDF) has around 140,000 active personnel, the vast majority of them in the army, according to the Janes security data group. Its troops have been tested by Islamist militants in Somalia and rebel groups in Ethiopia's border regions, as well as a two-year border war with Eritrea followed by an 18-year standoff that only ended in 2018.
World
ISTANBUL (Reuters) - Turkey's President Tayyip Erdogan said on Tuesday that the government will impose tighter measures to fight with the coronavirus and impose partial lockdowns on weekends across the country. Speaking after the cabinet meeting, Erdogan also said all schools will remain closed until the year-end and all restaurants will only work by delivery
World
BRASILIA (Reuters) - Brazilian President Jair Bolsonaro said on Tuesday his government in coming days will name countries that are importing wood illegally extracted from the Amazon. Addressing a BRICS summit of big developing economies, Bolsonaro said Brazilian police had developed a way of tracking wood exported from the Amazon using isotopes.