EU probes VW, BMW, Daimler over alleged emissions collusion
By Philip Blenkinsop and Foo Yun Chee BRUSSELS (Reuters) - EU antitrust regulators are investigating whether BMW, Daimler and Volkswagen colluded to restrict the rollout of clean emission technology, a move that could lead to hefty fines for the German carmakers. The European Commission opened an in-depth investigation on Tuesday, nearly a year after it raided the companies and two years after it slapped a record 2.93 billion euro ($3.4 billion)fine on a group of truckmakers including Daimler for fixing prices and delaying the adoption of cleaner engine technology. The EU executive said the 'circle of five' - BMW, Daimler and Volkswagen Group's VW, Audi and Porsche - held meetings where they may have colluded to limit the development and roll-out of certain emissions control systems for cars sold in Europe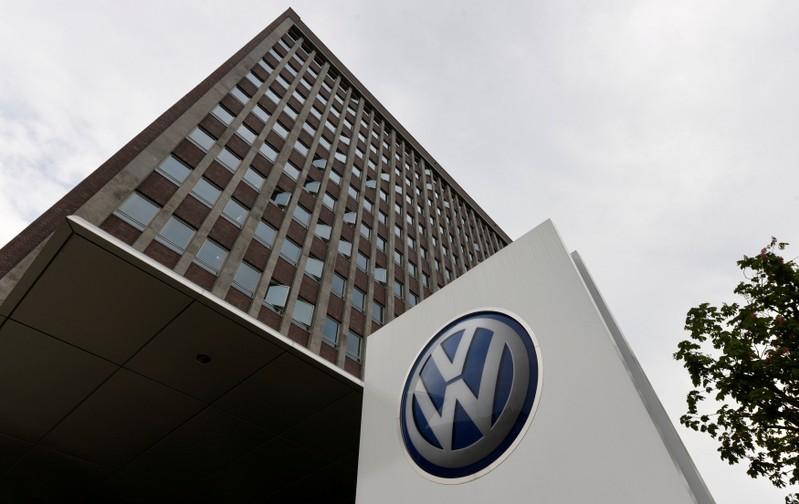 By Philip Blenkinsop and Foo Yun Chee
BRUSSELS (Reuters) - EU antitrust regulators are investigating whether BMW, Daimler and Volkswagen colluded to restrict the rollout of clean emission technology, a move that could lead to hefty fines for the German carmakers.
The European Commission opened an in-depth investigation on Tuesday, nearly a year after it raided the companies and two years after it slapped a record 2.93 billion euro ($3.4 billion)fine on a group of truckmakers including Daimler for fixing prices and delaying the adoption of cleaner engine technology.
The EU executive said the "circle of five" - BMW, Daimler and Volkswagen Group's VW, Audi and Porsche - held meetings where they may have colluded to limit the development and roll-out of certain emissions control systems for cars sold in Europe.
"These technologies aim at making passenger cars less damaging to the environment. If proven, this collusion may have denied consumers the opportunity to buy less polluting cars, despite the technology being available to the manufacturers," European Competition Commissioner Margrethe Vestager said.
The Commission said the technologies involved were selective catalytic reduction systems, which reduce nitrogen oxides from diesel car emissions, and "Otto" particulate filters that reduce particulate matter emissions from petrol cars.
The EU antitrust enforcer said the carmakers had also discussed other technical issues, such as common requirements for car parts and testing procedures, but it did not have sufficient indications that these meetings were anti-competitive.
It also said there were no signs that the companies illegally coordinated with each other in the use of so-called defeat devices to cheat regulatory testing. Volkswagen admitted to using such illegal software in 2015, sparking a scandal that has cost it more than $27 billion in penalties and fines.
Volkswagen and Daimler, which has claimed whistleblower status to avoid any fines, said they were cooperating with the Commission. BMW said it would continue to support the EU authority.
Campaign group Transport & Environment said it was time for regulators to take action.
"The automotive industry was once a jewel in Europe's industrial crown, but its global reputation is now deeply tarnished and cannot be trusted anymore," said Greg Archer, a director at the group.
"It has become its own worst enemy and needs regulators to act with strength and decisiveness to clean it up and establish rules that put it on a path to zero emissions."
Companies can face fines up to 10 percent of their global turnover for breaching EU rules. The car industry has in recent years faced billion euro fines worldwide for fixing prices of various auto parts.
($1 = 0.8559 euros)
(Reporting by Philip Blenkinsop; Additional reporting by Jan Schwartz in Hamburg and Maria Sheahan in Frankfurt; Editing by Mark Potter)
This story has not been edited by Firstpost staff and is generated by auto-feed.
Business
By Katanga Johnson WASHINGTON (Reuters) - Global equities set both an intraday high and record close on Tuesday as markets as investors weighed the latest U.S. economic data for signs of a rebound and rising inflation while Wall Street's main indexes wavered before ending little changed. Graphic: Global asset performance http://tmsnrt.rs/2yaDPgn Energy shares were among the best performing during the session as the OPEC+ alliance agreed to hike output in July and gave a bullish forecast.
Business
(Reuters) - Zoom Video Communications Inc reported better-than-expected quarterly revenue on Tuesday, benefiting from steady demand for its video-conferencing platform as people wary of the pandemic continued school and work from home. Zoom became a household name during the pandemic as businesses and schools switched to its video conferencing platform for virtual classes, office meetings and social catch-ups.
World
By Michele Kambas NICOSIA (Reuters) -Cyprus's ruling conservatives emerged as winners but failed to get an absolute majority in a parliamentary election on Sunday, with voters turning to smaller parties, including a right-wing party with links to Greece's now outlawed Golden Dawn.