EU Parliament says it will decide on Brexit deal approval in 2021
By Marine Strauss BRUSSELS (Reuters) - The European Parliament said on Thursday it welcomed the post-Brexit trade deal clinched by the EU and the UK, but will analyse it in detail before deciding whether to approve the agreement in the new year. 'I welcome the fact that a deal has been reached today on the future relationship between the EU and UK which the Parliament will now scrutinise in detail,' European Parliament head David Sassoli said in a statement after the deal was struck on Thursday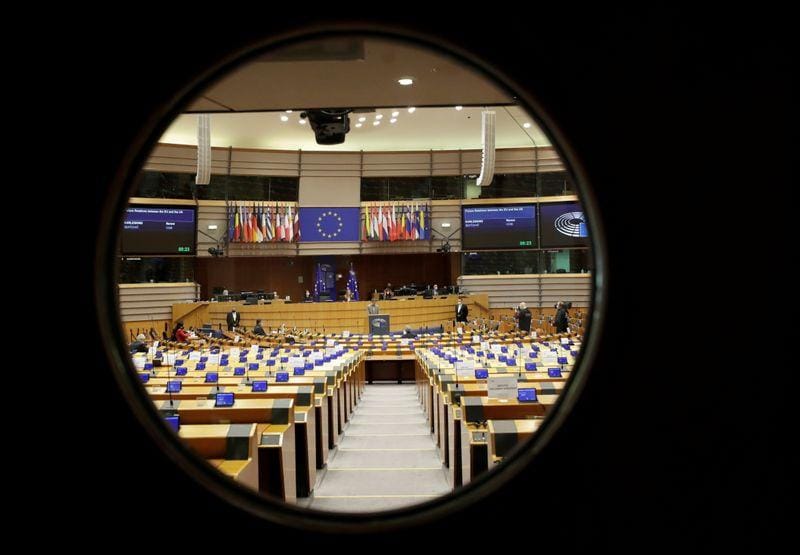 By Marine Strauss
BRUSSELS (Reuters) - The European Parliament said on Thursday it welcomed the post-Brexit trade deal clinched by the EU and the UK, but will analyse it in detail before deciding whether to approve the agreement in the new year.
"I welcome the fact that a deal has been reached today on the future relationship between the EU and UK which the Parliament will now scrutinise in detail," European Parliament head David Sassoli said in a statement after the deal was struck on Thursday.
The legislative assembly will resume meetings in January, in the format of committees and a plenary, before deciding to approve the agreeement or not.
"The European Parliament will now analyse the agreement in detail before deciding whether to give consent in the new year. We will act responsibly in order to minimise disruption to citizens and prevent the chaos of a no-deal scenario," Sassoli said.
Sassoli said Parliament had been "clear from the outset on our red lines", and had worked closely with EU Brexit negotiator Michel Barnier throughout the talks.
"If the European Parliament decides to approve the agreement, it will monitor closely how it is implemented," he said.
The deal governing post-Brexit trade needs the approval of the EU's 27 member states. Ambassadors from EU countries will meet on Dec. 25 at 10:30CET to start reviewing the deal.
(Reporting by Marine Strauss @StraussMarine; editing by Kate Abnett)
This story has not been edited by Firstpost staff and is generated by auto-feed.
Find latest and upcoming tech gadgets online on Tech2 Gadgets. Get technology news, gadgets reviews & ratings. Popular gadgets including laptop, tablet and mobile specifications, features, prices, comparison.
World
By Hyonhee Shin SEOUL (Reuters) - North Korean leader Kim Jong Un said his five-year economic plan had failed to meet its goals "on almost every sector" as he kicked off the ruling Workers' Party congress on Tuesday, state media KCNA reported on Wednesday. The rare political gathering, which Kim last hosted in 2016, has drawn international attention as he is expected to unveil a new five-year economic plan and address foreign policy, just two weeks before U.S
World
By Brendan O'Brien KENOSHA, Wisc.
World
By Brendan O'Brien KENOSHA, Wis. (Reuters) - Prosecutors on Tuesday cleared a white police officer in the Aug. 23 shooting of Black man Jacob Blake in Kenosha, Wisconsin, an incident that touched off deadly street protests and inflamed racial tensions in the United States