EU, Mexico automakers blast Trump auto tariff plan
By David Shepardson WASHINGTON (Reuters) - The Trump administration came under withering criticism from automakers and foreign governments as it considers imposing tariffs of up to 25 percent on imported cars and parts, amid concerns the move would hike up vehicle costs and hurt auto sales and industry jobs. The department opened an investigation in May into whether imported autos and parts pose a national security risk and held a hearing on the probe on Thursday, taking testimony from auto trade groups, foreign governments and others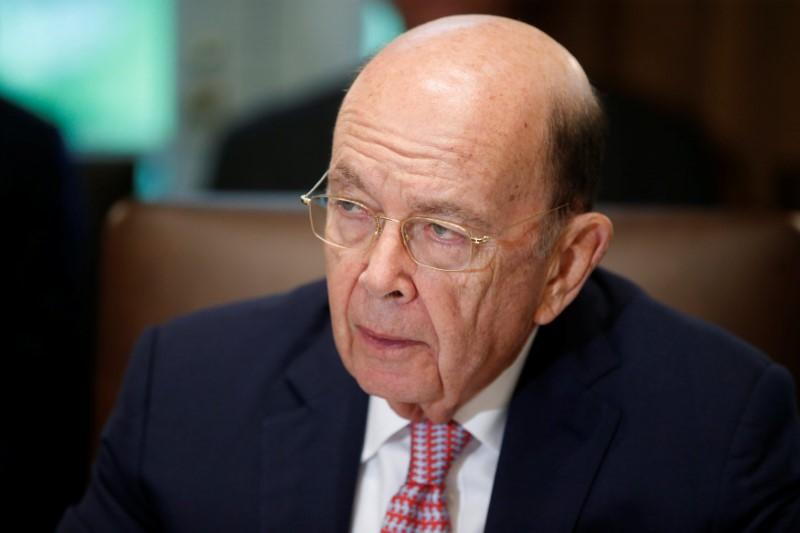 By David Shepardson
WASHINGTON (Reuters) - The Trump administration came under withering criticism from automakers and foreign governments as it considers imposing tariffs of up to 25 percent on imported cars and parts, amid concerns the move would hike up vehicle costs and hurt auto sales and industry jobs.
The department opened an investigation in May into whether imported autos and parts pose a national security risk and held a hearing on the probe on Thursday, taking testimony from auto trade groups, foreign governments and others.
U.S. Commerce Secretary Wilbur Ross said at the hearing it was "too early" to say if the administration of President Donald Trump would impose the tariffs, even as many automakers and members of Congress think it is a foregone conclusion.
He said the hearing was aimed at "whether government action is required to assure the viability of U.S. domestic production."
Canada's deputy ambassador to the U.S., Kirsten Hillman, said at the hearing imposing tariffs on Canadian imports would be "devastating" to the U.S. auto sector and that Canada would respond in a "proportional manner" if auto tariffs were imposed.
"Canada could not conceivably represent any risk to U.S. national security," she said.
European Union Ambassador David O'Sullivan said at the hearing that the suggestion that imports of vehicles and parts from the "closest allies" of the United States could pose a security risk was "absurd" and "lacks legitimacy."
A group representing major automakers told Commerce on Thursday that imposing tariffs of 25 percent on imported cars and parts would raise the price of U.S. vehicles by $83 billion annually and cost hundreds of thousands of jobs. The tariffs would harm research and development spending on self-driving cars and electric vehicles, it said.
'NO EVIDENCE'
Automakers say there is "no evidence" that auto imports pose a national security risk, and that the tariffs could actually harm U.S. economic security.
They are also facing higher prices after tariffs were imposed on aluminium and steel imports.
The Alliance of Automobile Manufacturers, whose members include General Motors Co , Volkswagen AG and Toyota Motor Corp <7203.T>, warned on the impact of the tariffs.
"Higher auto tariffs will harm American families and workers, along with the economy" and "would raise the price of an imported car nearly $6,000 and the price of a U.S.-built car $2,000," said Jennifer Thomas, a vice president for the group.
She noted that the U.S. exports more than $100 billion of autos and parts annually to other countries, while "there is a long list of products that are largely no longer made in the U.S., including TVs, laptops, cellphones, baseballs, and commercial ships."
No automaker or parts company has endorsed the tariffs, and they have pointed to near-record sales in recent years.
Jennifer Kelly, the United Auto Workers union research director, noted that U.S. auto production has fallen from 12.8 million vehicles in 2000 to 11.2 million in 2017 as the sector has shed about 400,000 jobs over that period, with many jobs moving to Mexico or other low-wage countries.
"We caution that any rash actions could have unforeseen consequences, including mass layoffs for American workers, but that does not mean we should do nothing," she said, suggesting "targeted measures."
IMPACT TO INDUSTRY
Many firms that sell vintage vehicles also warned that the tariffs could devastate the industry because many older cars need parts that are only made outside the United States. Polaris Industries Inc warned that off-road vehicles could also be inadvertently covered by the tariffs.
A study released by a U.S. auto dealer group warned that the tariffs could cut U.S. auto sales by 2 million vehicles annually and cost more than 117,000 auto dealer jobs, or about 10 percent of the workforce.
President Donald Trump has repeatedly suggested he would move quickly to impose tariffs, even before the government launched its probe.
"We said if we don't negotiate something fair, then we have tremendous retribution, which we don't want to use, but we have tremendous powers," Trump said on Wednesday. "We have to - including cars. Cars is the big one. And you know what we're talking about with respect to cars and tariffs on cars."
The European Union, Japan, Canada and Mexico, along with many automotive trade groups, Volkswagen, are among 45 witnesses scheduled to testify during the day-long hearing.
The Commerce Department said earlier this week it aimed to complete the investigation "within a couple months."
(Reporting by David Shepardson; Editing by Bernadette Baum)
This story has not been edited by Firstpost staff and is generated by auto-feed.
Find latest and upcoming tech gadgets online on Tech2 Gadgets. Get technology news, gadgets reviews & ratings. Popular gadgets including laptop, tablet and mobile specifications, features, prices, comparison.
World
OTTAWA (Reuters) - Canadian Prime Minister Justin Trudeau on Friday said he will continue to stand up against China's "coercive diplomacy" and its human rights abuses in Hong Kong and Xinjiang after being rebuked by Beijing for similar comments earlier this week. "We will stand up loudly and clearly for human rights all around the world, whether it is talking about the situation faced by the Uighurs, whether it is talking about the very concerning situation in Hong Kong, whether it's calling out China for its coercive diplomacy," Trudeau said in a news conference. (Reporting by Steve Scherer and Julie Gordon, Editing by Franklin Paul)
World
By Caroline Pailliez PARIS (Reuters) - Solene Tissot, a 19-year-old student in Paris, will obey the curfew imposed to fight COVID-19, but she has one request for her country's leaders: don't blame young people for the second wave of the virus. "There's been this kind of assigning guilt to young people," she said on Friday, hours before the new curfew was to come into force in Paris and major French cities. "I reject that." After a lull over the summer, the rates of transmission of coronavirus are going up in many parts of Europe and officials have identified social interactions between young people as a source of the resurgence.
World
By Adrian Portugal and Eloisa Lopez MANILA (Reuters) - Jailed Philippine activist Reina Mae Nasino wanted to hold her three-month-old daughter for the last time before she was laid to rest on Friday but she could not. Heavily armed prison officials guarding her refused to uncuff her despite pleas from her family and human rights supporters, who have decried what they described as inhumane treatment of Nasino and other mothers in Philippine jails.