EU lawmakers move to tighten rules on London-based investment banks
By Francesco Guarascio BRUSSELS (Reuters) - A committee of European Union lawmakers on Monday backed new rules to prevent large London-based investment banks from carrying out key activities in the EU after Brexit, unless they set up fully-fledged branches in the bloc. The new rules, if approved by EU states and by the whole European Parliament in a second vote, would force foreign investment banks to set up branches in the euro zone if they want to perform services such as proprietary trading and underwriting of bonds and other securities in the bloc. More than half of all European investment firms, including U.S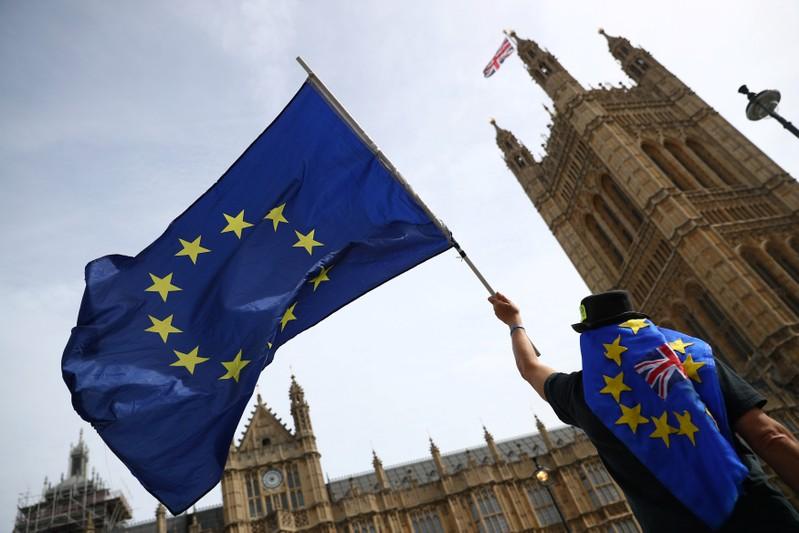 By Francesco Guarascio
BRUSSELS (Reuters) - A committee of European Union lawmakers on Monday backed new rules to prevent large London-based investment banks from carrying out key activities in the EU after Brexit, unless they set up fully-fledged branches in the bloc.
The new rules, if approved by EU states and by the whole European Parliament in a second vote, would force foreign investment banks to set up branches in the euro zone if they want to perform services such as proprietary trading and underwriting of bonds and other securities in the bloc.
More than half of all European investment firms, including U.S. giants Goldman Sachs and JPMorgan, are based in Britain.
Several London-based investment banks have however applied to set up subsidiaries and offer a wide range of banking services in the euro zone after Brexit.
The vote could be opposed by EU states with large public debt, such as Italy, which could see their financing costs go up if the number of banks that underwrite the issuance of their sovereign bonds decreases.
The proposed new rules would reduce the scope of the so-called equivalence regime, which allows foreign financial firms to operate in the EU without branches there if regulations in their home countries are seen as equivalent to those in the EU.
"With the new set of rules, we will make sure that...British firms remain subject to a strict regime and will have to set up camp in the EU when they want to perform certain services," centre-right German lawmaker Markus Ferber said after the vote.
The economic committee of the European Parliament introduced tweaks to a legislative proposal rolled out by the European Commission last year on the supervision and capital requirements of investment banks, which often escaped stricter banking rules because of the wide range of services they offer.
Under the Commission's proposal, investment banks operating in the euro zone would fall under the supervision of the European Central Bank and would be treated as single entities when their capital requirements are calculated.
This is meant to avoid large investment firms splitting into smaller units to evade stricter supervision and capital rules.
(Reporting by Francesco Guarascio; Editing by Kirsten Donovan)
This story has not been edited by Firstpost staff and is generated by auto-feed.
Find latest and upcoming tech gadgets online on Tech2 Gadgets. Get technology news, gadgets reviews & ratings. Popular gadgets including laptop, tablet and mobile specifications, features, prices, comparison.
World
MOSCOW/BELGRADE (Reuters) - Serbia's president accused Moscow on Sunday of stooping to "primitivism and vulgarity" in an attack on him, after Russia's foreign ministry spokeswoman compared him to the actor Sharon Stone in an explicit film scene. Serbia is Moscow's closest ally in the Balkans, but President Aleksandar Vucic has long annoyed Russia by seeking better ties with the West
World
ISTANBUL (Reuters) - Turkish President Tayyip Erdogan and European Council President Charles Michel discussed developments in the Eastern Mediterranean on Sunday, CNN Turk reported. NATO allies Turkey and Greece have been locked in a row over hydrocarbon exploration in the sea's disputed waters and the extent of their continental shelves. There was no official confirmation of the talks.
World
LONDON (Reuters) - The sharp rise in COVID-19 cases in Britain of 2,988 recorded on Sunday, the highest jump since May, was "concerning", Health Secretary Matt Hancock said, although he added that the majority were younger people. "The rise in the number of cases that we've seen today is concerning," he said. "The cases are predominately among younger people, but we've seen in other countries across the world and in Europe this sort of rise in the cases amongst younger people leading to a rise across the population as a whole." He said everybody had to follow social distancing rules to prevent the spread of infections.